Greetings comics fans! Boy, does July and this heatwave ever have me dreaming of September and the cool air that this fall will hopefully bring.  Along with the beautiful colors of fall outdoors, step into Heroes to find the beautiful colors on the shelves in the great books due out in September.  Here are some of the top picks, along with where you can find them in the latest issue of Previews.
Eric Shanower and Skottie Young return with the fifth Oz book which follows Dorothy on an adventure when all the roads in Kansas turn into magical highways.  Dorothy and Toto are joined by some new companions as they seek the magical highway to Oz. (page 42 of Marvel previews).  You can also catch up with Dorothy's adventures as book four, Dorothy and the Wizard in Oz is released in hardcover this month (page 69 of Marvel previews).
Ghost #0:
The Ghost story returned in Dark House Presents earlier this year and Ghost is moving into mini-series status as Kelly Sue DeConnick and Phil Noto (Phil Noto interiors!!! Swoon!) bring the story of Vaughn Barnes, a former journalist whose career has fallen into side work as a cameraman on second rate "Ghost Hunters" type cable reality show.  When Vaughn and Ghost connect after she is summoned to this world, the two work to solve a mystery spanning the dimensions.  (pages 36-37)
Sword of Sorcery #0:
In the midst of the new 52, DC is kicking us back to zero, with both new and current series, including the return of Amethyst, the lost princess of Gemworld.  This new book by Christy Marx, Aaron Lopresti and Matt Ryan not only looks pretty, but I'm always happy to have new female driven comics. (page 84)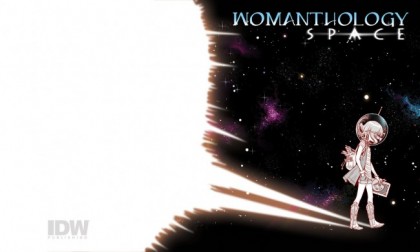 Womanthology: Space #1 (of 5):
Speaking of female driven comics, Womanthology moves into single issues with the follow up to Womanthology: Heroic.  This is the first of three planned mini-series and features an all female cast of creators.  (page 161)
Archaia Leather-bound Hardcovers:
Archaia sure does publish some beautiful books.  You can take your collection to the next level with books worthy of sitting on any fancy library/study shelf with the limited edition leather-bound hardcovers of Return of the Dapper Men, Mouse Guard: Legends of the Guard Volume 1, and Syndrome.  There are only 400 copies of each and they will NOT be available in bookstores. (pages 241-244)
Mattias Unfiltered: The Sketchbook Art of Mattias Adolfsson:
With an introduction by Comics Reporter's Tom Spurgeon, this facsimile moleskin sketchbook of Swedish illustrator, Mattias Adolfsson is full of drawings from his personal sketchbooks.  If the pages reproduced in Previews are any indication, this book will be a joy for any collector to own.  Take some time to check out more on his blog. I need his art for my walls. (page 269)
Drama:
Raina Telgemeier follows Smile with Drama, a book about middle schooler, Callie, who has a love for the theater, but no ability to sing.  She takes a behind the scenes part as the set director and drama develops both on and off stage, especially when two cute brothers join the project. (page 307)
Building Stories:
This isn't just a hardcover edition, this is a boxed hardcover edition full of lots of of various sized comics.  Based on how Chris Ware's dust covers on previous books are works of art themselves, I cannot wait to see what this entails.  Building Stories follows the lives of the occupants of a three story Chicago apartment building.  Each floor houses a different set of occupants including a young single woman, an elderly single woman (perhaps a spinster), and an seemingly unhappy couple.  (pages 316-318)
There are lots more cool comics hitting the shelves in Septmber.  Here are just a few of them: Fables: Werewolves of the Heartland HC (p. 140), John Arcudi's The Creep (p. 64), Darwyn Cooke covers Mike Allred's It Girl and the Atomics (p. 217), A Wrinkle in Time by Hope Larson (p. 304), The Daniel Clowes Reader (p. 303), a new Wallace Wood art book called Woodwork (p. 179), Avengers vs. X-men HC (Marvel Previews p. 65), Nexus Omnibus vol. 1 TP (p. 41) and Shaolin Cowboy Adventure Magazine (p. 38).
Take a look through Previews, and make sure you get your special item requests in to Heroes by July 18th.