What a day!  What a group! What a great idea!  So, the Heroes Discussion Group met for our holiday session over at the Sunflower Bakery (yum!) and had a solid two hours of fun and revelry.
Here is a breakdown of the books that each Discussioneer brought to the Table:
Andy Mansell selected Peanuts 2000 and passed the book around so everyone could read the final Charlie Brown/Lucy/Football kick Sunday strip.
Then we moved –clockwise of course– around the table to Matt Plummer—aka Manga Man—and he selected the 70 volume One Piece and thrilled us all with the reasons it is one of the best-selling and beloved weekly comics in Japan.
Dana Lynch brought a few books by the great Norwegian cartoonist Jason, but selected as his discussion choice the 8 issue mini-series Enigma from writer Peter Milligan and artist Duncan Fregredo. This is a book that has dipped below the radar in recent years and Dana explained why it was such an important book for him as a comic reader.  The discussion morphed into a roundtable of our favorite Milligan books—X-Force and Shade the Changing Man were mentioned.
Next up was Discussion Group regular Charles Skender and he pulled out his two runners-up Fables March of the Wooden soldiers and Miracleman: Olympus.
  But he settled on Garth Ennis and Steve Dillon's tour de force Preacher. He described Preacher as his gate way book into more challenging comic fare.  We also mentioned that it is high time we did Fables for a future discussion and insisted to everyone that they need to give Miracleman a read in the next few months.
Then newbie Chuck Harris offered up Manhattan Projects as his #2 and presented us with his current fave, the All ages book Cowboy—A Boy and his Horse.  Passing the book around the pastry-laden table, we were all smitten with the art.  The group recommended Bone, Snarked and Herobear and the Kid as kindred spirits of Cowboy and ideal follow up books.
Mark Sullivan aka Mr. Vertigo—whom you can read at mrvertigocomics.wordpress.com was
up next. His runner-up was Daytripper by those boys from Brazil Ba and Moon.  We had spotlighted this series a few years ago and agreed it is a multilayered gem.  Mark's choice for favorite was Hold Me–the classic issue of Hellblazer from Gaiman and McKean.  What a moving choice.  I can't speak for the rest of the group, but I had to re-read that beautiful story later that same day.
Joe Rauch—one of HeroesCon's budding Panel Moderators selected a favorite story arc from his early teen years—Waid and Larroque's The Flash: Return of Barry Allen.  This got the ball rolling as we talked at length about the appeal of super hero comics and how certain books become embedded in one's subconscious.
A perfect segue for the choice of Laurel Phillips who showed us some of her favorites: Hellboy-Wake the Devil and Soulfire but selected as her go-to book Waid and Ross' Kingdom Come along with Robinson and Smith's The Golden Age.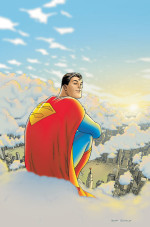 Alex Ramirez was up next and presented our band of sweet tooth readers with Shazam: Monster Society of Evil (which was quickly recommended to Chuck), Sandman World's End and The Golden Age.  But his favorite was the Morrison/Quitely gem of gems All Star Superman.  This was the topic of our second Discussion Group back when the world was young.  It was an ideal place to finish up since this 12 issue min-series encompasses a love for comics.
As I said, what a great time we had, I was barely able to mention my choice for best book—The Cartoon history of the Universe by Larry Gonick.
  But one thing is for sure, we have to do this kind of discussion again.  It was a blast and most importantly, I wanted to get home as quickly as possible and read some comics.  And isn't that the point?  Merry Christmas to all!!