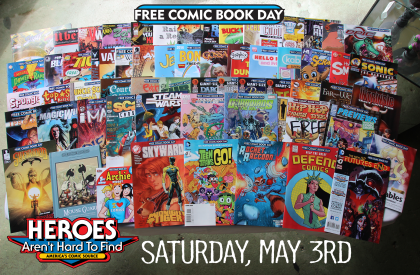 Here's your guide to the FREE COMICS  we'll have on hand this Saturday, May 3rd at our FCBD event! Doors open at 10AM; get here early to make sure you get the books you want! *Please be respectful of others when making your selections, supplies are limited and we want to make sure as many people as possible get the comics they want. Taking multiple copies of one title is not nice! Neither is pushing while in line. Be respectful of the people around you and we will all have a great time!
COMIC SHOP NEWS FCBD 2014 SPECIAL
2000 AD SPECIAL
ADVENTURES OF JELLABY
ALL ROCKET RACCOON
ALL YOU NEED IS KILL TERRA FORMARS
ARCHIE DIGEST #1
ARMOR HUNTERS SPECIAL
ATOMIC ROBO & FRIENDS
BLEEDING COOL MAGAZINE
BONGO FREE-FOR-ALL
BUCK ROGERS
CBLDF PRESENTS RAISING A READER
COURTNEY CRUMRIN #1
DC THE NEW 52 FUTURES END SPECIAL EDITION
DEFEND COMICS
DARK HORSE AVATAR ITTY BITTY HELLBOY REXODUS
DARK HORSE PROJECT BLACK SKY
ENTROPY
EPIC #0
FINDING GOSSAMYR WAY OF THE BLADESLINGER
FUBAR ACE OF SPADES
GIANT-SIZE 4-COMIC BUNDLE
GRAPHIX SPOTLIGHT DUMBEST IDEA EVER
GRIMM FAIRY TALES #0
GUARDIANS OF THE GALAXY
HATTER M FAR FROM WONDER
HELLO KITTY SURPRISE
HIP HOP FAMILY TREE TWO-IN-ONE
INTRINSIC VOL 2
IPSO FACTO
KABOOM SUMMER BLAST
LES MISERABLES FALL OF FANTINE
MAGIC WIND
MIGHTY MORPHIN POWER RANGERS
MOUSE GUARD LABYRINTH RUST HC
OVERSTREET COMIC BOOK MARKETPLACE
PREVIEWSWORLD SPECTACULAR
RISE OF THE MAGI
SCAM CROSSWORDS #0
SCRATCH 9
SHERWOOD TX BOONDOCK SAINTS DOUBLE FEAT
SHOWA HISTORY OF JAPAN
SKYWARD & MIDNIGHT TIGER
SONIC THE HEDGEHOG MEGA MAN FLIPBOOK #1
SPONGEBOB FREESTYLE FUNNIES
STEAM WARS
STREET FIGHTER #0
TEEN TITANS GO #1 SPEC ED
THE SMURFS
THE TICK
TOP SHELF KIDS CLUB
TRANSFORMERS VS GI JOE
UBER THE FIRST CYCLE
VALIANT UNIVERSE HANDBOOK
V-WARS
WALT DISNEY SCROOGE DONALD DUCK GRAVITY
WORLDS OF ASPEN
ZOMBIE TRAMP & EHMM THEORY
Our incredible list of comic creators will be signing and sketching from 1 – 5 (or longer at the creators' discretion). Remember that free sketches are done at the discretion of artists, and are not guaranteed.
NATALIE ANDREWSON – Artist: Mamuana, Eris, Meanwhile
CHRIS BRUNNER – Artist: Loose Ends, Batman: Legends of the Dark Knight, The Ride
BRIDGIT CONNELL – Brother Nash
SHAWN CRYSTAL – Artist: Deadpool, Fantomex, Archer & Armstrong
JEREMY DALE – Writer/Artist: Skyward
SANFORD GREENE – Artist: Rotten Apple, Deadpool, Wonder Girl, Methodman GN
JOHN HAIRSTON JR – Painter
DUSTIN HARBIN – Boxes, Diary Comics
JASON LATOUR – Writer: Wolverine & The X-Men, Winter Soldier, Loose Ends Artist: Southern Bastards, B.P.R.D., Django Unchained
JACKIE LEWIS – Artist: Play Ball
JAY POTTS – Writer/Artist: World of Hurt, Atomech
BUDD ROOT – Writer/Artist: Cavewoman
ANDY RUNTON – Writer/Artist: Owly
HOYT SILVA – Artist: Quatermain: Ghosts of the Nzadi
BRIAN STELFREEZE – Artist: Day Men, Domino, Matador, Batman: Shadow of the Bat
In addition to all the Free Comics and great artists, we'll also be debuting a brand new, never before touched sale stock on Saturday! More specifically, this is a 27 box dollar stock that happens to be in alpha-numeric order. That's right, it's all in alpha-numeric order! Buy single books for $1 or fill a long box for $250. We haven't debuted anything like this in quite some time, so bring your back issue want lists and enjoy the ease of shopping through an organized stock.
PARKING: This is always a big question for FCBD attendees. We want you to know there are plenty of parking options for Saturday. You can park anywhere in the lots directly beside or behind Heroes without the threat of being towed. This includes in front of any of the businesses from Dollar General down to the former Florist, including the small lot on the other side of the Florist. Our neighbors are kind to let us use their spaces for their event, so please patronize them on Saturday. We would love for them to see a little extra business from our FCBD crowd. This is our largest store event of the year, and these lots may fill quickly. The good news is that Saturday's weather is supposed to be perfect for the event. If and when these lots fill up, remember that you can park on any of the surrounding streets behind Heroes. 8th Street and beyond has plenty of on-street parking, and it'll be a beautiful day to walk a block or two to Heroes.
There are a few places you cannot park. Those are the four spaces directly in front of the Laundry in the lot next to Heroes, and in any of the spaces across Pecan at Pecan Point. This includes all of the parking spaces in the shopping center including businesses like Anntony's Caribbean, Bang Bang Burgers, and around to Sunflour Bakery. You will be towed at your own expense if you park in any of those spaces, so heed that warning now, and remember it on Saturday.
We expect hundreds of people to pass through Heroes on Saturday, but there are many more parking options for you this year. As with your actions in the store, we would appreciate you being respectful of our neighbors, parking lot, and neighborhood. This is a large and busy event, but it's one designed to be enjoyed, and we can all work together to make sure that happens for everyone.