THE HEROES CONVENTION RETURNS
JUNE 24-26, 2022!
June 24-26, 2022 will mark the 40th Anniversary of the Heroes Convention!
After TWO YEARS of pandemic handcuffs, we plan to pull out ALL THE STOPS to make our 40TH ANNIVERSARY SHOW one FOR THE AGES!
ALL 2020/2021 HeroesCon Tickets, Artist Alley Tables and Exhibitor Booth Reservations have automatically transferred to the 2022 Heroes Convention at this time.
We hope that you will continue to support us as we begin planning our 40th Anniversary show.
We have LOTS of exciting announcements to come over the next 9+ months, and we can't wait for you to see what we've got in store!!
First round of HeroesCon 2022 Guest Announcements will drop the weekend of our Giant-Size Charlotte Mini-Con!
Stay Tuned!!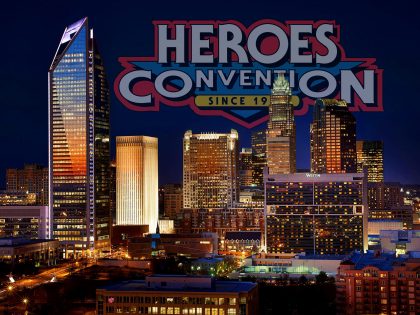 HeroesCon 2022 Hotel Rate Available NOW!!
We appreciate you and your continued support and we THANK YOU for being a part of the HEROESCON FAMILY.
Shelton Drum
Owner: Heroes Aren't Hard to Find & Heroes Convention
Shelton@heroesonline.com
Karla M. Southern
Heroes Event, Media & Creative Coordinator
Karla@heroesonline.com
Seth Peagler
Heroes Operations Manger
Seth@heroesonline.com