FRIDAY :: SEPTEMBER 25, 2020



HEROES IS OPEN!
WITH LIMITED CAPACITY AND OTHER GUIDELINES
READ OUR FULL STATEMENT OUR BELOW

HEROES CAN SHIP!
CALL OUR STORE AT 704-375-7462 BETWEEN THE HOURS OF 10AM-7PM OR SEE MORE INFORMATION ON OUR BLOG!

YOU CAN PLACE ORDERS BY CALLING OUR STORE AT 704-375-7462 OR BY EMAIL TO:
heroesarenthardtofind@gmail.com

HEROES HOURS:
MONDAY-TUESDAY; THURSDAY-SATURDAY: 10AM-7PM
WEDNESDAY: 10AM-9PM
SUNDAY: 1PM-6PM
NEW RELEASES FOR SEPTEMBER 30, 2020

LOOKING FORWARD:
HEROESCON 2021
THE HEROES CONVENTION WILL RETURN JUNE 18-20, 2021!
READ OUR FULL STATEMENT OUR BLOG



NEXT WEEK!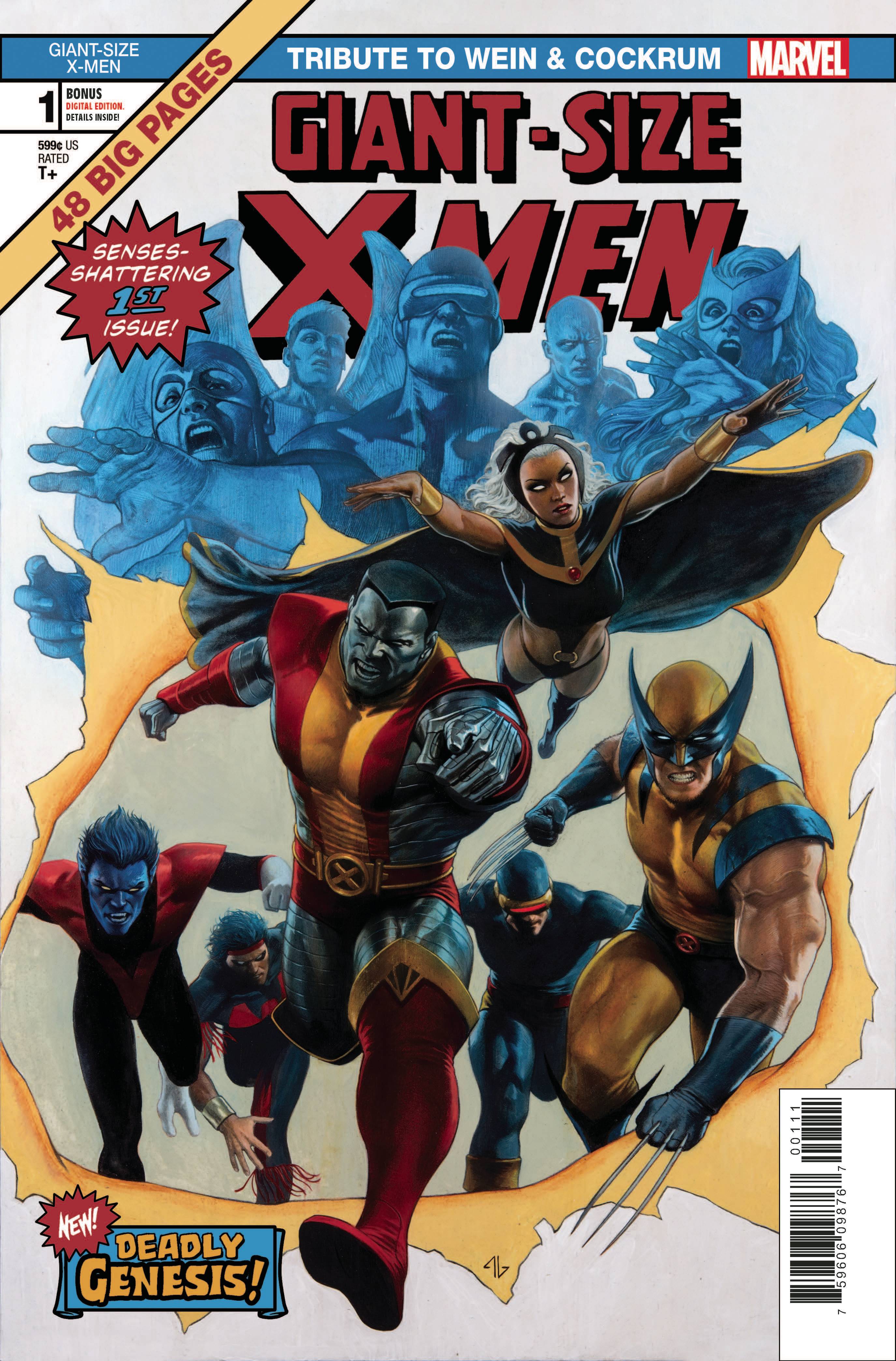 GIANT SIZE X-MEN TRIBUTE WEIN COCKRUM #1
MARVEL COMICS:
(W) Len Wein (A) Alex Ross & Various (CA) Adi Granov

CELEBRATING THE CLASSIC'S 45TH ANNIVERSARY!
Forty-five years ago, a comic book came out that would change the face of Marvel Comics forever. Writer Len Wein and artist Dave Cockrum revamped the X-Men completely, replacing the bulk of the teen heroes with a completely new international cast! The legendary one-shot took comic fans by storm and set the series off in a new direction, setting the stage for the legendary X-scribe Chris Claremont to make them the most popular heroes in the Marvel Universe! Now, 37 of Marvel's top artists come together to re-create this epic story, each re-drawing one pulse-pounding page in tribute to this Marvel masterpiece! $5.99
Rated T+

If you would like to add this title to your Reserve Bag, please call our store at 704-375-7462 or send an email requests to: Elias@heroesonline.com or heroesarenthardtofind@gmail.com



Heroes stand for Justice, and Heroes Aren't Hard to Find stands with the BIPOC Community and the #BlackLiveMatter movement.

Hero Initiative Exclusive Cover by Kevin Nowlan

OUT NOW!
THE 50TH EDITION OF THE OVERSTREET COMIC BOOK PRICE GUIDE
The Overstreet Comic Book Price Guide is widely considered the Bible for any serious comic book collector or dealer, providing pricing resources that reflect the most current pricing on record for millions of comic titles and magazines.
This year marks the Golden Anniversary of The Overstreet Comic Book Price Guide with their 50th Edition! This milestone volume is complete with new prices, new feature articles, new additions to the "Overstreet Hall of Fame", new market reports and much more. Find out why Overstreet has been trusted for five decades!
Pictured above is this year's Hero Initiative Exclusive Variant with gorgeous Kevin Nowlan cover. This hardcover variant will be available at Heroes on Wednesday, September 2, 2020! The proceeds from the sale of this variant cover go back to the Hero Initiative and their efforts to "create a financial safety net for comic creators in need who need medical aid, financial support, and an avenue back into paying work."

This year's regular cover will be the Spawn/ Spider-Man crossover by Todd McFarlane, (pictured left) but you can score both if you just can't make up your mind!!
Soft Cover: $29.95 / Hardcover: $37.50
(Hero Initiative Variant Only Available in Hardcover)
If you would like to reserve a copy of the The Overstreet Price Guide #50, please call our store at 704-375-7462 or send an email requests to: Elias@heroesonline.com or heroesarenthardtofind@gmail.com

Heroes is open to the public with the following updated guidelines:
We will continue to limit the number of people allowed in the store to

NO MORE THAN 10 people at a time

.
The capacity restriction will continue to some degree until North Carolina has graduated all three phases of the re-opening regulations.

We ask that customers limit their time in our store for now.
Do to capacity restrictions, we ask that customers please limit their time spent in-store for the time being. There will be plenty of time for leisurely browsing and visiting with one another once all government restrictions have been lifted and circumstances have improved.

Everyone (including staff) is required to wear a mask while shopping or working inside of our store.
If you do not have a mask, one can be provided to you.

(We understand that some people do not want to wear a mask and, while we understand that is your personal preference, you will not be permitted in our store without a mask. We appreciate your patience, understanding and consideration for everyone's safety at this time. If you do not want to wear a mask, or if you would prefer not to come inside the store until circumstances have improved, we are happy to arrange shipping for books.)

We request that all customers utilize the provided hand sanitizer upon entering the store.

Observe social distancing of at least 6 feet inside the store.
Please be courteous to your fellow customers and allow for at least six feet of distance between yourself and others. We're all in this together and showing each other respect will go a long way!!

We ask customers to be mindful of how much they handle books and other product.
While we will be sanitizing all surfaces and high-contact areas as frequently as possible, we cannot sanitize comic books without causing damage. We ask that customers please be mindful of items as they handle them, and wash their hands or use hand sanitizer after contact.

We will be sanitizing and washing our hands after every transaction and as often as possible.
If at all possible, we would prefer that customers pay with a credit or debit card at this time. We will still accept cash transactions, but cards are easier for everyone to sanitize at this time. If we do have a cash transaction we will be washing our hands thoroughly afterwards.

We ask anyone who feels unwell to please stay at home (this includes our staff).

We have the ability to invoice Reserve Customers who would like to pay for their books in advance and either pick up curb-side or have their subscription shipped (shipping fees will apply). We ask that invoice requests be paid within 24 hours of being issued.


Our hours going forward will be as follows until further notice:


Monday-Tuesday & Thursday-Saturday: 10am-7pm
Wednesday: 10am-9pm
Sunday: 1pm-6pm



We will keep you posted to any changes to our guidelines as they happen.




Please follow us on social media

(Facebook, Instagram, Twitter)

or sign up for our

Newsletter

for regular updates! Please feel free to call us at 704-375-7462 or email us at

HeroesArentHardToFind@gmail.com

with any questions!
We hope you are all hanging in there, doing well, and are being kind to one another!
– Your Friends at HEROES AREN'T HARD TO FIND
We can still ship items to you at this time. You can request items and arrange shipping with an email to HeroesArentHardToFind@gmail.com
SHIPPING INFORMATION:
We are happy to SHIP items to anyone who would like make those arrangements at this time.
We will need you to help us organize the following:
Please call our store at 704-375-7462 between the hours of 10am-6pm, or email us at heroesarenthardtofind@gmail.com

with a list of books you would like us to ship to you.




You can find the last 5 weeks of New Releases on our website here:

http://www.heroesonline.com/new-releases/,

if you need recommendations!

Shipping costs are based on weight.

If you would like to order comic-collecting supplies (ie: Comic Boxes, Bags, Boards, etc) to have shipped, we can do that too!




Supplies are subject to shipping freight. You can find our supply options listed here:


http://www.heroesonline.com/supplies/

We will invoice your email order to process credit card payment and shipping.

If you would prefer to make payment via PayPal, we can arrange that as well. Please call or email for details.

Please make sure that we have your complete and correct shipping address.

FOLLOW US on INSTAGRAM, FACEBOOK and
TWITTER to see our daily posts and videos!!


BOOKS SHIPPING THE WEEK OF: SEPTEMBER 30, 2020

AGGRETSUKO HC VOL 01 METAL TO THE MAX | 9.99
ALIENATED #6 | 3.99
ARCHIE ANDREWS WHERE ARE YOU SEEK AND FIND BOOK | 4.99
ASCENDER #13 | 3.99
AVANT-GUARDS DOWN TO WIRE ORIGINAL GN | 14.99
AVENGERS #36 | 3.99
AVENGERS #36 GURIHIRU HEROES AT HOME VAR | 3.99
AVENGERS #36 PICHELI FORTNITE VAR | 3.99
BATMAN DETECTIVE COMICS VOL 03 GREETINGS FROM GOTHAM TP | 17.99
BATMAN KNIGHT OUT HC | 39.99
BATMAN SUPERMAN ANNUAL #1 | 4.99
BATMAN THE JOKER WAR ZONE #1 CVR A BEN OLIVER (JOKER WAR) | 5.99
BATMAN THE JOKER WAR ZONE #1 CVR B DERRICK CHEW CARD STOCK VAR | 6.99
BATMAN THREE JOKERS #2 CVR A JASON FABOK JOKER | 6.99
BATMAN THREE JOKERS #2 CVR B JASON FABOK BATGIRL VAR | 6.99
BATMAN THREE JOKERS #2 INC 1:25 TBA VAR | *
BATMAN THREE JOKERS #2 INC 1:100 TBA VAR | *
BOMB QUEEN TRUMP CARD #2 CVR A ROBINSON | 3.99
BOMB QUEEN TRUMP CARD #2 CVR B ROBINSON | 3.99
BOYS DEAR BECKY #5 | 3.99
CHU #3 | 3.99
CONAN CHRONICLES EPIC COLLECTION TP HORROWS BENEATH | 44.99
DAREDEVIL BY CHIP ZDARSKY TP VOL 04 END OF HELL | 15.99
DARK KNIGHTS DEATH METAL MULTIVERSES END #1 CVR A MICHAEL GOLDEN | 5.99
DARK KNIGHTS DEATH METAL MULTIVERSES END #1 1:25 ARTHUR ADAMS VAR | *
DEPARTMENT OF TRUTH #1 CVR A SIMMONDS | 3.99
DEPARTMENT OF TRUTH #1 CVR B FRISON | 3.99
DEPARTMENT OF TRUTH #1 10 COPY INCV SHALVEY | *
DEPARTMENT OF TRUTH #1 25 COPY INCV LEE | *
DITKO IS STRANGE KING-SIZE HC | 100.00
FALCON & WINTER SOLDIER #3 | 3.99
FALCON & WINTER SOLDIER #3 CORY SMITH 1:25 VAR | *
FANTASTIC FOUR #24 | 3.99
FANTASTIC FOUR #24 CAMUNCOLI FORTNITE VAR | 3.99
FIREFLY BLUE SUN RISING #0 CVR A MAIN | 7.99
FIREFLY BLUE SUN RISING #0 CVR B WARD VAR | 7.99
GIANT SIZE X-MEN TRIBUTE WEIN COCKRUM #1 | 5.99
GIANT SIZE X-MEN TRIBUTE WEIN COCKRUM #1 HIDDEN GEM | 5.99
GIANT SIZE X-MEN TRIBUTE WEIN COCKRUM #1 MOORE VAR | 5.99
GOON #12 JOHNSON CARDSTOCK VAR CVR | 5.99
GOOSEBUMPS SECRETS OF THE SWAMP #1 | 3.99
GREAT GATSBY GN | 20.00
GUNNING FOR RAMIREZ TP VOL 01 | 16.99
HARLEY QUINN & THE BIRDS OF PREY #3 | 5.99
HARLEY QUINN & THE BIRDS OF PREY #3 IAN MACDONALD VAR | 5.99
HEARTBEAT TP | 15.99
ICE CREAM MEAN #20 3RD PTG | 3.99
IMMORTAL HULK THRESHING PLACE #1 | 4.99
IMMORTAL HULK THRESHING PLACE #1 BENNETT VAR | 4.99
INKBLOT #1 2ND | 3.99
INVADER ZIM BEST OF WORLD DOMINATION TP | 9.99
JOHN CONSTANTINE HELLBLAZER #10 | 3.99
JOHN CONSTANTINE HELLBLAZER VOL 01 MARKS OF WOE TP | 19.99
JUDGE DREDD FALSE WITNESS #3 | 3.99
JUSTICE LEAGUE ANNUAL #2 | 4.99
KILLADELPHIA #8 CVR B SIENKIEWICZ | 3.99
LEGION OF SUPER-HEROES #9 CVR A RYAN SOOK | 3.99
LEGION OF SUPER-HEROES #9 CVR B ANDRE ARAUJO VAR | 3.99
LIFE IN THE STUPIDVERSE GN TP | 19.99
LON CHANEY SPEAKS GN | 25.00
LOW LOW WOODS HC | 24.99
LUDOCRATS #5 CVR B YOUNG | 3.99
MARVEL ZOMBIES RESURRECTION #2 | 3.99
MARVELS X #5 | 4.99
MIGHTY MORPHIN POWER RANGERS #54 CVR A MAIN | 3.99
MIGHTY MORPHIN POWER RANGERS #54 10 COPY ANKA INCV | *
MIRKA ANDOLFO MERCY #6 CVR B LAFUENTE | 3.99
MIRKA ANDOLFO MERCY #6 CVR C BARTEL | 3.99
MONSTRESS TP VOL 05 | 16.99
MTSYRY OCTOBRIANA 1976 ONE SHOT | 10.00
MTSYRY OCTOBRIANA 1976 ONE SHOT 10 COPY INCV | *
MY LITTLE PONY FRIENDSHIP IS MAGIC #90 CVR A PRICE | 3.99
MY LITTLE PONY FRIENDSHIP IS MAGIC #90 CVR B HICKE | 3.99
NAILBITER RETURNS #5 | 3.99
OLYMPIA TP | 16.99
POSSESSED #2 | 7.99
RED HOOD OUTLAW #49 CVR A DAN MORA | 3.99
RED HOOD OUTLAW #49 CVR B PHILIP TAN VAR | 3.99
RESISTANCE #6 | 3.99
SAVAGE AVENGERS #12 | 3.99
SAVAGE AVENGERS #12 KUBERT FORTNITE VAR | 3.99
SAVAGE AVENGERS #12 YU VAR | 3.99
SEA OF STARS #7 | 3.99
SHANG-CHI #1 | 3.99
SHANG-CHI #1 HIDDEN GEM VAR | 3.99
SHANG-CHI #1 INHYUK LEE VAR | 3.99
SHANG-CHI #1 JACINTO VAR | 3.99
SHANG-CHI #1 RON LIM VAR | 3.99
SHANG-CHI #1 RUAN VAR | 3.99
SHANG-CHI #1 SU VAR | 3.99
SHANG-CHI #1 CHEUNG 1:10 DESIGN VAR | *
SHANG-CHI #1 SUAYAN 1:25 VAR | *
SPACE BATTLE LUNCHTIME TP VOL 03 A DISH BEST SERVED CO | 14.99
SPAWN #310 CVR A MATTINA | 2.99
SPAWN #310 CVR B MCFARLANE | 2.99
SPAWN #310 CVR C BARENDS | 2.99
SPAWN #310 CVR D MCFARLANE B&W | *
SPIDER-MAN LOVES MARY JANE GN TP SECRET THING | 12.99
STAR WARS ADVENTURES CLONE WARS #5 CVR A CHARM | 3.99
STAR WARS DOCTOR APHRA #4 | 3.99
STRANGE ACADEMY #1 4TH PTG VAR | 4.99
STRANGE ACADEMY #3 | 3.99
STRANGE ACADEMY #3 ADAMS CHARACTER SPOTLIGHT VAR | 3.99
STRANGE ACADEMY #3 ALEX ROSS DOCTOR STRANGE TIMELESS V | 3.99
STRANGE ACADEMY #3 OTTLEY 1:25 VAR | *
STRANGER THINGS SCIENCE CAMP #1 CVR A KALVACHEV | 3.99
STRANGER THINGS SCIENCE CAMP #1 CVR B LAMBERT | 3.99
STRANGER THINGS SCIENCE CAMP #1 CVR C RUIZ | 3.99
TARTARUS TP VOL 01 | 16.99
THAT TEXAS BLOOD #4 | 3.99
TRANSFORMERS #23 CVR A LAFUENTE | 3.99
TRANSFORMERS VS TERMINATOR #4 CVR A FULLERTON | 3.99
TRANSFORMERS VS TERMINATOR #4 CVR B MONTFORT | 3.99
UMBRELLA ACADEMY LIBRARY EDITION HC VOL 03 HOTEL OBLIVION | 39.99
WE ONLY FIND THEM WHEN THEYRE DEAD #1 3RD PRT | 3.99
WONDER WOMAN #763 CVR A DAVID MARQUEZ | 3.99
WONDER WOMAN #763 CVR B JOSHUA MIDDLETON CARD STOCK VAR | 4.99
WONDER WOMAN 1984 #1 (ONE SHOT) CVR A NICOLA SCOTT | 3.99
WONDER WOMAN 1984 #1 (ONE SHOT) CVR B ROBIN EISENBERG ROOSTER TEETH VAR | 3.99
WYND #1 3RD PTG | 4.99
X-FACTOR #4 SILVA VAR XOS | 4.99
X-FACTOR #4 XOS | 4.99
X-RAY ROBOT #2 CVR A ALLRED | 3.99
X-RAY ROBOT #2 CVR B RUBIN | 3.99
X-RAY ROBOT #2 CVR C POPE | 3.99
YEAR ZERO #5 | 3.99

* limited quantities, check for availability