WEDNESDAY :: MAY 23, 2018



HEROESCON 2018 GUEST LIST UPDATE :: ROYER! STERANKO! MORE!

HEROESCON 2018 3-DAY PASSES ON SALE NOW!

HEROESCON 2018 ARTISTS ALLEY TABLES ON SALE NOW!

HEROESCON 2017 EXCLUSIVE :: MOTOR CRUSH VOLUME 1

HEROESCON 2017 EXCLUSIVE TELLOS T-SHIRTS AVAILABLE NOW!

THE OVERSTREET COMIC BOOK PRICE GUIDE #47 HERO INITIATIVE SPECIAL EDITION AVAILABLE NOW!

NEW RELEASES FOR MAY 23, 2018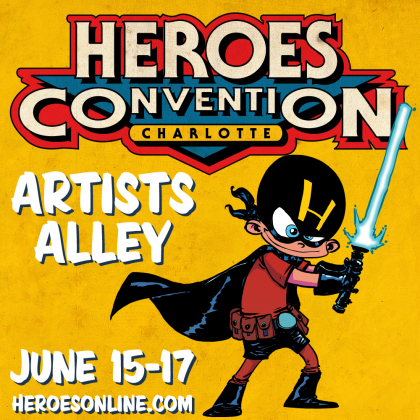 HeroesCon attracts so much amazing talent from all over the world! Check out our freshly posted Artists Alley listings, click on their links and be amazed, and come meet them all in person at the Charlotte Convention Center June 15-17. Table assignments will be posted a week or two before the show. Get your 3-day passes today!


Artists Alley tables are now on sale for HeroesCon 2018!

HeroesCon hotel rates are available at the Westin too!

If you missed it at HeroesCon you can get one online or in store now!
Thanks to team MotorCrush for our variant!
http://bit.ly/HeroesMotorCrush



Hero Initiative Hardcover Price Guides available in-store and online now featuring a Rob Liefeld Deadpool cover.
CLICK HERE TO ORDER YOURS TODAY!





BOOKS SHIPPING THE WEEK OF: MAY 23, 2018

ADVENTURE TIME BEGINNING OF END #01| $3.99
ADVENTURE TIME BEGINNING OF END #01 SUBSCRIPTION DAGUNA VAR| $3.99
AMAZING SPIDER-MAN #794 5TH PTG IMMONEN VAR LEG WW| $3.99
AMAZING SPIDER-MAN #798 3RD PTG IMMONEN VAR LEG| $3.99
ANIMOSITY #14| $3.99
ANIMOSITY EVOLUTION TP VOL 01| $14.99
BARRIER #04| $3.99
BATGIRL #23| $3.99
BATGIRL #23 VAR ED| $3.99
BATMAN BEYOND #20| $3.99
BATMAN BEYOND #20 VAR ED| $3.99
BEEF #04| $3.99
BETTIE PAGE TP VOL 01 BETTIE IN HOLLYWOOD| $17.99
BIG TROUBLE IN LITTLE CHINA OLD MAN JACK #09| $3.99
BLACK HAMMER AGE OF DOOM #02 MAIN CVR| $3.99
BLACK HAMMER AGE OF DOOM #02 VAR LEMIRE CVR| $3.99
BLACK HOOD TP VOL 02| $14.99
BLACK PANTHER #01| $4.99
BLACK PANTHER #01 BELAND B & W VAR| *
BLACK PANTHER #01 BELAND VAR| *
BLACK PANTHER #01 1:10 PUTRI VAR| *
BLACK PANTHER #01 1:25 IN-HYUK LEE VAR| *
BLACK PANTHER #01 1:50 COIPEL VAR| *
BLACK PANTHER #01 1:100 ARTGERM VIRGIN VAR| *
BROTHERS DRACUL #02| $3.99
BUFFY THE VAMPIRE SLAYER SEASON 11 GILES #04 MAIN CVR| $3.99
BUFFY THE VAMPIRE SLAYER SEASON 11 GILES #04 VAR JOVELLANOS CVR| $3.99
CHAMPIONS #20 LEG| $3.99
CHARLEYS WAR DEFINITVE COLL TP VOL 01 BOY SOLDIER| $26.99
COIN OP COMICS ANTHOLOGY HC 1997-2017| $29.99
COMMUNIST MANIFESTO HC GN| $19.99
COSMO #05 CVR A YARDLEY| $3.99
COSMO #05 CVR B GAME BOX ART| $3.99
COSMO #05 CVR C RETRO ART| $3.99
CURSE OF CHARLEY BUTTERS SC| $20.00
DAYS OF HATE #05| $3.99
DEADLY CLASS #34 CVR A CRAIG| $3.99
DEADLY CLASS #34 CVR B HENSLEY| $3.99
DELTA 13 #01 CVR A JONES| $3.99
DELTA 13 #01 10 COPY INCV| *
DETECTIVE COMICS #981| $2.99
DETECTIVE COMICS #981 VAR ED| $2.99
DEVILMAN CLASSIC COLLECTION GN VOL 01| $29.99
DOCTOR STRANGE #390 LEG| $3.99
DOCTOR STRANGE #390 FERRY DEADPOOL VAR LEG| *
ELSEWHERE #07| $3.99
FALCON #08 LEG| $3.99
FLASH #47| $2.99
FLASH #47 VAR ED| $2.99
GI JOE VS SIX MILLION DOLLAR MAN #04 CVR A FERREIRA| $3.99
GI JOE VS SIX MILLION DOLLAR MAN #04 CVR B LOH| $3.99
GI JOE VS SIX MILLION DOLLAR MAN #04 10 COPY INCV| *
HAL JORDAN AND THE GREEN LANTERN CORPS #45| $2.99
HAL JORDAN AND THE GREEN LANTERN CORPS #45 VAR ED| $2.99
HELLBLAZER #22| $3.99
HELLBLAZER #22 VAR ED| $3.99
HER INFERNAL DESCENT #02| $3.99
HIMOUTO UMARI CHAN GN VOL 01| $12.99
HIT-GIRL #04 CVR A REEDER| $3.99
HIT-GIRL #04 CVR C SCALERA| $3.99
HUNT FOR WOLVERINE MYSTERY MADRIPOOR #01| $3.99
HUNT FOR WOLVERINE MYSTERY MADRIPOOR #01 BACHALO VAR| $3.99
INCOGNEGRO RENAISSANCE #04| $3.99
INCREDIBLE HULK #717 LEG| $3.99
INFINITY COUNTDOWN DARKHAWK #01| $3.99
INFINITY COUNTDOWN DARKHAWK #01 LIM VAR| $3.99
INVADER ZIM #30 CVR A| $3.99
INVADER ZIM #30 CVR B KROOKED GLASSES VAR| $3.99
INVINCIBLE IRON MAN #600 LEG| $5.99
INVINCIBLE IRON MAN #600 BLANK VAR LEG| *
INVINCIBLE IRON MAN #600 1:25 COIPEL VAR LEG| *
INVINCIBLE IRON MAN #600 1:50 ROSS VAR LEG| *
JAMIE HEWLETT INSIDE MIND OF JAMIE HEWLETT HC NEW PTG| $60.00
JOE GOLEM OCCULT DETECTIVE HC VOL 02 OUTER DARK| $24.99
JOHNNY BOO HC VOL 08| $9.99
JUSTICE LEAGUE NO JUSTICE #03| $3.99
KID LOBOTOMY TP VOL 01| $19.99
LEGION #05 LEG| $3.99
LEGIONNAIRES TP BOOK 02| $34.99
LOONEY TUNES #243| $2.99
LOVE & ROCKETS MAGAZINE #05| $4.99
LUMBERJANES #50| $4.99
LUMBERJANES #50 CONNECTING FISH VAR| $4.99
LUMBERJANES #50 SUBSCRIPTION FISH VAR| $4.99
MANIFEST DESTINY #35| $3.99
MERA QUEEN OF ATLANTIS #04| $3.99
MIGHTY CAPTAIN MARVEL TP VOL 03 DARK ORIGINS| $15.99
MIKE ALLRED ARTIST SELECT HC| $75.00
MISFIT CITY TP VOL 02| $14.99
MONSTERS UNLEASHED TP VOL 02 LEARNING CURVE| $19.99
MOON KNIGHT #195 LEG| $3.99
MOTHER PANIC GOTHAM A D #03| $3.99
MOTHERLANDS #05| $3.99
MOTHERLANDS #05 VAR ED| $3.99
NEIL GAIMAN NORSE MYTHOLOGY SC| $15.95
OLD MAN HAWKEYE #05 LEG| $3.99
OLD MAN LOGAN #40 LEG| $3.99
PINK PANTHER 55TH ANNIVERSARY SPECIAL #01 MAIN CUESTA CVR| $3.99
PRISONER #02 CVR A LORIMER| $3.99
PRISONER #02 CVR B PHOTO| $3.99
REDNECK TP VOL 02 EYES UPON YOU| $16.99
REGRESSION #10| $3.99
SABRINA HC| $27.95
SACRED CREATURES TP VOL 01| $22.99
SCOOBY DOO TEAM UP #38| $2.99
SHADOWMAN (2018) #03 CVR A ZONJIC| $3.99
SHADOWMAN (2018) #03 CVR B GUEDES| $3.99
SHIELD BY HICKMAN AND WEAVER #05| $3.99
SILENCER #05| $2.99
SKYWARD #02| $3.99
SNOTGIRL TP VOL 02 CALIFORNIA SCREAMING| $15.99
SPIDER-MAN DEADPOOL #33 LEG| $3.99
STAR TREK DISCOVERY SUCCESSION #02 CVR A HERNANDEZ| $3.99
STAR TREK DISCOVERY SUCCESSION #02 CVR B PHOTO| $3.99
STAR TREK DISCOVERY SUCCESSION #02 10 COPY INCV| *
STAR TREK TNG THROUGH THE MIRROR #04 CVR A WOODWARD| $3.99
STAR TREK TNG THROUGH THE MIRROR #04 CVR B NIETO| $3.99
STAR WARS #48| $3.99
STAR WARS ANNUAL #04| $4.99
STAR WARS ANNUAL #04 1:25 CHRISTOPHER VAR| *
STAR WARS DOCTOR APHRA #20| $3.99
STAR WARS LAST JEDI ADAPTATION #02| $3.99
STAR WARS LAST JEDI ADAPTATION #02 1:25 WALSH VAR| *
STAR WARS LEGENDS EPIC COLLECTION EMPIRE TP VOL 04| $39.99
STRETCH ARMSTRONG AND THE FLEX FIGHTERS TP| $9.99
SUICIDE SQUAD #42| $2.99
SUICIDE SQUAD #42 VAR ED| $2.99
SUPER SONS #16| $3.99
SUPER SONS #16 VAR ED| $3.99
SUPERMAN REBIRTH DLX COLL HC BOOK 02| $34.99
SUPERMAN THE GOLDEN AGE TP VOL 04| $24.99
SUPERWOMAN TP VOL 03 THE MIDNIGHT HOUR REBIRTH| $16.99
TERRIFICS #01 2ND PTG| $2.99
TERRIFICS #04| $2.99
THANOS #13 5TH PTG SHAW VAR LEG| $3.99
THANOS #14 5TH PTG SHAW VAR| $3.99
THANOS #15 4TH PTG SHAW VAR LEG| $3.99
THANOS #16 3RD PTG SHAW VAR LEG| $3.99
THANOS #17 3RD PTG SHAW VAR LEG| $3.99
TMNT URBAN LEGENDS #01 CVR A FOSCO| $3.99
TMNT URBAN LEGENDS #01 CVR B LARSEN| $3.99
TMNT URBAN LEGENDS #01 10 COPY INCV| *
TRUE BELIEVERS WOLVERINE THE BROTHERS #01| $1.00
TRUE BELIEVERS WOLVERINE VS VENOM #01| $1.00
VENOM & X-MEN POISON-X TP| $17.99
WEAPON X #18 LEG| $3.99
WILD STORM TP VOL 02| $16.99
WITCHFINDER GATES OF HEAVEN #01| $3.99
WOLVERINE BY DANIEL WAY COMPLETE COLLECTION TP VOL 04| $34.99
WONDER WOMAN #47| $2.99
WONDER WOMAN #47 VAR ED| $2.99
WORMWOOD SAGA TP VOL 01 SAGA BEGINS| $9.99
X-MEN GOLD #28 LEG| $3.99
X-O MANOWAR (2017) (NEW ARC) #15 CVR A LAROSA| $3.99
X-O MANOWAR (2017) (NEW ARC) #15 CVR B MAHFOOD| $3.99
X-O MANOWAR (2017) TP VOL 04 VISIGOTH| $9.99
YOU ARE DEADPOOL #04| $3.99
YOU ARE DEADPOOL #04 ESPIN RPG VAR| $3.99
* limited quantities, check for availability