WEDNESDAY :: MARCH 22, 2019



THIS WEEKEND!!
ON THE ROAD!!
HEROES WILL BE AT THE CHARLOTTE COMICON
SUNDAY, MARCH 24 :: 10AM-5PM
SAVE THE DATE!!
THE GOON TOUR at HEROES AREN'T HARD TO FIND!
SATURDAY, APRIL 20 :: TIMES TBA! #GOONTOUR

FREE COMIC BOOK DAY
SATURDAY, MAY 4 :: FREE COMICS, ARTISTS AND MORE!

HEROESCON 2019 TICKETS - ON SALE NOW!!! HEROESCON 2019 :: SAVE THE DATE :: JUNE 14-16
HEROESCON 2019 GUEST LIST

NEW RELEASES FOR MARCH 27, 2019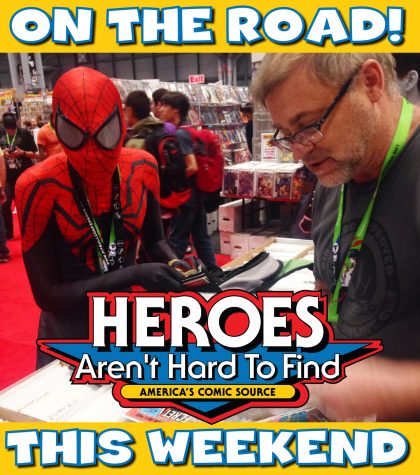 THE HEROES CREW HITS THE ROAD FOR
THE CHARLOTTE COMICON
SUNDAY, MARCH 24 :: 10AM-5PM

You can catch SETH, WINSLOW and KARLA at the CHARLOTTE COMICON this Sunday!!
Concord Convention Center
Embassy Suites
5400 John Q. Hammons Dr. NW
Concord NC 28027
Just across I-85 from Concord Mills Mall!
http://charlottecomicon.info/
10am-5pm
Admission: $5.00 with Kids 9 & Under FREE!
The GOON Celebrates 20 Years!
Heroes is thrilled to host Writer/Artist/Publisher Eric Powell during his 23-city international tour featuring the relaunch of his creator-owned title, The Goon!
Eric will be bringing THE GOON TOUR to Heroes on Saturday, April 20th!! Times to be announced SOON!!

Thank you once again to all the amazing creators, exhibitors, vendors, and fans for another great Heroes Convention! Thanks to all the volunteers who make it possible for our tiny staff to pull off such a large show! We couldn't do it without you! Mark your calendars for HeroesCon 2019, we'll see you June 14-16!
KEEP UP WITH OUR GUEST ANNOUNCEMENTS HERE!





BOOKS SHIPPING THE WEEK OF: MARCH 27, 2019
ACTION COMICS #1009 |$3.99
ACTION COMICS #1009 VAR ED |$3.99
ADVENTURE TIME SEASON 11 #06 MAIN |$3.99
AGE OF X-MAN X-TREMISTS #02 |$3.99
AMAZING FANTASTIC INCREDIBLE MARVELOUS MEMOIR TP |$19.99
AMAZING SPIDER-MAN #18 |$3.99
AMAZING SPIDER-MAN #18 SHAVRIN VAR |*
ANIMOSITY EVOLUTION TP VOL 02 LEX MACHINA |$14.99
ARCHIE MEETS BATMAN 66 TP |$17.99
ASGARDIANS OF THE GALAXY TP VOL 01 |$15.99
AVANT-GUARDS #03 MAIN |$3.99
AVENGERS NO ROAD HOME #07 |$3.99
BAD LUCK CHUCK #01 |$3.99
BARBIE #02 |$6.99
BARRIER LIMITED ED SLIPCASE (EMPTY) |$10.00
BATGIRL #33 |$3.99
BATGIRL #33 VAR ED |$3.99
BATGIRL THE BRONZE AGE OMNIBUS HC VOL 02 |$99.99
BATMAN BEYOND #30 |$3.99
BATMAN BEYOND #30 VAR ED |$3.99
BLACK HAMMER AGE OF DOOM #09 CVR A ORMSTON |$3.99
BLACK HAMMER AGE OF DOOM #09 CVR B GREENE |$3.99
BLACK PANTHER #10 |$3.99
BLACK SCIENCE #39 CVR A SCALERA |$3.99
BLACK SCIENCE #39 CVR B MAGUIRE |$3.99
BLACK WIDOW #03 |$3.99
BLOODSHOT RISING SPIRIT #05 CVR A MASSAFERA |$3.99
BONE PARISH #08 |$3.99
BOOKS OF MAGIC #06 |$3.99
CHARLIES ANGELS TP VOL 01 |$19.99
CLOAK AND DAGGER MPGN TP NEGATIVE EXPOSURE |$19.99
CODA #10 MAIN & MIX |$3.99
CODA GN VOL 01 |$9.99
CRIMSON LOTUS #05 |$3.99
DAREDEVIL #03 |$3.99
DAREDEVIL #03 FUJI CAT VAR |*
DAREDEVIL #03 JRJR HIDDEN GEM VAR |*
DETECTIVE COMICS #1000 |$9.99
DETECTIVE COMICS #1000 1930S VAR ED |$9.99
DETECTIVE COMICS #1000 1940S VAR ED |$9.99
DETECTIVE COMICS #1000 1950S VAR ED |$9.99
DETECTIVE COMICS #1000 1960S VAR ED |$9.99
DETECTIVE COMICS #1000 1970S VAR ED |$9.99
DETECTIVE COMICS #1000 1980S VAR ED |$9.99
DETECTIVE COMICS #1000 1990S VAR ED |$9.99
DETECTIVE COMICS #1000 2000S VAR ED |$9.99
DETECTIVE COMICS #1000 2010S VAR ED |$9.99
DETECTIVE COMICS #1000 BLANK VAR ED |$9.99
DIAL H FOR HERO #01 |$3.99
DIAL H FOR HERO #01 VAR ED |$3.99
DISNEY COMICS AND STORIES #04 CAMPINOTI |$5.99
DOCTOR STRANGE #12 |$3.99
DUCKTALES #19 CVR A |$3.99
FANTASTIC FOUR #08 |$3.99
FANTASTIC FOUR #08 SIENKIEWICZ VAR |*
FEMME MAGNIFIQUE 10 MAGNIFICENT WOMEN CHANGED WORLD |$4.99
FIGHT CLUB 3 #03 CVR A MACK |$3.99
FIGHT CLUB 3 #03 CVR B COOVER |$3.99
FIGHT CLUB 3 #03 CVR C WILKERSON |$3.99
FLASH #67 |$3.99
FLASH #67 VAR ED |$3.99
FLASH TP VOL 09 RECKONING FORCES |$16.99
FORGOTTEN QUEEN #02 CVR A KANO |$3.99
FREEDOM FIGHTERS #04 |$3.99
GI JOE SIERRA MUERTE #02 CVR A FIFFE |$4.99
GI JOE SIERRA MUERTE #02 CVR B FIFFE |$4.99
GI JOE SIERRA MUERTE #02 10 COPY INCV LOLOS |*
GLOW #01 CVR A TEMPLER |$3.99
GO-BOTS #05 CVR A SCIOLI |$3.99
GO-BOTS #05 CVR B SHAW |$3.99
GODDESS MODE #04 |$3.99
GUERILLAS OMNIBUS TP |$39.99
HANDMAIDS TALE GN |$22.95
HARLEY QUINN TP VOL 02 HARLEY DESTROYS THE UNIVERSE |$16.99
HELLBOY AND BPRD 1956 #05 |$3.99
HEROES IN CRISIS #07 |$3.99
HEROES IN CRISIS #07 VAR ED |$3.99
HEX WIVES #06 |$3.99
HULKVERINES #02 |$4.99
HULKVERINES #02 MOORE VAR |$4.99
IMMORTAL HULK #01 4TH PTG BENNETT VAR |$4.99
INCREDIBLE HULK #181 FACSIMILE EDITION |$3.99
INVADERS #03 |$3.99
IRONHEART #04 |$3.99
ISOLA #07 CVR A KERSCHL |$3.99
ISOLA #07 CVR B STONE |$3.99
JIM HENSON BENEATH DARK CRYSTAL #08 MAIN CVR DEWEY |$3.99
JUGHEAD THE HUNGER #13 CVR A GORHAM |$3.99
JUGHEAD THE HUNGER #13 CVR B MALHOTRA |$3.99
JUGHEAD THE HUNGER #13 CVR C SCOTT |$3.99
JUNIOR HIGH HORRORS #04 CVR A NIGHTMARE ELM ST PARODY |$4.99
JUSTICE LEAGUE ODYSSEY #07 |$3.99
JUSTICE LEAGUE ODYSSEY #07 VAR ED |$3.99
LOEG TEMPEST #05 ONEILL |$4.99
LOONEY TUNES #248 |$2.99
MAGICAL BEATDOWN #02 |$8.00
MAN-EATERS #07 CVR A MITERNIQUE |$3.99
MAN-EATERS #07 CVR B MITERNIQUE |$3.99
MARTIAN MANHUNTER #04 |$3.99
MARTIAN MANHUNTER #04 VAR ED |$3.99
MARVEL COMICS PRESENTS #03 |$4.99
MARVEL RISING #01 |$3.99
MARVEL RISING #01 LIM VAR |$3.99
MASK OMNIBUS TP VOL 01 |$24.99
MEGA GHOST #04 |$3.99
MERA TIDEBREAKER TP |$16.99
MIDDLE-EARTH HC JOURNEYS IN MYTH AND LEGEND |$39.99
MIGHTY MORPHIN POWER RANGERS #37 MAIN |$3.99
MIGHTY MORPHIN POWER RANGERS #37 PREORDER GIBSON VAR |$3.99
MIGHTY MORPHIN POWER RANGERS #37 FOC MERCADO VAR |*
MIND MGMT OMNIBUS TP VOL 01 MANAGER AND FUTURIST PART 1 |$24.99
MOON GIRL AND DEVIL DINOSAUR #41 |$3.99
MR AND MRS X #09 |$3.99
MS MARVEL TP VOL 10 |$19.99
ON VINYL GN |$15.00
OUR SUPER ADVENTURE PRESS START TO BEGIN |$19.99
OUT OF THE BLUE HC GN VOL 01 |$19.99
OUTCAST BY KIRKMAN & AZACETA #40 |$3.99
PETER CANNON THUNDERBOLT #03 CVR A WARD |$3.99
PLANET OF THE APES WHEN WORLDS COLLIDE |$14.99
REALM #12 CVR A HAUN & FILARDI |$3.99
REALM #12 CVR B LUCAS & FILARDI |$3.99
RED SONJA BALLAD RED GODDESS HC |$19.99
RICK & MORTY #48 CVR A |$3.99
RICK & MORTY #48 CVR B TROUSSELLIER |$3.99
ROLLING STONES IN COMICS HC |$24.99
SABRINA TEENAGE WITCH #01 CVR A FISH |$3.99
SABRINA TEENAGE WITCH #01 CVR B BUSCEMA |$3.99
SABRINA TEENAGE WITCH #01 CVR C HUGHES |$3.99
SABRINA TEENAGE WITCH #01 CVR D IBANEZ |$3.99
SABRINA TEENAGE WITCH #01 CVR E LANZ |$3.99
SAVAGE SWORD OF CONAN #01 2ND PTG |$4.99
SCOOBY DOO TEAM UP #47 |$2.99
SECRET AVENGERS BY REMENDER TP COMPLETE COLLECTION |$34.99
SECRET VOICE GN VOL 01 |$24.95
SGT FURY EPIC COLLECTION TP HOWLING COMMANDOS |$39.99
SHARKEY BOUNTY HUNTER #02 CVR A BIANCHI |$3.99
SHARKEY BOUNTY HUNTER #02 CVR C YOUNG |$3.99
SHAZAM #04 |$3.99
SHAZAM #04 VAR ED |$3.99
SHOW ME HISTORY GN ABRAHAM LINCOLN DEFENDER OF UNION |$12.99
SHOW ME HISTORY GN AMELIA EARHART PIONEER IN SKY |$12.99
SHOW ME HISTORY GN MARTIN LUTHER KING VOICE OF EQUALITY |$12.99
SILENCER #15 |$3.99
SIM CITY ISS AFTER & TEENAGE MONEY NABBING CEREBI ONE SHOT |$4.00
SNOTGIRL #13 CVR A HUNG |$3.99
SNOTGIRL #13 CVR B OMALLEY |$3.99
SPAWN #295 CVR A MATTINA |$2.99
SPAWN #295 CVR B MATTINA VIRGIN |$2.99
SPAWN #295 CVR C B&W VAR MCFARLANE & MATTINA |$2.99
SPIDER-MAN DEADPOOL #48 |$3.99
SPIDER-MAN FAR FROM HOME PRELUDE #01 |$3.99
SPIDER-MAN TP NEW WAYS TO LIVE |$39.99
STAR WARS ADVENTURES #19 CVR A MAURICET |$3.99
STAR WARS DOCTOR APHRA #30 |$3.99
STAR WARS SOLO GN |$9.99
SUPER SONS THE POLARSHIELD PROJECT TP |$9.99
SUPERIOR SPIDER-MAN #04 |$3.99
SYNERGY HASBRO CREATORS SHOWCASE |$7.99
TERRIFICS #14 |$2.99
THE BALLAD OF SANG TP |$19.99
THE FREAK GN |$14.95
TMNT RISE OF THE TMNT TP VOL 01 |$9.99
TMNT URBAN LEGENDS #11 CVR A FOSCO |$3.99
TMNT URBAN LEGENDS #11 CVR B FOSCO & LARSEN |$3.99
TMNT URBAN LEGENDS #11 10 COPY INCV EASTMAN |*
TRANSFORMERS #02 CVR A DANIEL |$3.99
TRANSFORMERS #02 CVR B JOSEPH |$3.99
TRANSFORMERS #02 10 COPY INCV VEREGGE |*
UMBRELLA ACADEMY HOTEL OBLIVION #06 CVR A BA |$3.99
UMBRELLA ACADEMY HOTEL OBLIVION #06 CVR B BA |$3.99
VADER DARK VISIONS #02 |$3.99
VADER DARK VISIONS #02 SANDOVAL VAR |*
WALT DISNEY DONALD DUCK NEWSPAPER COMICS HC VOL 05 |$39.99
WEAPON H TP VOL 02 |$17.99
WHAT IF? WITH GREAT POWER TP |$17.99
WILLIAM GIBSON ALIEN 3 #05 CVR A CHRISTMAS |$3.99
WILLIAM GIBSON ALIEN 3 #05 CVR B WARD |$3.99
WONDER WOMAN #67 |$3.99
WWE WRESTLEMANIA 2019 SPECIAL #01 MAIN |$7.99
X-FORCE #05 |$3.99
* limited quantities, check for availability