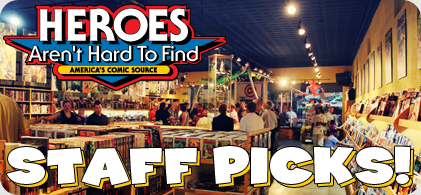 ANDY'S PICKS :: DC SUPER FRIENDS: A WORD ADVENTURE BOARD BOOK: SUPERMAN | DC SUPER FRIENDS: A WORD ADVENTURE BOARD BOOK: WONDER WOMAN | DC YR BOARD BOOK BATMAN SHAPES | DC YR BOARD BOOK CATWOMAN COUNTING | DC YR BOARD BOOK SUPERMAN COLORS | DC YR BOARD BOOK SM WONDER WOMAN ABC'S: 
Attention all pre-schoolers reading this! Remember all those times you went with Dad to that super cool store with the pretty statues, the big scary Spiderman and not so scary Statue of Liberty. Think of how many times your dad spent way too much on his weekly comics fix and suggested that you "….don't tell your mom". Well, this week it's payback time. When your dad reiterates your little weekly secret, hand him a stack of these delightful YR Instructional books that feature Superman, Batman and Wonder Woman! Not only will these books help you learn your shapes, and master counting, colors and most importantly those tricky ABCs (
the mystery of 'LMNO' finally revealed
!) but it will assuage your dad's on-going sense of guilt.  Plus you and dad can read great comics together and you will make Mr. Justin smile. It's a win-win-win. And each book only costs 'this many'.

Just don't tell mom.