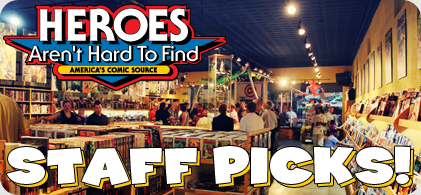 HEATHER'S PICK :: A-FORCE #1: So Secret Wars, things blow up, worlds collide, Heroes had a really cool variant cover.  You now have the sum total of my knowledge of the wars of secrets.  That's my comics confession, I rarely do the big events.
In spite of that, I can't wait to pick up A-Force #1. Marvel's got my number on this one.  A comic loaded with female superheroes written by one of my personal favorites, G. Willow Wilson. (Side note: Are you reading Ms. Marvel?  If no, then why the *$@! not?!? Pick up a trade or two when you're in this week for singles.)
Written by Wilson and Marguerite Bennett with gorgeous art by Jorge Molina and Craig Yeung as well as colors by Laura Martin and Matt Milla, out of Secret Wars (I think) comes Battleworld, part of which is protected by a team of lady Avengers.  Based on the cover and previews of interior pages, the team includes some of my favorite Marvel characters: She-Hulk,  Medusa,  Hellcat, Jubilee,  and SpiderGwen.   There are a ton of other great characters in case our favorites don't coincide.  This looks like a good one to pick up, especially while so many titles hit pause for the summer.