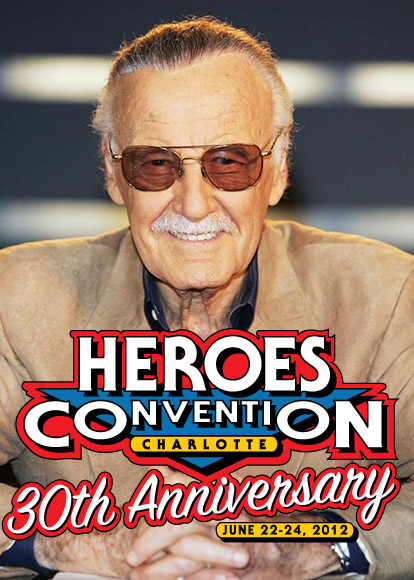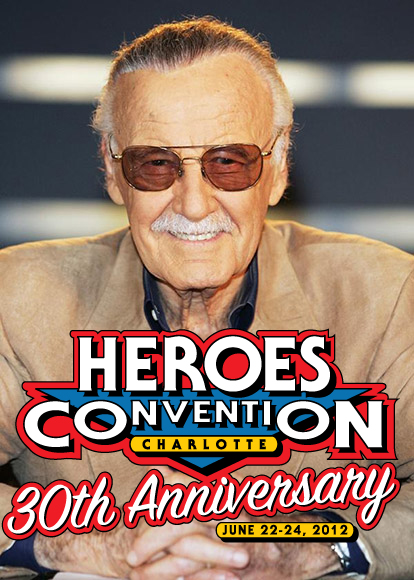 Heroes Convention 2012 Welcomes Stan Lee!

Shelton Drum is honored and excited to welcome comics legend Stan Lee back to Charlotte as a featured guest of Heroes Convention's 30th anniversary. Stan last attended HeroesCon in 1984 and his return this summer will be the crown jewel in the show's 30th Anniversary celebrations.
Stan will be on hand signing autographs and posing for photographs during HeroesCon. He will also be featured on a panel discussion. All attendees of the convention will be welcomed to Stan's panel, photo opportunities and autograph sessions. Details of our VIP ticket packages will be announced next Friday, May 10th! Sign up for our mailing list to get the news first!
Stan Lee is known to millions as the man whose superheroes propelled Marvel to its preeminent position in the comic book industry, Stan's co-creations include Spider-Man, The Incredible Hulk, X-Men, The Fantastic Four, IronMan, as well as hundreds of others. He introduced Spider-Man as a syndicated newspaper strip that became the most successful of all syndicated adventure strips and has appeared in more than 500 newspapers worldwide.Stan currently remains Chairman Emeritus of Marvel, as well as a member ofthe Editorial Board of Marvel Comics. Stan is currently the Chairman & Chief Creative Officer of POW!
"Stan Lee has been the face and the voice of Marvel Comics since the debut of The Fantastic Four in 1961 and has in recent years become the same for comics and superheroes in general to most fans. I'm very excited and proud that Stan will be helping Heroes celebrate HeroesCon's 30th anniversary!" said convention organizer and comics retailer Shelton Drum.

This year's Heroes Convention takes place June 22-24, 2012 at the Charlotte Convention Center.