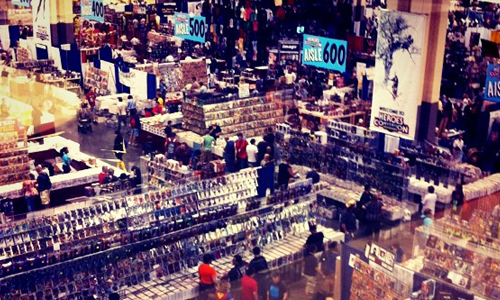 HEROES CONVENTION was founded in 1982 by Shelton Drum, owner of Charlotte's Heroes Aren't Hard To Find comics shop. Since then the convention has become famous for its comics-first and family-friendly atmosphere, where fans can mingle directly with professionals and exhibitors. Boasting an incredible guest list built mainly on reputation and goodwill, HeroesCon is known nationwide as a "must" on the summer schedule, drawing fans, exhibitors, and creators from every region of the country to the Charlotte Convention Center.


TICKETS ON SALE NOW!

3-DAY ADVANCE PASS will save $35 over 3 Day-of ticket purchasers, and will be allowed in immediately after VIP* 3-Day Advance Pass holders and before Day-of ticket holders all three days.

**16 & Under FREE Admission with PAID, ATTENDING, ADULT



COMIC CULTURE AT THE 2022 HEROES CONVENTION


Thank you to our friends at Comic Culture, and to Terrence Dollard for this incredible video and interview about our Fantastic 40th Anniversary Heroes Convention!

HEROESCON 2023
"KIBBY'S SIDEKICKS"

Our small, hardworking, staff couldn't pull it off each year without the help of our dedicated volunteers, lovingly nicknamed "Kibby's Sidekicks" in memory of our friend, and HeroesCon Volunteer Extraordinare, Charles Kibby.

SIGN-UP TO BE ONE OF OUR "SIDEKICKS" TODAY!




Shelton Drum
Owner: Heroes Aren't Hard to Find & Heroes Convention
Shelton@heroesonline.com

Karla M. Southern
Heroes Event, Media & Creative Coordinator
Karla@heroesonline.com

Seth Peagler
Heroes Operations Manager
Seth@heroesonline.com


For the most up-to-date information, check our blog, or sign up for the weekly Heroes Hotline newsletter. You can also follow us on Twitter and Facebook!


HEROESCON on FACEBOOK
https://www.facebook.com/heroesonline/
HEROESCON on TWITTER
https://twitter.com/heroescon
HEROESCON on INSTAGRAM
http://searchinstagram.com/heroescon
HEROESCON on FLICKR
https://www.flickr.com/search/heroescon

Keep up with updates to the Heroes Convention 2023 Featured Guest List, Event Schedule, and more--including hotel and travel updates--on our blog or by signing up for the Heroes Hotline, our weekly newsletter!