What is the Great American Comic Strip? Does such a thing exist? Like trying to figure out what book is the Great American Novel or which songwriter is the Great American Composer, it is a fun exercise but there are too many diverse (and worthwhile) opinions.  It is a no-win argument. But still….  Many would choose Peanuts, Pogo or perhaps Little Orphan Annie and those are fabulous choices, but in my own opinion, there is one clear cut leader for that elusive title:  Gasoline Alley



Gasoline Alley was created by Frank King in 1918 as a single panel cartoon for car enthusiasts.  Soon characters began to emerge from the group of amateur alley mechanics and by 1921, the strip had it's star-young, rotund, tough but loveable Walt Wallet.  Then on Valentine's Day 1921, Walt is awakened in the middle of the night to find an abandoned baby boy on his doorstep.  For the next 94 years (and counting) Gasoline Alley has told the story of Walt Wallet and his family.

The unique quality of Gasoline Alley is that King decided to age his characters in real time.  Thus the journey of the American family through the Jazz Age, Depression, Wars, Marriages, High schools, Colleges, Work, Business ownership, Children, Grandchildren and constantly changing cultural times has been chronicled faithfully by Frank King and his three immensely talented successors Bill Perry, Dick Moores and current Gasoline Alley scribe Charlotte's own Jim Scancarelli.
With almost a century of comics in it's backlog, there is a lot of treasure to be mined.  For years, none of the GA saga was available to readers and collectors.  In the past few years, several publishers have worked tirelessly to correct this injustice.
Frank King—Drawn & Quarterly is offering a magnificent series entitled Walt and Skeezix.  So far 5 volumes have been published encompassing the years 1921 to 1930.  King takes the concept of a man's man Walt Wallet juggling single parenthood with his budding love life and love for all things automotive.  Throughout these 5 indispensable, beautifully compiled and edited (by noted comics historian Jeet Heer and comic artist (and fan) extraordinaire Chris Ware) volumes, Walt raises Skeezix from infant to precocious 10 year old.  He marries, has another child and lives his life as the specter of the Depression looming over the heads of everyone in their unnamed Midwestern town.  Heer and Ware supplement the decade of daily strips with page after page of information about King and his life, his family and his career.  In fact volume 5 includes a DVD of King's home movies.  This series is a labor of love and it shows on every page.  The interested reader does not have to start with the first volume.  I actually recommend volume 4 or 5 as Frank King matures from good to great great storyteller and cartoonist.
However, for any of you hard-core strip collector completest (we rock by the way!)  the earliest Gasoline Alley panels from 1917 through 1920 are available in an over-sized paperback format from
Spec Productions
.
Each of the four volumes are only $20.00 a piece and while you are on the SPEC site,  check out all the other strip collections (I highly recommend the Family Upstairs by George Herriman and The Missing Years featuring late '50s-early-60s Johnny Hazard by Frank Robbins !!!)
King continued the strip into the 1960's and as he passed into middle age, he decided to ease up on his daily comic responsibility and  he turned over the strip to his assistants.
Bill Perry
took over the reins on the Sunday Gasoline Alley Page from 1960 to 1975 and did an admirable job.  But with the exception of a couple of pages in Historical collections, Perry's work remains largely uncollected and unseen.
NOTE
: Frank King's Sunday page work is a subject unto itself and will be discussed in a future Heroesonline Blog.
With the dailies, King turned the continuity over to his assistant 
Dick Moores
and within a few years of very smooth transition, Moores' made Gasoline Alley completely his own.  The characters continued to age, the stories continued to unfold, a new generation was added and in a very rare occurrence in Comic Strip history, the successor improved on the work of the creator.
Dick Moores' historic run from 1964 to 1985 can be found in two publications:
IDW's Library of American Comics
has just published the first two years of Moores' run 1964-1966.  Under the title
Gasoline Alley
, the book is an absolute joy to read.  The Wallet family
continues their day to day struggles and the tapestry continues to get larger, more complex and more more delightful with each new story line.  In case you can't wait for IDW to collect the entirety of Moores' great run,
Comics Revue
— the longest published independent comic of all time!!– has published every Moore strip from 1970 through 1986. Comics Revue back issues can be gotten on the cheap  through various on-line sources…but check with Ms. Shelley Drum– she may have a few sample issue you can purchase to wet your Comic strip loving beak!
Jack of many trades, accomplished musician and immensely talented cartoonist, Jim Scancarelli began assisting Dick Moores in 1979 and took over the strip in 1986 at the time of Moores' passing.  To this day, Jim continues to admirably handle the reins and the Wallet family tree continues to add rings to their decades old saga
BTW–The Rover mentioned above is Walt Wallet's great grandson, poor Clovia is continually haggard and her husband Slim makes Homer Simpson look as smart as The Big bang Theory cast.
Sadly, Gasoline Alley is not available in the local Charlotte papers.  HOWEVER, you can read the last 11.5 (!!) years of humorous continuities over at GoComics.  For a very inexpensive annual fee 11.88 a year!!, you can read every single Gasoline Alley (as well as the other 100 Go comics) from May of 2001 on!  Just go to Go Comics and sign up.
NOTE: Comics Revue (god bless'em!) has published the first two years of Mr. Scancarelli's run as well. Check those auction sites, you won't be sorry!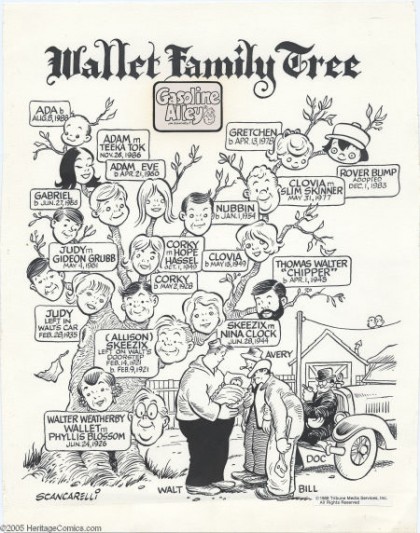 So, between The D&Q Walt and Skeezix, the IDW Gasoline Alley, Comics Revue and a subscription to Go Comics, there are plenty of chapters of this on-going Great American Novel to savor and cherish.  So sit back in a comfy chair pour yourself a hot or cold beverage and dive into the on-going story of the Prolific Walt Wallet from his quartet of Biographers, Frank King, Bill Perry, Dick Moores and Jim Scancarelli. Enjoy!