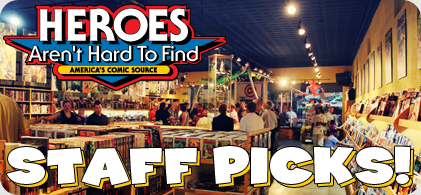 ANDY'S PICK :: COMPLETE PERSEPOLIS SATRAPI SGN BOOKPLATE ED TP:
This important groundbreaking two-volume memoir of the author's young life in Iran before, during and after the Islamic Revolution is essential reading.  The writer/artist Marjane Satrapi uses her cute and cartoony art style to weave a unique tapestry that includes scenes of high tension and tragedy, but also reminds the reader that there is always hope as long as the human spirit endures.
Is Persepolis a masterpiece? Since its original publication, readers have been torn–especially since the first part of the narrative is so powerful, it tends to dwarf the coming-of-age atmosphere of the latter chapters.  But at the end of the day– it belongs on everyone's must-read list.  And this brand new edition–that collects both volumes and is limited to 400 signed bookplate editions signed by creator Marjane Satrapi at only at 24.95 makes it hard to pass up!!