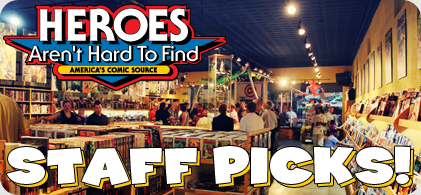 ANDY'S PICK :: CAMELOT 3000:
How often have you gazed upon a
Brian Bolland
cover with awe and wished he would do an entire comic?  Well howzabout an entire 12 issue limited-series drawn by Mr. B?  
Camelot 3000
 is an insanely affordable new printing (
325 pages for only 19.95!!
) of the first of its kind maxi-series from DC Comics. It is the year 3000 AD, aliens are invading Earth and future England is at it's time of greatest need, so according to the legends, the great hero King Arthur (along with his entire supporting cast) returns to aid in the defense of England's mountains green. This TP also includes preliminary artwork by Bolland and developmental material from the series author,
Mike W. Barr
!