I arrived at Southern Bastards #1 with plenty of high hopes. Jason Aaron has long been one of my favorite writers, with his creator-owned Scalped being one of our great modern crime epics, and his mainstream Marvel work on Wolverine and Wolverine and the X-men being of reliable entertainment and quality. Jason Latour is an artist/neighbor whose work I've had a chance to see develop and flourish over the past 8 years. He's proven himself as an accomplished writer on the creator owned Loose Ends and Marvel's Winter Soldier, and as an artist on everything from B.P.R.D. to Captain America. Needless to say, I had a lot of expectations riding on this book. 
Upon my first reading of Southern Bastards, I quickly realized it was hitting close to home. I've lived in Charlotte my entire life. There aren't many of us who can say that anymore. North Carolina isn't the South of Southern Bastards' Craw County, Alabama, but my Dad hails from Jackson, Mississippi, so I've got some deep south in my blood. Southern Bastards pulled up some of my memories of Mississippi and made me angry and wistful at the same time. The Mississippi of my memory is quiet and spacious, and seemingly hot all the time.  There's all kinds of beauty surrounding you, but it's not always easy to see it, because there's plenty there to offend and infuriate. It's an odd juxtaposition, the vast expanse of natural beauty and the racism and violence that occurs within it. It's all part of what modern southern songwriter Patterson Hood refers to as "The Duality of the Southern Thing," and it's always there. Southern Bastards does a better job of encapsulating this duality that just about any comic I've ever read.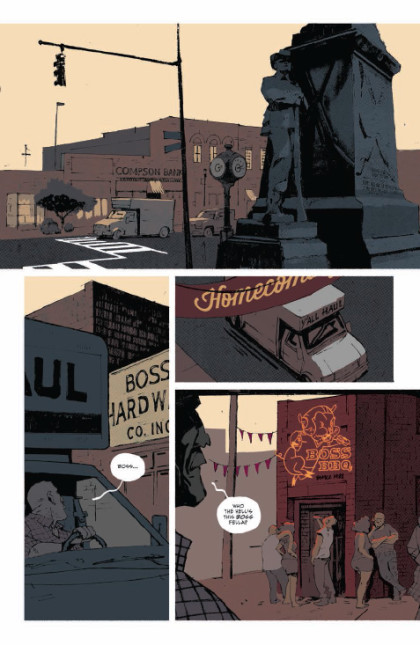 Aaron and Latour wisely don't acknowledge this equal parts blessing and curse with a slap-you-in-the-face, didactic approach.  Instead, they use open space and quiet moments to intended effect.  These are storytellers seasoned in Hank Williams, Willie Nelson, William Faulkner, and Flannery O'Conner. They know a little can go a long way. They also know that the South is full of spiritual things that can be as unsettling as they are revelatory. Southern Bastards' protagonist Earl Tubb sees this all too well in the first issue when he sees a giant tree growing right out of his father's grave. Earl surmises that it sprouted from the legendary stick that his daddy used to clean up Craw County. It's quite a sight, but for all the mystery it represents, it's not necessarily something Earl wants to see. Earl comes back to Craw County for the first time in forty years, and you see in his face that home can be a place full of memories and still somewhere you don't want to go. It's like North Carolina writer Thomas Wolfe said: "You can't go home again." 
When we first meet Earl, he's been in the big city (Birmingham) for years now, and he quickly realizes why he left his hometown. For all the good memories, there are plenty of things difficult and terrible about Craw County. While the series will surely tell us more about all of these things, it strikes me that it's not an accident that Aaron and Latour chose Alabama as the locale for their story. Aside from the obvious fact that Aaron hails from the state, it's worth remembering that Alabama is notable for several things other than football. On the cultural front, Muscle Shoals' Fame Studios was a place where black and white musicians came together to make some of the most enduring American records, even in the midst of the unrest around them. And then you have Birmingham itself, where the violence of the Civil Rights struggles came to a head in 1963. Southern Bastards seems to be very conscious of so much that makes the South a wonderful and troubling place.
There's a phrase applied to music that says "always serve the song." It refers to the idea of pushing your ego out of the way in a performance and letting the song's inherent soul be revealed to the audience. Though a different medium entirely, Aaron and Latour clearly serve the song in Southern Bastards, and it's one that will get stuck in your head if you let it. This is a comic of deft storytelling and uncommon soul. I, for one, can't wait to see how it all plays out.