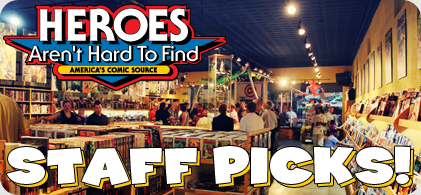 HEATHER'S PICK :: RASPUTIN #1: There were so many points in Russian history that I found absolutely fascinating when I was in school.  The Romanovs in particular were very interesting, especially in light of their association with Grigori Rasputin, rumored mystic and faith healer and adviser to the Tsar.  Rasputin's rise in the Russian aristocracy has all the makings of a modern day soap opera: alleged affairs with the Tsarina and other princesses, the close friendship with the Tsar who brushes off all allegations, the seemingly miraculous healing of a sick and adored child, and multiple conspiracies to commit murder.  Even Rasputin's death is still shrouded in mystery as who ultimately killed him and how. Poisoned, shot, stabbed, beaten, drowned, or all of the above? Was this mystical figure really that hard to kill?
I can't wait to see this story brought to life in a comic.  Image has found excellent footing in the genre comics section with sound exploration outside of the tights and capes that many non-comics readers expect.  Writer
Alex Grecian
and artist
Riley Rossmo
sound like they have done their research into the convoluted world of Rasputin and it looks like they will have a twisted tale to share and I look forward to following along.