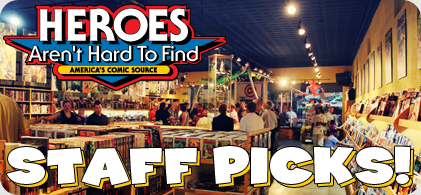 ANDY'S PICKS :: At this past weekend's Discussion Group–and we had a blast, join us for the next one!!-two books were strongly recommended by our Discussioneers (c): WAKE the ten issue horror mini series from Batwriter Scott Snyder and artist Sean Murphy. It is set at the Arctic Circle and it sounds horrifying. And KINSKI the six issue miniseries from Gabriel Hardiman about a man and his dog, but that is not what it is really about. Both books are collected in book form and are well worth your time, money and effort.

SUPERMAN GOLDEN AGE SUNDAYS 1946-1949 HC| $49.95
WALLACE & GROMIT NEWSPAPER STRIPS HC VOL 02| $14.99
WALT KELLY POGO COMP DELL COMICS HC VOL 02| $60.00
BOB POWELL COMPLETE CAVE GIRL HC| $49.99
PEARLS BEFORE SWINE TP BREAKING STEPHAN| $14.99
MUTTS TREASURY LIVING THE DREAM SC| $19.99
GET FUZZY TP YOU CANT FIGHT CRAZY| $14.99
You can't go wrong with any of these collections. Mutts, Get Fuzzy and Pearls Before Swine are three of the most consistent and entertaining contemporary strips. So is Wallace & Gromit and these collections are the only place in the colonies to find this gem. Powell was a good girl art master to rival even Matt Baker. You can't go wrong with Walt Kelly's swamp folk in any medium. But it is those full page, full color Wayne Boring Sunday strips that really melt my butter. Yours too if you are so inclined to give them a try!