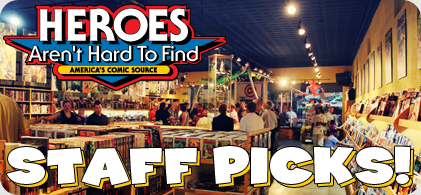 I never eat December snowflakes. I always wait until January.
-Lucy Van Pelt
So here are some ripe ones:
BUFFY THE VAMPIRE SLAYER SEASON 9 LIBRARY HC VOL 01| $29.99
(W) Joss Whedon (A) Georges Jeanty
Okay, so Buffy Season 8 was a bit of a let down, but with Season 9, the Creative-Scoobies really got it together. Our world is a world without magic and a new menace arrives–zombie Vampires! Willow is working overtime to bring the magic back to our earthly realm while Buffy has a serious personal crisis. This entire run is a blast. Collects Buffy Season 9 Volume 1 and Volume 2 in an oversized format; plus an Expanded sketchbook by the talented Messer. Jeanty.
FABLES THE WOLF AMONG US #01| $3.99
Reprinting Vertigo's first-ever digital-first series, FABLES: THE WOLF AMONG US which is a comic adaptation and expansion of the video game. This is an official prequel to Bill Willingham's FABLES! With the series in the hands of Matthew Sturges (JACK OF FABLES) along with fellow scribe Dave Justus (HOUSE OF MYSTERY), and featuring art by Stephen Sadowski (JSA), Shawn McManus (FABLES/FAIREST), and Travis Moore (JSA ALL STARS) this looks like a solid offering to help fill our Mundane void.
LETS DANCE SNOOPY 65 YEARS OF PEANUTS TP
For those who can't budget for the complete Peanuts reprint from Fantagraphics or for folks who want to let their kids read the adventures of the greatest daydreamer in comics history and want to keep their collected volumes from excess stickiness, this is a perfect single issue sampler. It's not just the dog; it's the WWI Flying Ace, it's that gad about the Quad, Joe Cool, it's the greatest unpublished novelist in America, it's the world famous attorney, it's the tennis partner of the terrifying Molly Volley.
It's all Snoopy and it's all great.