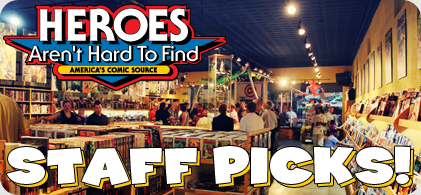 ANDY'S PICKS :: Classic comics old and new……
BATMAN SILVER AGE NEWSPAPER COMICS HC VOL 02 1968-1969| $49.99
(W) Whitney Ellsworth (A) Joe Giella, Al Plastino (CA) Peter Poplaski
The second half of the comic strip run of Batman that rode on the coat-tails of the popularity of the infamous albeit hilarious TV Series. Sure, It's a relic but it's also a riot and it features guest-stars Superman and Aquaman. Same Bat strip, same Bat creative teams.
BPRD PLAGUE OF FROGS TP VOL 02| $24.99
(W) Brian Augustyn & Various (A) Guy Davis & Various (CA) Mike Mignola
An ideal and inexpensive way to dive into the Mignolaverse. Collects B.P.R.D.: The Dead, B.P.R.D.: The Black Flame, and B.P.R.D.: War on Frogs. Plus the storytelling mastery of Guy Davis!
FABLES #148| $2.99
(W) Bill Willingham (A) Mark Buckingham & Various (CA) Nimit Malaviae o
Rose Red learns the truth about her mother, herself and her sister Snow White. As NFL Coach Dennis Green might say at a Post Fables press conference "They're AREN'T who we thought they were" . There are only 2 issues left. The tension is getting pretty thick.
GROO FRIENDS AND FOES #01| $3.99
(W) Mark Evanier (A/CA) Sergio Aragones
It's a year long series. Each month spotlights a supportive character whose life gets repeatedly destroyed by everyone's favorite bungling Barbarian. This first issue features Captain Ahax. Things will get wet.

MMW UNCANNY X-MEN HC VOL 09| $75.00
(W) Chris Claremont (A) Various (CA) Paul Smith
Even though the earlier John Byrne era made The X-Men stars, it is this volumes era that sent the mutants and their scribe Chris Claremont into the stratosphere.Collecting UNCANNY X-MEN #168-175- artist Paul Smith became a star, Rogue became a hero, Cyclops became a husband and Professor Xavier became a Jerk. Also included is the MARVEL GRAPHIC NOVEL #5 "God Loves, Man Kills" a true mainstream high water mark and WOLVERINE #1-4. Featuring art by rising superstar Frank Miller. Last and certainly least, THE UNCANNY X-MEN ANNUAL #7 perhaps the single worst comic book in BRONZE AGE  history. If you think I'm exaggerating, look at the last two pages. POP And POPsicles….yuck.
RUN LIKE CRAZY RUN LIKE HELL HC| $19.99
(W) Jacques Tardi, Jean-Patrick Manchette (A/CA) Jacques Tardi
Following the success of West Coast Blues and Like a Sniper Lining Up His Shot (both highly recommended) Jacques Tardi third collaboration with famed crime writer Jean- Patrick Manchette is by all accounts, the best of the bunch. Hard boiled noir action, dark humor and page after page of Tardi. Tres Bien!