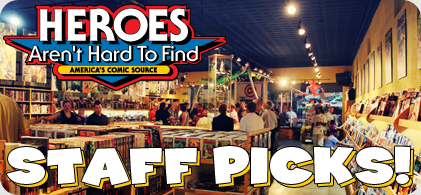 ANDY'S PICKS :: HELLBLAZER TP VOL 10 IN THE LINE OF FIRE: The classic run of everyone's favorite unwashed misanthrope continues with the first eleven issues from the four year run of writer Paul Jenkins and artists Sean Phillips and Al Davison. Horror at its best.
THE ART OF JACK DAVIS! SC: This beautiful jam packed book features the best of the best of Jack Davis (perhaps the single most recognizable comic artist of the past 50 years!). This book has been out of print and in the past few decades has become a rather expensive collector's item, but now it's back and it's very inexpensive. A must-have for any well rounded comic library.
LOVE AND ROCKETS NEW STORIES TP VOL 07: from Jaime we have the return of Maggie, Hopey and Ray. And if that wasn't enough, Gilbert serves up Fritz as Morgan La Fey and then delivers a story about Luba's mother, Maria. The brothers are peaking yet again. Don't miss these great comics!