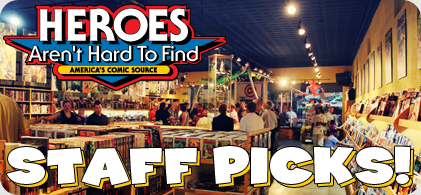 ANDY'S PICKS :: ROBIN THE BOY WONDER A CELEBRATION OF 75 YEARS HC
(W) Bill Finger & Various (A) Bob Kane & Various (CA) Jim Lee, Scott Williams
Happy Birthday Dick/Jason/Damien and according to Monty Python and the Holy Grail, there are some who call him…..Tim? Regardless he still looks great…nice gams! And you have to tip your hat to the enduring concept of the Super-hero kid side-kicks. Again, I know nothing about the contents, but these DC Diamond Jubilee editions have been consistently good. And I'd be willing to bet $.15 (Sterling!) that a whole lot of Teen Titans can be found somewhere between these hard covers.

Walt Disney's Donald Duck: The Pixilated Parrot (The Complete Carl Barks Disney Library Vol. 9)
(W/A) Carl Barks
Two hundred pages of comics by the greatest of the great Carl Barks. You get Donald Duck, his Uncle Scrooge and his nephews Huey, Dewey & Louie, great gags, break-neck pacing, exhilarating adventure that ads up to comic storytelling at its best. What more do you need? How about brief, insightful essays on every story from a number of knowledgable critics, authors and academics. Buy this volume or any volume. Buy some Barks NOW!