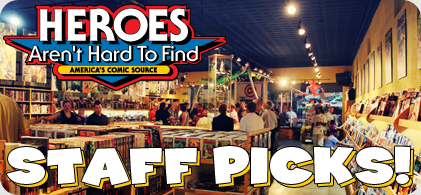 HEATHER'S PICK :: Giant Size Little Marvel A vs. X #1: Alright, Marvel, you've figured out another way to get me to read about this Battleworld place.  I adore Skottie Young's covers so when I get a whole book filled with all this cuteness, I'm sold.  I can't even decide who is the cutest! Maybe Beast because he looks like a little blue puppy? Although Magik is a sweet little butt kicker, too!
I'll take this little piece of Battleworld and an Avengers versus X-Men street food battle! This is a great all ages take on the current Secret Wars event.  No prior knowledge needed!
Bonus Pick:
Squirrel Girl #6: This book is at the top of my pile each week it is released.  I love this book! From the hilarious use of social media by its characters (@hulkysmashy, could it be any better?!?) to the tiny jokes at the bottom of the page (serious spit takes going on) to an amazingly relatable super hero (I want to hang out with Doreen), this book has won a hard fought battle to become my favorite comic.  That's saying a lot for a character I had barely even heard of until recently.  Team Squirrel Girl, you are the best!