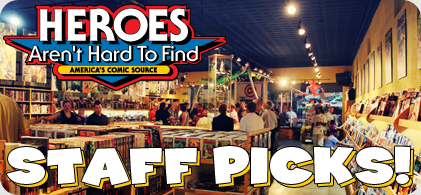 ANDY'S PICKS: Notify the Vatican and make certain all household clocks are synchronized to incorporate the Market-threatening, potentially Apocalyptic LEAP SECOND [TM] because the Classic Comics Cavalcade returns…..
BACCHUS OMNIBUS ED GN VOL 01| $39.99
Have you read From Hell and the autobiographical Alec: The Years Have Pants? Of course you have because I've repeatedly told you all to do so and when it comes to the works of the great Eddie Campbell, you don't want to cross me. Compared to the two epics mentioned above, Bacchus is a less important yet thoroughly entertaining work about the Greek God of Wine and Revelry as he tries to sit quietly and drink his way through modern times. Unfortunately, the are a score of Mythical figures who have their own plans for old Bacchus. And wait 'til you meet the Eyeball Kid face to face.

CREEPY PRESENTS ALEX TOTH HC| $19.99
Keep it simple and spot those blacks and the page will explode with storytelling potential. Alex Toth is one of the giants of comic art and he worked especially well with writers like the great Archie Goodwin who tailored his comic scripts to exploit the assigned artist's strengths. The result? How about a dozen or so of the best Horror stories published by Warren in the mid to late sixties. And it's only 20 bucks. Toth rules!
WILL EISNERS THE SPIRIT A CELEBRATION OF 75 YEARS HC| $39.99
Yet another DC ANNIVERSARY HC edition. Have you always wondered about Eisner and wanted to sample his classic Spirit stories but were put off by the sheer amount of material and the enormous cost? I can't blame you ( but I can -and do blame Frank Miller, but that is, as they say, a different kettle of stories) But this handsome volume looks like it will an ideal sampler of the master cartoonist at his best.
IN SEARCH OF LOST TIME SWANNS WAY GN| $26.95
Attention Monty Python fans
Sing along with me and The Bolton Choral Society as they attempt to summarize Swann's Way in 15 seconds…Proust in his first book, wrote about, wrote about, Proust in his first book wrote about….GONG!!! Anyhooo
Were you assigned to read Proust in English Lit? ME TOO!
Did you read the entire first book Swann's Way? ME NEITHER!
This comic adaptation from French illustrator Stephane Heuet should prove to be more insightful than Sparks Notes and a hell of a lot more fun to read.
Now if they can only figure out a way to adapt Infinite Jest into comic form then I will no longer have to avoid the more persnickety members of my local book club.
BONUS PICK: A FUTURE CLASSIC
CRICKETS #04| $8.00
Sammy Harkham returns and just in time. Mr. H is one of the major comics talents of this young century and you owe it to yourself to pick up all 4 volumes of his solo comic Crickets. Sensational storytelling with unique and rather distinct art and if you aren't careful you just might learn a bit about what it was like to work on early '70s Horror films. Always a plus!