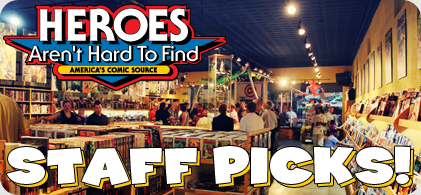 ANDY'S PICKS :: WONDER WOMAN BY GEORGE PEREZ OMNIBUS HC: 
This ottoman-sized omnibus collects the first two years of
George Pérez's
1980s run on WONDER WOMAN as both writer and artist including issues #1-24 and WONDER WOMAN ANNUAL #1.  His focus- a return to greatness for our beloved amazon with an emphasis on the Greek Pantheon. Plus Cheetah! That's a lot of beautiful heroines and villains drawn by Mr. Perez.
THE DEFINITIVE BETTY BOOP TP VOL 01: 
HeroesCon friend
Steve Saffel
edits this definitive edition of the classic '30s
Sunday
pages featuring the real, original Betty Boop before the Hays office lowered her skirt and buried the risqué jokes and situations. We got a chance to feast our eyes on an advanced copy this summer and our eyes popped like Roger Rabbit. Speaking of which…regarding Ms. Boop, PI Eddie Valiant said it best… "Yeah, you still got it"
JASON IF YOU STEAL HC: Everyone's favorite Norwegian cartoonist, Jason returns to our shores with a  collection of eleven fantastic stories of anthropomorphic creatures in an impressive minimalistic style that features Frida Kahlo as an assassin-for-hire Santo, Chet Baker, the Warren Commission, Rene Magritte, Nostradamus and Santos the wrestler with a soundtrack by Van Morrison. Is your curiosity piqued? I thought so. To date, Jason's work never disappoints.