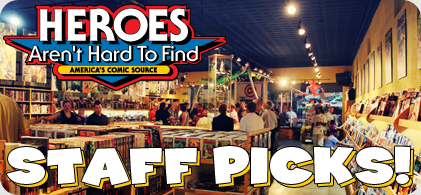 "We're gonna need a bigger book shelf"–Sheriff Brody
ART OF RICHARD THOMPSON HC| $35.00
I will let our esteemed Warehouse Manager talk about this one, but I can't say enough about the great Richard Thompson. This book is indispensible!
ART OF THE SIMON AND KIRBY STUDIO| $60.00
KIRBY KING OF THE COMICS HC NEW PTG| $45.00
Two books that showcase the art and the artist! Titan has done a splendid job with their S&K Library and this artbook is a terrific accoutrement! Who knew Kirby better than long time assistant and devoted friend Mark Evanier? Evanier is one of the most engaging writers around and this book is a proud and respectful testament to The King.

NANCY COMPLETE DAILIES GN VOL 03 LOVES SLUGGO 1949-1951| $39.99
Have you ever taken the time to read and devour Ernie Bushmiller's masterpiece Nancy. Deceptibly simple and oddly corny, it is surprisingly funny and a virtual textbook on comic storytelling.
COMPLETE FARSIDE SC SLIPCASED BOXED SET| $100.00
in the late '80s and early '90s, Calvin and Hobbes was the comic strip page gold standard, but it was Gary Larson's odd and consistently laugh out loud funny single panel the Far Side that got the most buzz around the water cooler. The strip is still influential today with strips like Bizarro, Lio and rhymes with Orange mining the vein Larson tapped.