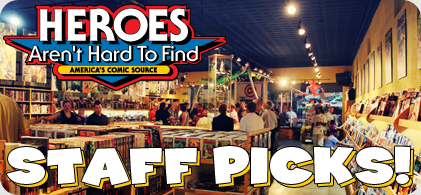 ANDY'S PICK :: COMPLETE CALVIN & HOBBES SC SLIPCASE EDITION:
Okay–hypothetically–the house is burning down and all your loved ones, pets and important documents are safely outside.  You have time for just one more trip– just one chance to retrieve a single chunk of your comic collection before you asphyxiate.  Even in a light-headed state, my choice is a no brainer.  I would heroically tote–even with my lousy knees– the 22 pound 3 volume hard cover Complete Calvin and Hobbes.  It is comic art at it's very best. Each strip deserves to be re-read and savored. And now you can own the complete run of
Bill Watterson's
masterpiece in a new 4 volume soft cover edition. This collection is much easier to lug down a flight of stairs, however the soft cover binding is NOT flame retardant.  Regardless, Calvin and Hobbes rightfully belongs in the same breath with the very best of the classic strips– Peanuts, Pogo and Popeye. Buy yourself this complete masterpiece or ask for it for Christmas. And remember this IMPORTANT SAFETY TIP: Drop, tuck and roll!