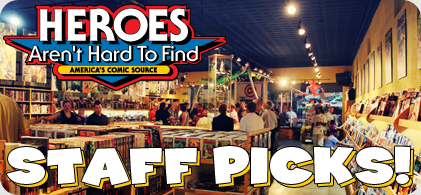 RICO'S PICK :: SOUTHERN BASTARDS #10: The boys are back in town and this issue of SoBas is especially rough. Spending a day with Esaw is no plate of ribs with all the fixins'. Aside from all the sex and violence Jason Latour and Jason Aaron stuffed into this issue, proceeds from sales of the variant cover go to the Mother Emanuel Hope Fund: http://www.charleston-sc.gov/index.aspx?NID=1330
From the mouth of Latour, "The variant is available in as high a quantity as your retailer wants to order. But please keep in mind that Southern Bastards remains an unabashedly rated R plus comic book. It wasn't the plan but this one maybe more so."
We ordered heavy on the "Death To The Flag, Long Live The South" cover so be sure to come by and grab a copy when you can. Thanks!

By using the Mother Emanuel Hope Fund
This city's fund will provide direct financial support for the funeral and burial expenses of the nine victims of the senseless tragedy. Any funds remaining after the funeral and burial expenses are paid will be donated directly to the Emanuel AME Church in ways best determined to benefit the surviving families and the Church.  Donations to this fund are NOT tax-deductible.