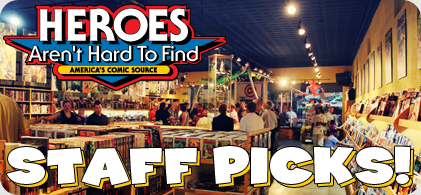 ANDY'S PICKS:
The Classic Comics Cavalcade[TM] rolls on and on and on.  I was forced to take a few Staff Pick sessions off so I could stockpile and sell my blood and pay off my Heroes TAB.  So, I'll be brief… 'cuz if I sit or stand for too long I get a might dizzy.
COMPLETE CRUMB COMICS TP VOL 05 HAPPY HIPPY (NEW PTG): Is R. Crumb the greatest comics creator of the past 40 years? I say, YES!, But I bet many of you think it is just my extreme anemia talking. There is only one way to find out if I'm telling the truth.  Check out the new printing of Volume 5 of the complete Crumb.  This affordable edition collects all of Crumb's artwork from 1968 and the first half of 1969  and includes Zap Comics #2 and 3 and all of Crumb's published work from the long lamented East Village Other.  FOR ADULTS (We really mean it!!)
JACK KIRBY OMNIBUS HC VOL 02: Okay, I have to be honest, we are at the end of Kirby's illustrious career and his work is hampered by advancing age, but what a way to go.  The Super-Powers mini-series are a hoot and you also get the single issues of Atlas, Manhunter and yes, The Dingbats of Danger Street.   This volume collects: BLACK MAGIC #1-9, 1ST ISSUE SPECIAL #1, 5 and 6, RICHARD DRAGON: KUNG FU FIGHTER #3, THE SANDMAN #1-6, KOBRA #1, DC COMICS PRESENTS #84, SUPER POWERS #1-5 and SUPER POWERS VOL. 2 #1-6.  FOR KIDS of ANY AGE! (I mean it!)
WHAT LIES BENEATH  HC : Volume 3 of The Incal written by the weird, but brilliant film maker Alejandro Jodorowsky (Santa Sangre, El Topo) and gorgeous art by the late great Moebius at (arguably) his artistic peak! A must have FOR FANS of MOEBIUS! (Je le veux dire!)
JACK DAVIS EC STORIES ARTIST ED HC: Don't make me say it again.  Alright I will… you all need to have a healthy chunk of Jack Davis in your collection.  Now thanks to those wonderful folks at IDW, you can revel in Mr. Davis' comic art in its original size.  Go over to the Art books/reprint section and take a look.  It is not as good as advertised, IT IS BETTER!!! For EVERYONE (We mean it!)
See you next weak(heh)…ummm… is it getting dark in here?