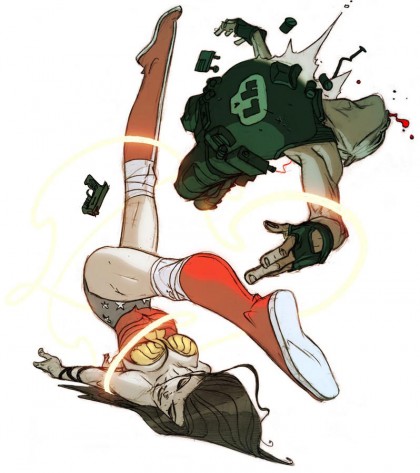 Ben Caldwell has performed his uniquely graceful style of cartooning on Justice League Unlimited covers, Wonder Woman children's books, and Star Wars: Clone Wars comic books. Ben also did a bang-up job on Wednesday Comics: Wonder Woman and his creator-owned comic Dare Detectives. I recommend his Action! Cartooning series of 'how-to' books all the time! Please make sure you give this first-time HeroesCon guest a warm welcome!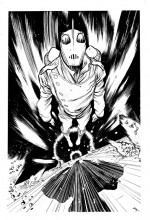 Newcomer James Harren is making quite a splash with his work on B.P.R.D. Hell on Earth: The Long Death. I'd try to get on his sketch list early and often!
Steve Niles is family around here and we're happy to announce he'll be back this year. Along with his new project with Bernie Wrightson, Frankenstein Alive, look for other new books like Creator-Owned Heroes.
No stranger to anyone who has been to HeroesCon, Tony Shasteen is returning in 2012. His work has been featured in the prestigious annual, Spectrum, The Best In Contemporary Fantastic Art. Check out his work on titles like Burn Notice, Netherworld, Deathstroke and the recently optioned Occult Crimes Taskforce from 12 Gauge Comics
Dexter Vines is one of the most sought-after inkers in the industry, often working on high-profile "event" comics like Civil War and the recent white-hot Wolverine "Old Man Logan" story. He's probably most closely associated with penciller Ed McGuinness, especially for their work on Superman/Batman and The Hulk.
Bernie Wrightson began his career working on horror anthologies like House of Mystery and House of Secrets and he has continued scaring readers with his distinct style. Some of his past work includes co-creating Swamp Thing with Len Wein and illustrating Mary Shelley's Frankenstein.
Also new this week is Derec Donovan. Derec has worked all over the place, including on Image's Youngblood, Marvel's Jubilee, and DC's Robin and Connor Hawke series!
Next up we have Chrissie Zullo! Since her breakout success with Cinderella: From Fabletown With Love she has been gaining more fame and notoriety. Check out her contribution in the massive Kickstarter success story Womanthology.
Also appearing in artists alley is artist of the forthcoming Holliday OGN from Oni Press, Doug Dabbs.
Will Allred has contributed articles to Blue-Collar Pop Culture: From NASCAR to Jersey Shore (2012), Comics Through Time (forthcoming) and served as a Contributing Editor to Encyclopedia of Comic Books and Graphic Novels (2010).