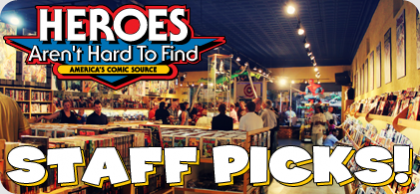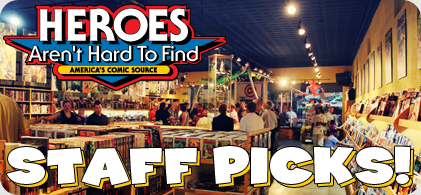 New books will be on the shelves when we open at 10 AM. Here are just a few of the new releases we're excited about!
RICO'S PICK :: PRINCE OF CATS GN: Montagues and the Capulets. Samurai swords. Brooklyn. Ron Wimberly draws the hell out of this re-imagining of Shakespeare's Romeo and Juliet with Tybalt as the lead character. I've been looking forward to this book for along time!
ANDY'S PICK :: TEZUKA MESSAGE TO ADOLF GN VOL 01: If you were to combine Lee and Kirby, Neal Adams and Carl Barks and combine them into a single cartooning entity, this amalgam would still not be as influential to the American comic audience as Osama Tezuka is to Japanese Manga. In addition to creating/writing and drawing such long-running series as Astro Boy, Kimba the White Lion, Black Jack, Phoenix, Buddha and literally dozens of others, Tezuka created Message to Adolf– a fictional tale that takes place during World War II.  This was originally published in the US as a six volume set.  Now Vertical Publishing is offering this ground-breaking series in two affordable hardcover books– the first of which is available this week.  This is a great place to sample the work of Tezuka (or any Manga for that matter) for the first time.   If you are already a Manga fan, I know Adolf is already on your must-buy list.  Message to Adolf is a must-read.
JUSTIN'S PICK :: SAVAGE DRAGON #181: Still my favorite superhero title going today. This issue wraps up a big arc, and who knows what crazy direction Erik Larsen will take it in next? That's what's kept me coming back all these years, the unpredictable plot twists. And the fact that the cast ages in real time lets the audience grow with them, to boot. An underrated gem.
MATT'S PICK :: AMAZING SPIDER-MAN #693: Its about time Spidey got himself a side-kick!  Yeah, right.  I am not gonna fight it till I've tried it for a few issues.  Alpha's origin story was engaging and entertaining enough.  I'll paraphrase the Jackal from #692, "…Great power.  Great responsibility.  A teen outcast.  And a science experiment gone awry.  History repeats itself…Parker Particles?  Alpha Energy?!  I gotta get me some a' that!"
I like how Marvel is shrewd enough to have every hero hatin' on Alpha – they know readers are gonna have to warm to the concept.  If nothing else, it promises to make for interesting reading for the next few months. Lets see if Dan Slott and Company can get us fan-boys (and girls!) to care about Randy, I mean, Andy Maguire.
HEATHER'S PICK :: HAWKEYE #2: I read Hawkeye #1
at Seth's insistence and wasn't really expecting to enjoy it.  My forays into the Avengers are generally short with rapid retreats.  Color me surprised to not only enjoy Hawkeye #1, but to add it to my reading list each month.  David Aja's art is beautiful, especially his covers, and Matt Fraction is crafting an interesting story about Hawkeye that seems to paint him a little in the vein of a modern day Robin Hood.  The first issue also managed to spin off at least two twitter accounts with @PizzaDog and @LandlordBro.  This issue promises the return of Kate Bishop, who is apparently a fan favorite I will need to learn more about.
SETH'S PICK :: DAL TOKYO: If you've heard the name Gary Panter before, you've probably heard it mentioned in association with abstract comics.  He's got a long track record of producing unique works that stretches all the way back to RAW magazine.  Panter's punk aesthetic suggests a do-it-yourself mentality, but there's also a poetic element to his writing.  His cartooning is on full display in Dal Tokyo, Fantagraphics' 200 plus page collection of Panter's strip originally published in America in the eighties, and later picked up for Japanese publication.  It is an abstract work, and one not easily digested as a straight ahead narrative.  That said, it's an interesting piece of cartooning and will entertain and confound you in alternating waves.
DOUG'S PICK ::  MANHATTAN PROJECTS TP VOL 1: SCIENCE BAD: There is a LOT that excites me this week- that New Avengersomnibus is going to look sweet on my shelf, I've been holding out on Incognito for this week's hardcover edition, I want to sample a few DC zero issues…and I could go on and on.  The book I am most looking forward to this week is the first Manhattan Projects collection fromJonathan Hickman: Science Bad.  Hickman is the Alan Moore of this generation of comic creators; his books are full of big ideas, mad science, well defined characters.  I look forward to any book with his name on it.  Oh yeah, the story has an evil Albert Einstein and something to do with the Manhattan Project.  You probably guessed the latter.