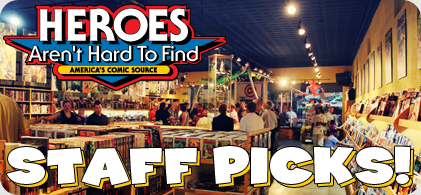 The Golden Age of Comic Strip Reprints rolls on with a generation spanning double-feature
Volume 11 of Leonard Starr's Mary Perkins On Stage: Classic Comics Press (God bless 'em) continues their complete reprint of Mary Perkins On Stage with volume 11 which features story-lines from November 1, 1970 to June 11, 1972, along with an introduction by artist extraordinaire and admitted Mary Perkins fanatic, Howard Chaykin. Don't be fooled by the title, this is an exciting and tension filled story strip that chronicles Mary's life on stage and screen in the turbulent era of the late sixties/early seventies.  The on-going drama is complemented with page after page of artwork from the pen of one of the all-time great craftsmen–Leonard Starr. His full page Sunday strips alone are worth the price of admission.
PHANTOM COMP DAILIES HC VOL 05 1943-1944: Hermes Press (God bless them too!) continues to reprint the complete run of The Ghost Who Walks (and occasionally The Ghost Who Rides a Motorcycle) as he covertly aides the Allied War Effort throughout WWII .  These six tales from Lee Falk and Wilson McCoy–starring the very first masked costumed hero from the comics– are fast paced and quite exciting. As an added bonus,  Falk and McCoy included a Wolf-Dog named Devil, a White Stallion named Hero and The Phantom's real cool secret Cave Headquarters that's shaped like a SKULL!!!! C'mon people– do your part–there's a war on!