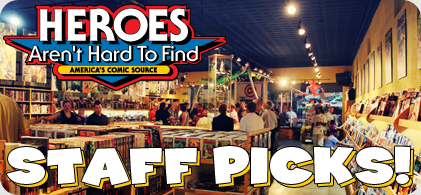 ANDY'S PICK :: SUPER VILLAINS UNITE TP COMPLETE SUPER VILLAIN TEAM UP: Collecting GIANT-SIZE SUPER-VILLAIN TEAM-UP #1-2, SUPER-VILLAIN TEAM-UP #1-14 and #16-17, AVENGERS (1963) #154-156, and CHAMPIONS #16.
No, they haven't formed a Union, but it makes you wonder if the Beagle Boys and other henchmen received benefits.
Is there anything more supery or villainy than Doctor Doom? What if ol' Vic was united with an angry, angry, angry Prince Namor who had just been unceremoniously booted from the Mighty Marvel monthly rotation? Add to this volatile duo a Dash of Red Skull, some fighting-mad Magneto along with some Avengers who have been enslaved by Attuma and you have a crew tough enough to defeat the Fantastic Four, the Legion of Doom and even the one-time '70's super- group of Crosby, Stills, Nash, Young, Merrill, Lynch, Pierce, Sacco and Venzetti. Only the Champions can possibly save the day. Or can they? This volume is post Lee and Kirby Marvel at its silliest and fun and it makes for big time rainy day reading.