SHELTON'S YARD SALE/
HEROES WAREHOUSE SALE (part II)!
Thanks to all who joined us for last weekend's Heroes Warehouse Sale! We appreciate all of you who fought the heat (some of you for hours on end!) to dig through our sale stocks. We know many of you were traveling for the holiday and couldn't make it. While we hope you enjoyed the holiday, we also feel bad that some of you missed out on the sale, so we decided to throw a sequel of sorts – this very weekend! While there will be a few comics and trade paperbacks to dig through, there will be many other kinds of things to shop for, including furniture, art, frames and framed art, toys, glassware and mugs, bookshelves, dishes, lamps, dvds knicks and knacks, and much more!
Join us this Saturday from 'very early' to 'very late' and Sunday from 'pretty early' to 'kinda late' for Shelton's Yard Sale/Heroes Warehouse Sale (part II)! Like last weekend, this sale will take place under a big tent behind our shop. Come pick through some of Shelton's non-comic collections and take advantage of some crazy deals. In doing so, you'll also be helping us make room for even more comics in our new warehouse!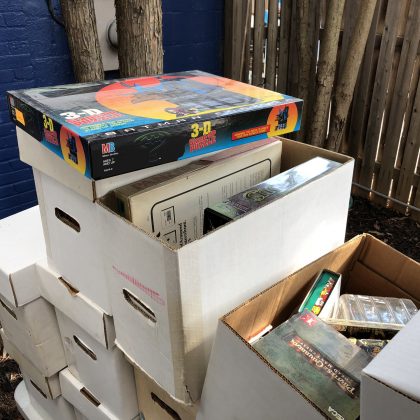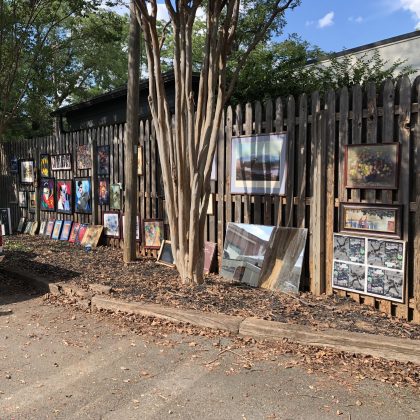 Anyone who makes a purchase from the yard sale will get a coupon for an immediate discount on any same day in-store purchase you make. Non-reserve customers will get 10% off any new comic or trade paperback purchases, and reserve customers will get 25% off all new comics and trade paperback purchases if everything is purchased from your reserve bag. This is a great opportunity to clear out your reserve bag for an extra discount! Consider this the first of many Pop Up sales we hope to offer our customers. Make sure you sign up for our weekly newsletters and follow us on Facebook, Instagram and Twitter. You never know when our next pop up sale will be announced!
Shelton corner box art by Bridgit Connell