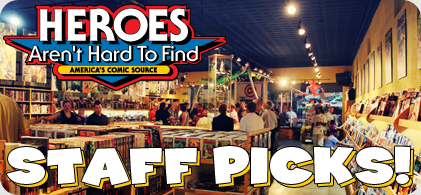 Seth's Pick:: Head Lopper #1: I greatly enjoyed Andrew MacLean's last book, ApocalyptiGirl, and was impressed with how he pulled together so many apparent influences into his own unique artistic voice. More than that, though, was the clear exuberance in the work for the craft of making the comic. You can tell that MacLean was making the kind of comic that he enjoys reading.
The joy continues with his new quarterly Image series, Head Lopper. While this series previously existed as MacLean's own indie comic, it's now available with an 80 page story plus a brand new pin-up gallery. That's 96  pages of barbarian action, monsters, witches, swords, and all things metal, for only $5.99! Fans of classic Conan, Hellboy and Harryhausen won't want to miss this one!
Bonus Pick: Descender TP vol. 1: 
If you missed out on the acclaimed first six issues of Jeff Lemire and Dustin Nguyen's space opera, you can find them all in this week's first volume Image collection for only $9.99! I found this to be among Lemire's most poignant writing since Essex County, and Nguyen's art is better than ever. In the endless sprawl of Image sci-fi comics being published today, this one certainly stands out, and is worth a close look.