We have some great HeroesCon 2013 guests to announce today! Heroes Convention is in Charlotte, North Carolina, June 7-9 2013. Get your 3 day passes today! The full guest list (so far) is here.
PHIL NOTO – Artist: Ghost, Avengers: The Origin, Wolverine and Jubilee, Birds of Prey
MARK BAGLEY – Artist: Fantastic Four, Avengers Assemble, Ultimate Spider-Man, Thunderbolts
SL GALLANT – Artist: GI Joe, Torchwood, Shrek, Monsters vs Aliens
BRYAN JL GLASS – Writer: Mice Templar, Quixote, Ship of Fools, Thor & Valkyrie
KHARY RANDOLPH – Artist: Charismagic, Spider-Man, Starborn, Spawn, Hellboy, New Mutants
SARA RICHARD – Artist: Womanthology, Zombie Bomb, Marvel's Dangerous Divas Sketchcards
BRANDON SEIFERT – Writer: Witch Doctor, Doctor Who, Hellraiser: The Dark Watch
DAVE WACHTER – Artist: Breath of Bones: A Tale of the Golem, The Guns of Shadow Valley
NOLAN WOODARD – Colorist: Insufferable, 28 Days Later, The Eighth Seal, Irredeemable
CHRISSIE ZULLO – Artist: Cinderella: From Fabletown with Love, Creepy, Fables, Madame Xanadu, Hack/Slash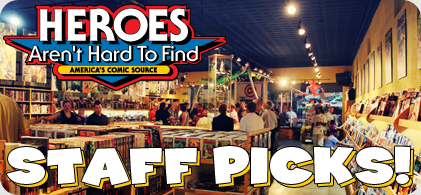 JUSTIN'S PICK :: FANTASTIC FOUR #1 :: Based on the preview book that accompanied the kickoff of Marvel NOW a few weeks ago, the new Fantastic Four title is getting back to basics, that is: a family of adventurers, adventuring. In just four pages, writer Matt Fraction demonstrated he can ably handle the dynamics of bickering relatives. As for stalwart penciller Mark Bagley, he's won me over after years of indifference, and his ever-improving style looks great on Marvel's first family. Pick this one up and get in on the ground floor.