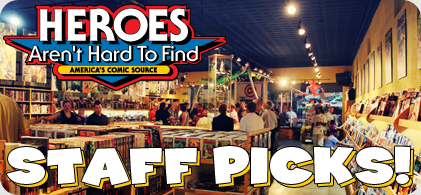 DOUG'S PICK :: SECRET #3:
 You're totally forgiven if this epic spy story from
Jonathan Hickman
and
Ryan Bodenheim
has slipped off your mind (and off your pull list); after all, it has been over a year since the last new issue. Let me refresh your memory: Hickman and Bodenheim, who were last seen together on
A Red Mass From Mars
, bring us an espionage story centered around three seemingly random events that center around the oldest secret in the histoy of the world.  IN. THE. HISTORY. OF. THE. WORLD!!.
Bodenheim's strength of faces and facial expressions are on full display and are crucial to the storytelling as it's mostly dudes in suits throughout this book.  For Hickman, this story is closer to his debut book, Nightly News than the epics he become known for at Marvel.
"Sombody's got a case of the Mondays." If that's you, we hope this HeroesCon 2013 Guest List Update will cheer you up and help you power through your week! Heroes Convention is in Charlotte, North Carolina, June 7-9 2013. Get your 3 day passes today! The full guest list (so far) is here.
We still need volunteers too!
FRANK CHO – Creator: Liberty Meadows Artist: Savage Wolverine, Avengers, Shanna
JONATHAN HICKMAN – Writer: Avengers, East of West, Manhattan Projects
RYAN BODENHEIM – Artist: Secret, Halcyon, Red Mass for Mars
NICK PITARRA – Artist: The Manhattan Projects, The Red Wing
JEFF DEKAL – Cover Artist: Journey Into Mystery
KARL STORY – Inker: Action Comics, Ocean, Tom Strong, Terra Obscura, Nightwing
DEXTER VINES – Inker: Nova, Avengers: X- Sanction, Buffy, Hulk
TERESA R DAVIDSON – Letterer: Sonic the Hedgehog, Archie
JOE HARRIS – Writer: Great Pacific, X-Files
KEN HUNT: Artist: Godsend