WEDNESDAY :: APRIL 14, 2021



HEROESCON WILL RETURN IN 2022!
CELEBRATE OUR 40TH ANNIVERSARY NEXT JUNE 2022

SECOND HARVEST BANK
WE ARE COLLECTING NON-PERISHABLE FOOD ITEMS FOR SECOND HARVEST UNTIL FURTHER NOTICE!
FULL STATEMENT OUR BELOW & ON OUR BLOG

HEROES CAN SHIP ANYTHING TO ANYWHERE!
CALL OUR STORE AT 704-375-7462 BETWEEN THE HOURS OF 10AM-7PM OR SEE MORE INFORMATION ON OUR BLOG!
YOU CAN PLACE ORDERS BY CALLING OUR STORE AT 704-375-7462 OR BY EMAIL TO:
her[email protected]

HEROES IS OPEN!
SEE OUR SAFE-SHOPPING GUIDELINES
FULL STATEMENT OUR BELOW & ON OUR BLOG

HEROES HOURS:
MONDAY-TUESDAY; THURSDAY-SATURDAY: 10AM-7PM
WEDNESDAY: 10AM-9PM
SUNDAY: 1PM-6PM
NEW RELEASES FOR APRIL 14, 2021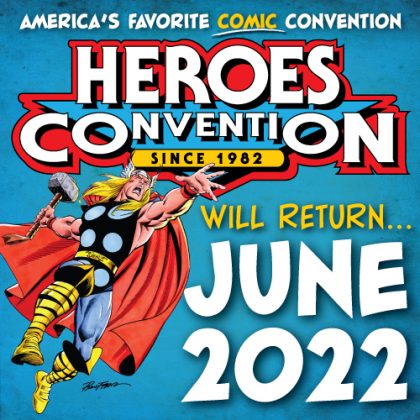 June 2022 will mark the 40th Anniversary of the Heroes Convention!
You know that after TWO YEARS of pandemic handcuffs, we will pull out ALL THE STOPS and make HeroesCon 2022 one FOR THE AGES!
The past several months have seen us all stuck in LIMBO, quietly watching COVID-19 numbers rise and fall as restrictions fluctuate across the country, never knowing what the next month might hold.
It is after careful consideration for the HEALTH and SAFETY of EVERYONE, we have made the decision to FAST FORWARD directly to HeroesCon 2022.
ALL 2020/2021 HeroesCon Tickets, Artist Alley Tables and Exhibitor Booth Reservations will automatically transfer to the 2022 Heroes Convention at this time.

We hope that you will continue to support us as we begin planning our 40th Anniversary show.
HeroesCon 2022 Hotel Rates will be made available as soon as 2022 show dates have been finalized.
We are currently looking at the possibility of holding a much smaller convention in the fall, but we know that a smaller show is no substitute for the Heroes Convention.
Details of this show are tentative at this time, with announcements to follow as soon as possible. HOWEVER, if you have purchased a 2020 or 2021 3-Day Pass for the Heroes Convention, your ticket will get you into this smaller show, as well as the 2022 Heroes Convention.
Please know that we have not made this decision lightly.
After what has felt like an eternity of uncertainty, we are hopeful that there is finally a light at the end of the tunnel. Vaccines are being distributed on a wide spectrum and we are slowly starting to see the promise of a return to "normal" in the months ahead.
However, even with the increased numbers of vaccinations, we understand that it may not be safe to hold an indoor gathering of thousands of people, even three months from now; especially when you consider that the vast majority of our guests travel from across the country, or even from across the globe.
We PRIDE ourselves on the wealth of talent that fills our Artist Alley each year.
At the beginning of March we sent out a poll to over 300 Featured Guests from recent and past Heroes Conventions. Of the 200+ responses we have received, 95% of those have stated that they would not feel comfortable attending a show in June of 2021, with most adding that they would prefer to wait until 2022 to attend a convention.
This, coupled with feedback from customers and exhibitors, has informed us that June 2021 is still too soon for most to feel safe attending a convention on the scale of the HeroesCon. We have taken all of these concerns very seriously, and agree that the health of EVERYONE is the MOST IMPORTANT factor going forward.
Other extenuating circumstances that have influenced our decision at this time: the Charlotte Convention Center will be undergoing construction that could impact our floor plan as well as the use of escalators. As of today, enforced capacity restrictions will remain in effect until fall of 2021, with limited on-site concessions, and sustained social distancing requirements between individuals as well as between tables and booths.
Under these circumstances it just wouldn't be a HeroesCon.
We appreciate you and
your continued support.

We THANK YOU for being a part of the
HEROESCON FAMILY.
Be well, stay safe, and look out for one another. -Heroes
Shelton Drum
Owner: Heroes Aren't Hard to Find & Heroes Convention
[email protected]
Karla M. Southern
Heroes Event, Media & Creative Coordinator
[email protected]
Seth Peagler
Heroes Operations Manger
[email protected]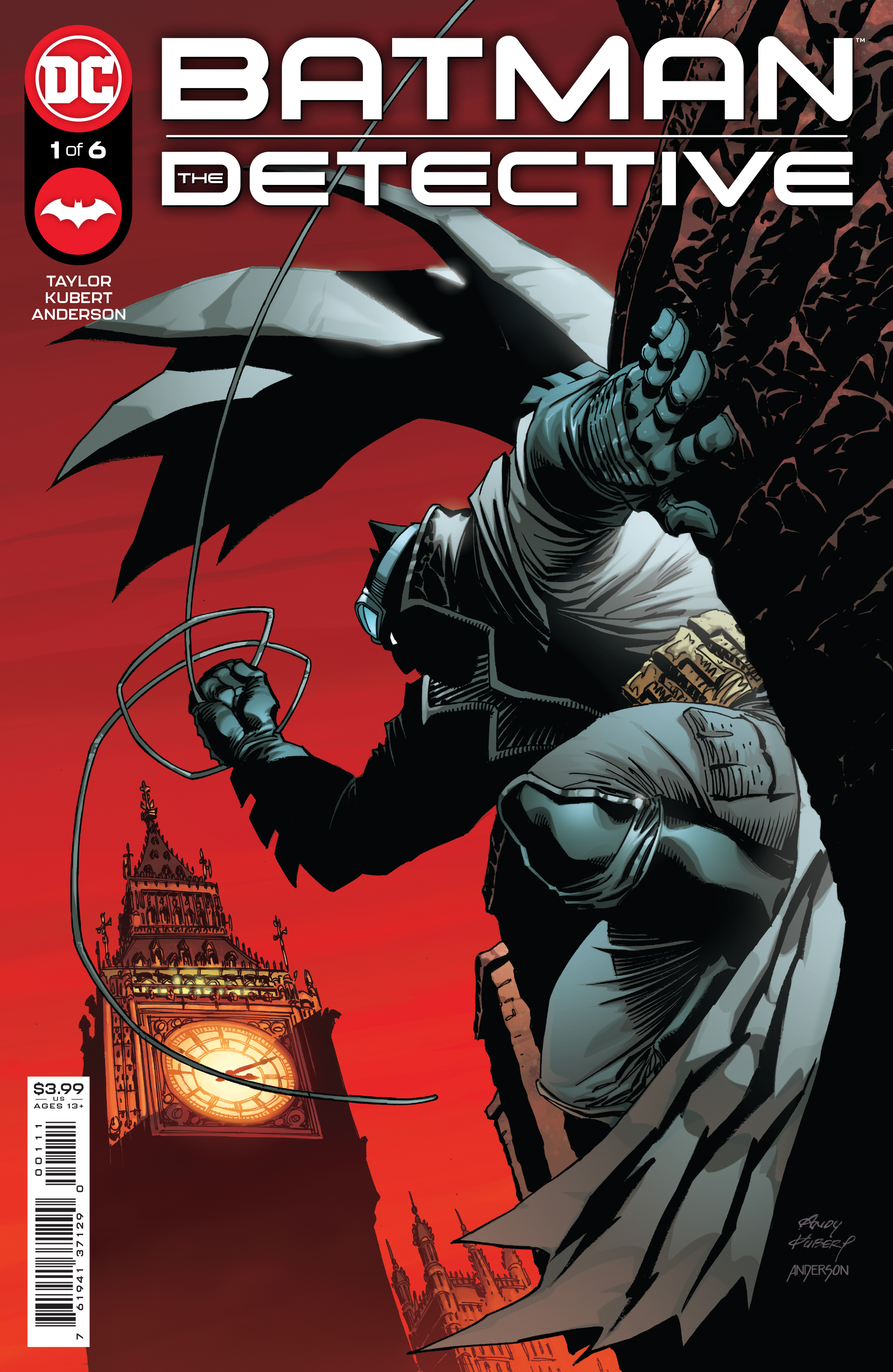 BATMAN THE DETECTIVE #1 (OF 6)

DC COMICS
(W) Tom Taylor (A/CA) Andy Kubert

An epic tale begins that will take Batman on a harrowing, action-packed European adventure in a new miniseries by superstar creators Tom Taylor and Andy Kubert!
A horrific tragedy in the United Kingdom sends a very personal and deadly message to the Dark Knight—one that will draw Batman out of Gotham City to investigate! From the moment he lands in Europe, Batman will face a difficult investigation and unheard-of adversaries and find the assistance of a partner once more—all in the hunt for the villain known as Equilibrium! New villains! New allies! A thrilling overseas adventure begins for the Dark Knight, starting with an extra-sized 26-page debut story!
$3.99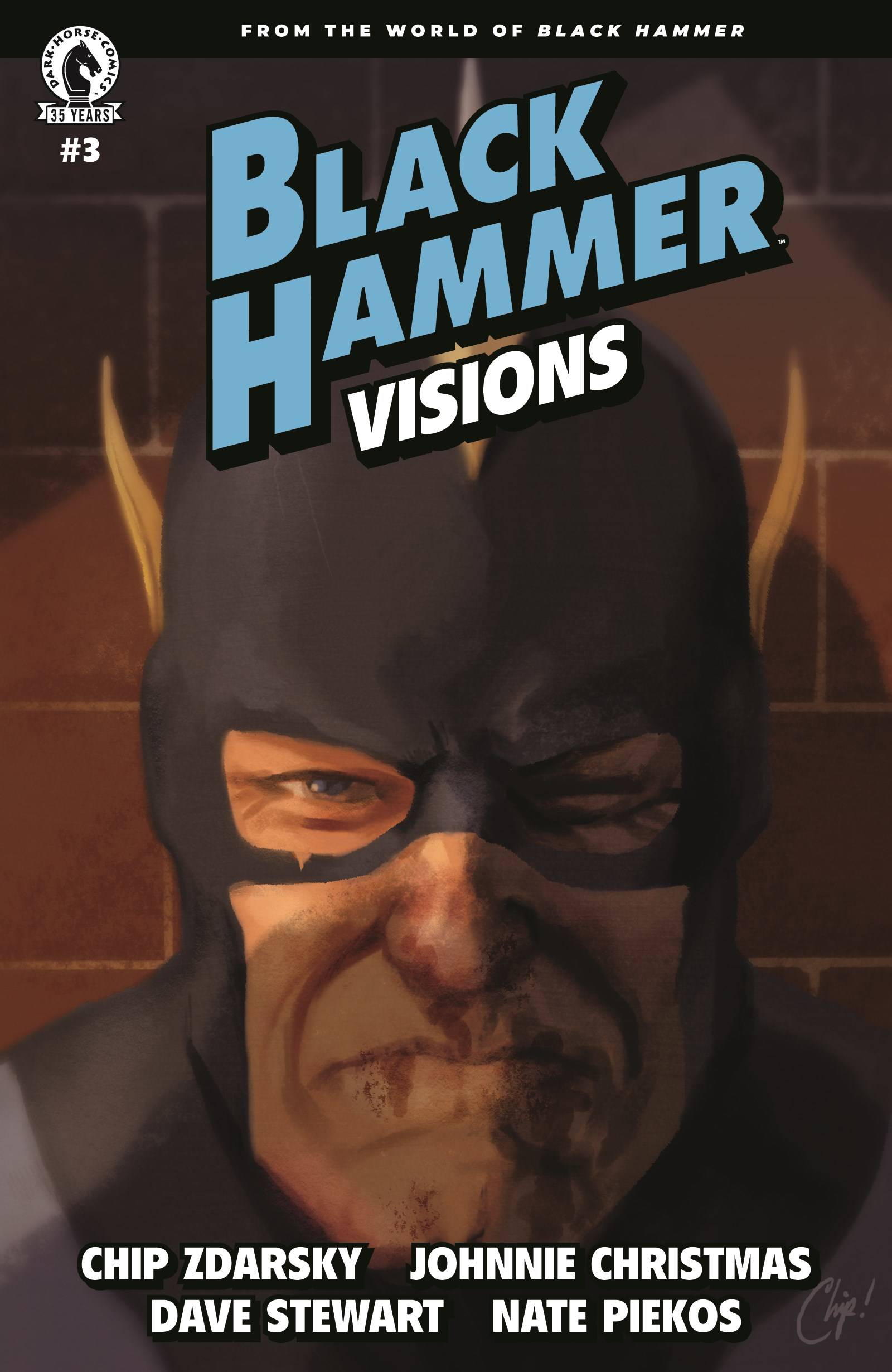 BLACK HAMMER VISIONS #3 (OF 8)

DARK HORSE COMICS
(W) Chip Zdarsky (A) Johnnie Christmas (CA) Chip Zdarsky

Sex Criminal's Chip Zdarsky and Alien 3's Johnnie Christmas team up for the first time with this action-packed Hammerverse special.
Before he was trapped with Spiral City's greatest heroes on a mysterious limbo farm, aging hero Abraham Slam found himself already an outcast in his own world. And with the arrival of a belligerent reboot hero named Uncle Slam he finds himself having to put on the old tights again to show that there can be only one Slam in town.
$3.99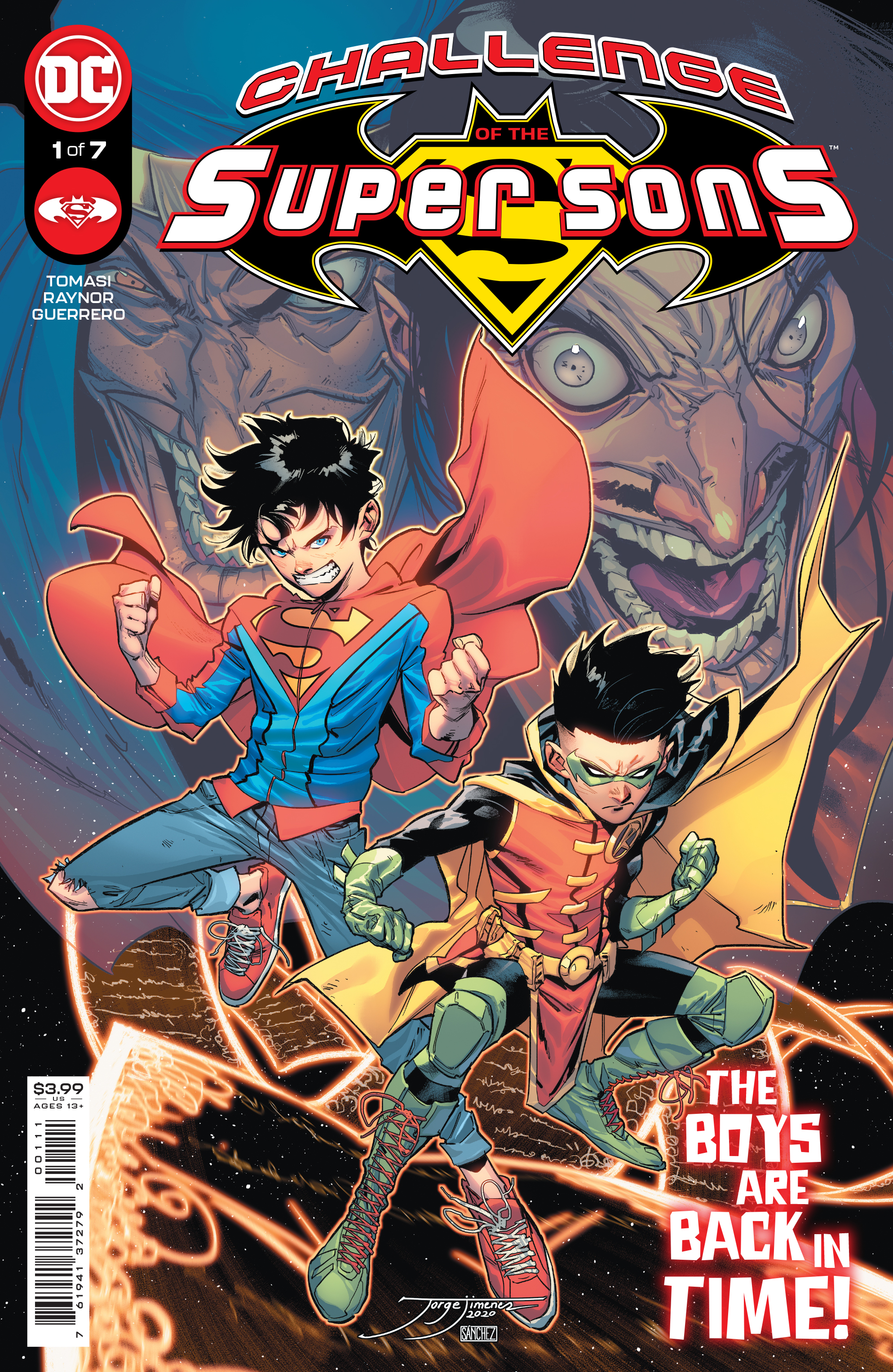 CHALLENGE OF THE SUPER SONS #1 (OF 7)

DC COMICS
(W) Peter J. Tomasi (A) Max Raynor (CA) Jorge Jimenez

The boys are back!
Picking up where the sensational Adventures of the Super Sons left off, the sons of Batman and Superman are back in the spotlight and ready to give evil a good spanking. But are Robin and Superboy in over their heads this time? A mysterious woman from beyond time has appeared to the DCU's favorite sons, and her arrival heralds certain doom (that's a hint, everyone) of things to come! In fact...it seems she's sent the boys on a bogus journey that they've already...returned from? Huh? What did the boys learn when they were whisked away? Why on earth do they have to save the Flash from instant death? Tune in for the first chapter in the most epic odyssey Robin and Superboy have ever been on!
$3.99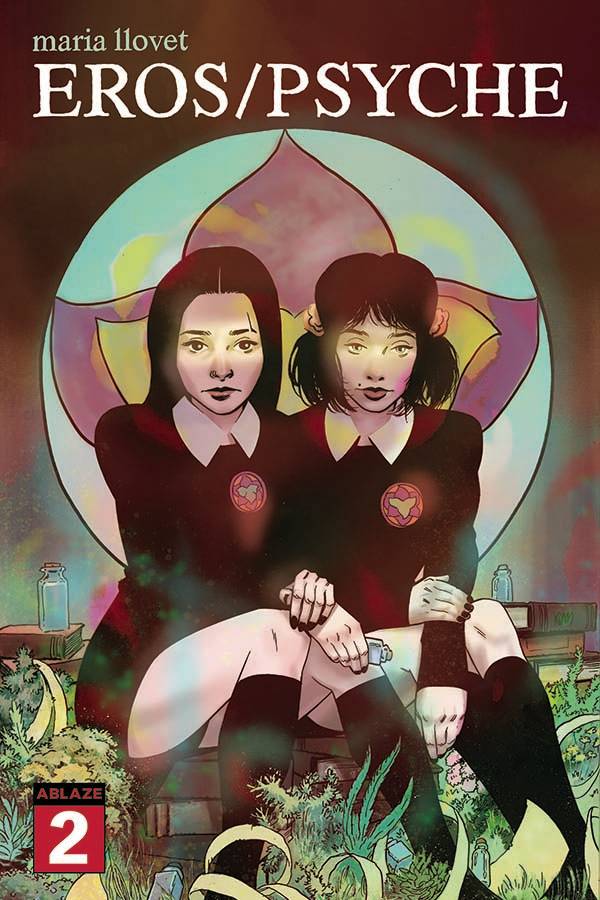 MARIA LLOVETS EROS PSYCHE #2

ABLAZE
(W/A) Maria Llovet (CA) Adam Gorham

Sara's life at The Rose has started and so far has been nothing but idyllic and happy.
But soon she'll realize behind the firm rules of the institution there are also shadows and secrets. From the artist of the bestselling Faithless series... Acclaimed creator Maria Llovet (Faithless, Heartbeat, Loud) brings you a surreal, bewitching tale of love, magic, and tragedy in Eros/Psyche.
$3.99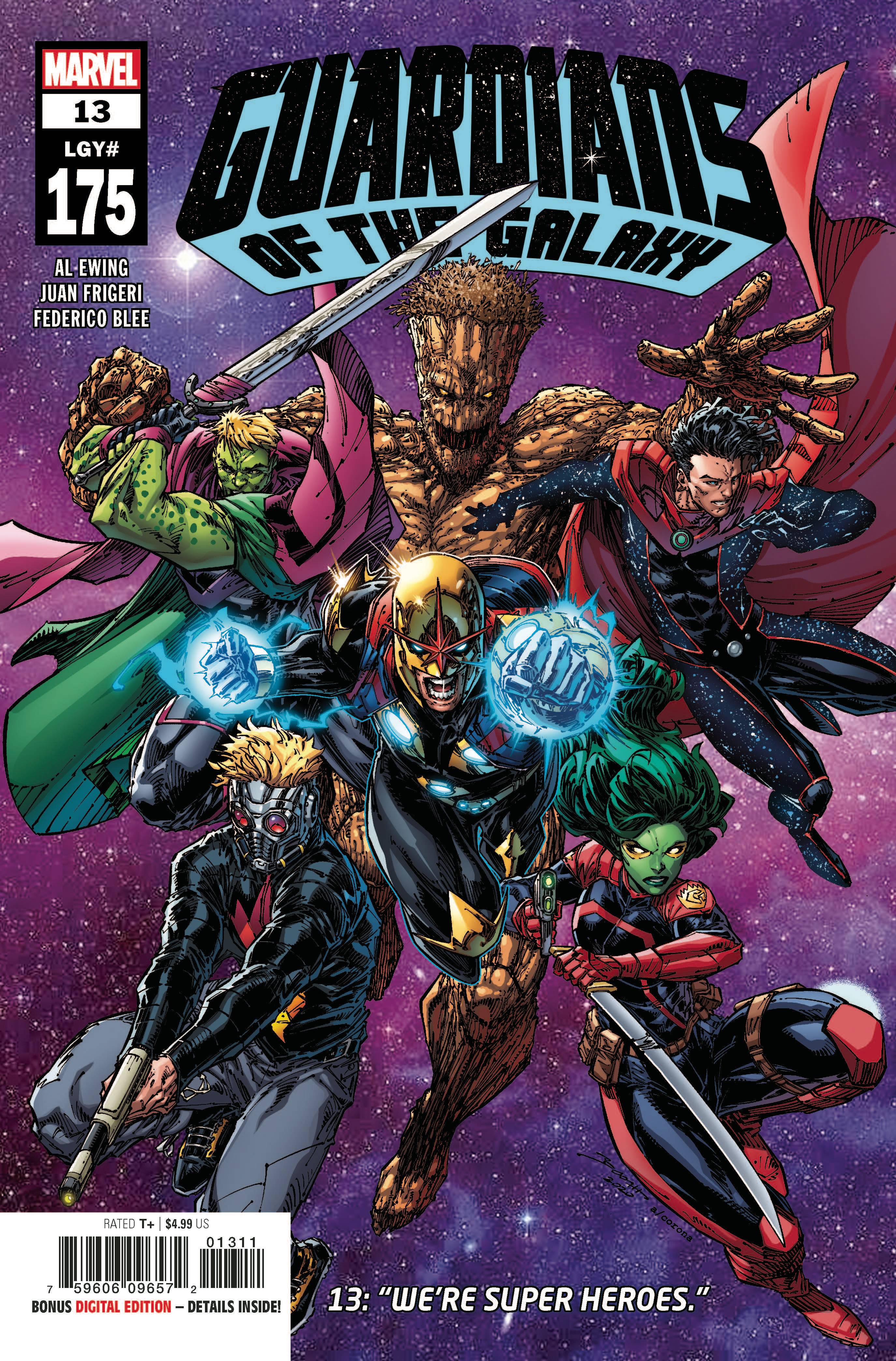 GUARDIANS OF THE GALAXY #13

MARVEL COMICS
(W) Al Ewing (A) Juan Frigeri (CA) Brett Booth

A NEW AGE OF SPACE STARTS HERE!
They were soldiers, misfits, mercenaries, thieves and a family. They were heroes... but times have changed. The galaxy no longer needs heroes. It needs super heroes! Now, when the call goes forth - whether it's from a stranded team of planetary explorers or Emperor Hulkling and his Kree/Skrull Alliance - the Guardians of the Galaxy answer! The New Age of Space brings a new artist! New headquarters! New costumes! New teammates! And an all-new enemy you'll have to see to believe! Get on board, true believer - it's going to be the ride of your life! Rated T
$4.99





LOCKE & KEY SANDMAN HELL & GONE #1

IDW PUBLISHING
(W) Joe Hill, Neil Gaiman (A/CA) Gabriel Rodriguez

If you think you can unlock the gates of Hell and just invite yourself in, you must be Dreaming!
The epic crossover between two of the most beloved fantasy universes in comics begins here. John "Jack" Locke is ten years dead, but that hasn't stopped him from posting the occasional letter home... from Hell. Now Mary Locke will do anything to save her brother's soul, including cut a deal with Roderick Burgess-the most evil man in England-to search for answers in the House of Mystery and risk the walking nightmare known as the Corinthian to find help in a disintegrating Kingdom of Dreams!
$6.99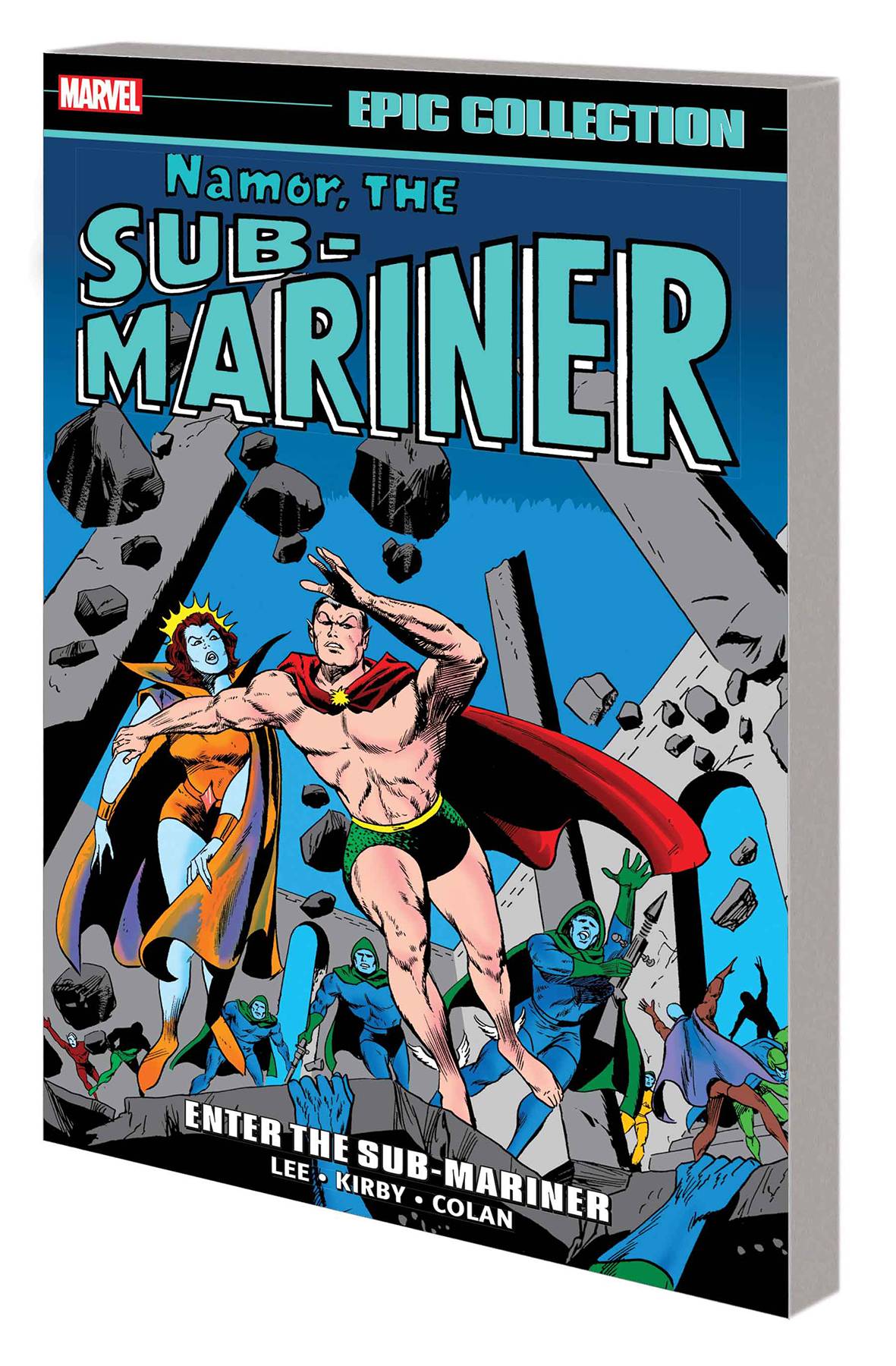 NAMOR SUB-MARINER EPIC COLLECTION TP ENTER SUB-MARINER

MARVEL COMICS
(W) Stan Lee, Larry Lieber (A) Jack Kirby, More (CA) Gene Colan

Marvel proudly presents Namor the Sub-Mariner's early Silver Age appearances, all collected together for the very first time! An icon of comics' Golden Age, the Sub-Mariner hadn't been seen for nearly a decade when Stan Lee and Jack Kirby reintroduced him in 1962.
Bold and brash, the Sub-Mariner fought Marvel's heroes, allied with Doctor Doom and attacked the surface world just as readily as he might save it! After several memorable adventures, Namor graduated to his own TALES TO ASTONISH serial - and began a quest for the Trident of Neptune to prove his status as rightful heir to the throne of Atlantis! Collecting FANTASTIC FOUR (1961) #4, #6, #9, #14, #27, #33 and ANNUAL #1; AVENGERS (1963) #3-4; X-MEN (1963) #6 and DAREDEVIL (1964) #7 - plus material from STRANGE TALES (1951) #107 and #125; and TALES TO ASTONISH (1959) #70-76.
$39.99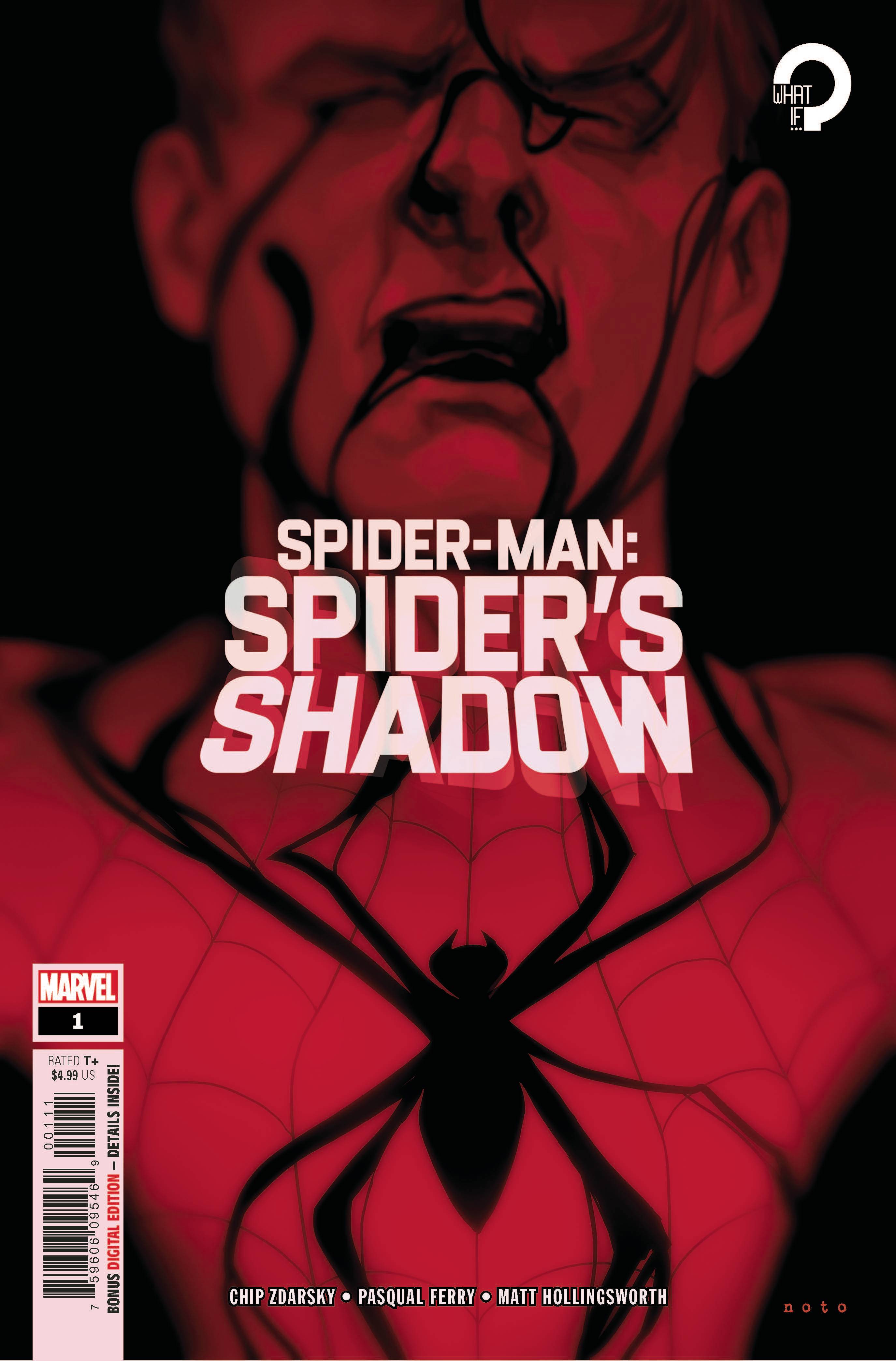 SPIDER-MAN SPIDERS SHADOW #1 (OF 4)

MARVEL COMICS
(W) Chip Zdarsky (A) Pasqual Ferry (CA) Phil Noto

WHAT IF PETER PARKER BECAME VENOM?
Peter Parker once put on an alien suit that nearly destroyed his life - but what if he'd never taken it off? Ignoring every warning, Spidey embraces the dark symbiote! Haunted by terrible nightmares and exhausted by an endless barrage of bad guys, Peter can't seem to catch a break these days. So when the Hobgoblin attacks, he finds a hero at the end of his rope...and vulnerable to new dark impulses. Spider-Man is about to change his rules - but is it truly Peter who is in charge? Creative powerhouses Chip Zdarsky, Pasqual Ferry and Matt Hollingsworth bring you a terrifying tale of a Peter Parker possessed and on the edge!
Rated T+
$4.99


If you would like to add any of these titles to your Reserve Bag, please call our store at 704-375-7462 or send an email requests to:
[email protected] OR[email protected]
Heroes is Collecting
Non-Perishable Food,
Pet Food and Funds for
Second Harvest Food Bank
You can bring non-perishable food and pet food items to Heroes any time!
The need is great, and there is NO CUT-OFF.
Currently, the Second Harvest is in need of canned entrees such as: Spaghetti & meatballs, ravioli, chili, etc.
If you would prefer to make a monetary donation directly to the Second Harvest Food Bank, you may do so using this link:
A donation as small as $1 can provide up to 7 lbs of food for the community!
Every little bit helps!!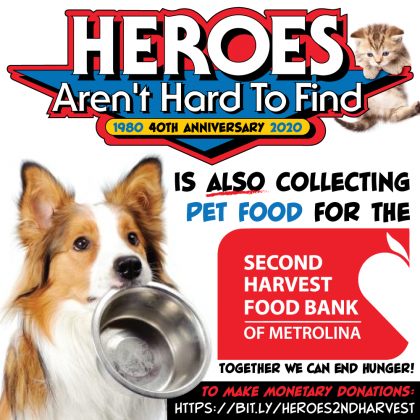 STAYING SAFE,
STAYING HEALTHY
We would like to remind everyone of Heroes Safety Protocols for a safe shopping experience!
We continue to limit the number of people allowed in the store to

NO MORE THAN 10 people at a time

.
This number includes employees. Our capacity restrictions will continue until North Carolina has safely emerged from all three phases of the re-opening regulations.

We ask customers to limit their time in our store.
Due to capacity restrictions, we ask that customers please limit their time spent in-store for the time being. We also long for the days of leisurely browsing and visiting with one another, but for now, it's safer for everyone to plan ahead and make trips as brief as possible. This will also help us prevent wait-times for others if the store is at capacity.

EVERYONE (including staff) is

required

to wear a mask while shopping or working inside of our store.
Even if you're only coming in for ONE ITEM. No mask = NO ENTRY.
If you do not have a mask, one can be provided to you.

(We understand that some people do not want to wear a mask and, while we understand that is your personal preference, you will not be permitted in our store without a mask. We appreciate your patience, understanding and consideration for everyone's safety at this time. If you do not want to wear a mask, or if you would prefer not to come inside the store until circumstances have improved, we are happy to arrange shipping for books.)

Please utilize the provided

hand sanitizer

upon entering the store.

Please observe

social distancing

of at least 6 feet inside the store.
Please be courteous to your fellow customers and allow for at least six feet of distance between yourself and others.

We ask customers to be mindful of how much they handle books and other product.
We are sanitizing all surfaces and high-contact areas as frequently as possible, but we cannot sanitize comic books without causing damage. We ask that customers please be mindful of items as they handle them, and wash their hands or use hand sanitizer after contact.

We are

sanitizing and washing our hands

as often as possible.
If at all possible, we prefer customers to pay with a credit or debit card at this time. We still accept cash transactions, but cards are easier for everyone to sanitize at this time. If we do have a cash transaction we will be washing and sanitizing our hands thoroughly afterwards.

WE ASK ANYONE WHO FEELS UNWELL TO PLEASE STAY HOME. (This includes our staff!)
We can ship to anywhere in the United States and are happy to arrange a safe transaction for you! Just let us know!

OUR HOURS UNTIL FURTHER NOTICE:


Monday-Tuesday & Thursday-Saturday: 10am-7pm
Wednesday: 10am-9pm
Sunday: 1pm-6pm

We will keep you posted to any changes to our guidelines as they happen.
Please follow us on social media (Facebook, Instagram, Twitter) or sign up for our Newsletter for regular updates! Please feel free to call us at 704-375-7462 or email us at

[email protected]

with any questions!


We hope you are all hanging in there, doing well, and are being kind to one another!

Keep wearing masks, keep sanitizing and washing your hands, and for Heaven's sake...when it's your turn to receive a vaccine, we hope you will!
– Your Friends at HEROES AREN'T HARD TO FIND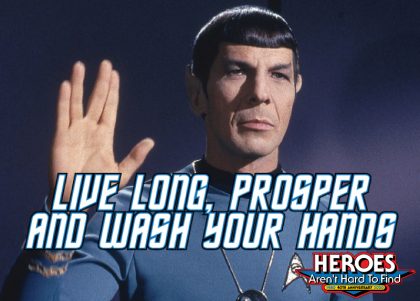 SHIPPING INFORMATION:
We are happy to SHIP to anyone who would like make those arrangements at this time.
Here's how to arrange that:
Please call our store at 704-375-7462 between the hours of 10am-6pm, or email us at

[email protected]

with a list of books you would like us to ship to you.
You can find the last 5 weeks of New Releases on our website here: http://www.heroesonline.com/new-releases/, if you need recommendations!
Shipping costs are based on weight.

If you would like to order comic-collecting supplies (ie: Comic Boxes, Bags, Boards, etc) to have shipped, we can do that too!




Supplies are subject to shipping freight. You can find our supply options listed here:


http://www.heroesonline.com/supplies/
We will invoice you via email for payment.
If you would prefer to make payment via PayPal, we can arrange that as well. Please call or email for details.
Please make sure that we have your complete and correct shipping address.
Enjoy your order!!


BOOKS SHIPPING THE WEEK OF: APRIL 14, 2021
ADV OF DUSTY DABBERT GN VOL 01 SECRET ANIMAL KINGDOM | 18.99
ALEX ROSS MARVEL COMICS POSTER BOOK SC | 24.99
AMAZING SPIDER-MAN #61 2ND PTG GLEASON VAR | 3.99
AMAZING WORLD OF SUPERMAN (TABLOID EDITION) HC | 19.99
AMERICA CHAVEZ MADE IN USA #1 (OF 5) 2ND PTG PICHELLI VAR | 3.99
AMERICAN VAMPIRE 1976 #7 (OF 10) CVR A RAFAEL ALBUQUERQUE | 3.99
AMERICAN VAMPIRE 1976 #7 (OF 10) CVR B JORGE FORNES VAR | 3.99
ARCHIE 80TH ANNIVERSARY JUMBO COMICS DIGEST #2 | 7.99
ASK IWATA WORDS WISDOM NINTENDOS LEGENDARY CEO HC PROSE | 22.99
AUTUMNAL #6 CVR B GOODEN | 3.99
BATMAN & SCOOBY-DOO MYSTERIES #1 (OF 12) | 2.99
BATMAN A DEATH IN THE FAMILY THE DELUXE EDITION HC | 49.99
BATMAN BLACK AND WHITE #3 (OF 6) SECOND PRINTING | 5.99
BATMAN THE DETECTIVE #1 (OF 6) CVR A ANDY KUBERT | 3.99
BATMAN THE DETECTIVE #1 (OF 6) CVR B ANDY KUBERT CARD STOCK VAR | 4.99
BATMAN THE DETECTIVE #1 (OF 6) CVR C BLANK CARD STOCK VAR | 4.99
BATMAN THE DETECTIVE #1 (OF 6) INC 1:25 RICCARDO FEDERICI CARD STOCK VAR | *
BATMAN URBAN LEGENDS #2 CVR A HICHAM HABCHI | 7.99
BATMAN URBAN LEGENDS #2 CVR B FRANCESCO MATTINA VAR | 7.99
BATMAN URBAN LEGENDS #2 CVR C DERRICK CHEW VAR | 7.99
BEFORE THEY WERE ARTISTS FAMOUS ILLUSTRATORS AS KIDS GN | 17.99
BIG IDEAS THAT CHANGED WORLD SHOT IN THE ARM GN | 13.99
BLACK CAT #5 | 3.99
BLACK CAT #5 PACHECO REBORN VAR | 3.99
BLACK CAT #5 LUPACCHINO 1:25 VAR | *
BLACK HAMMER VISIONS #3 (OF 8) CVR A ZDARSKY | 3.99
BLACK HAMMER VISIONS #3 (OF 8) CVR B LOO | 3.99
BLACK HAMMER VISIONS #3 (OF 8) CVR C ZAFFINO | 3.99
BLOWTORCH #1 (OF 5) | 3.99
CANTO & CITY OF GIANTS #1 (OF 3) | 3.99
CANTO & CITY OF GIANTS #1 (OF 3) 10 COPY INCV ZUCKER | *
CAT SHIT VOL 02 #3 | 3.99
CHAINED TO THE GRAVE #2 (OF 5) CVR A SHERRON | 3.99
CHAINED TO THE GRAVE #2 (OF 5) 10 COPY INCV LEVEL | *
CHALLENGE OF THE SUPER SONS #1 (OF 7) CVR A JORGE JIMENEZ | 3.99
CHALLENGE OF THE SUPER SONS #1 (OF 7) CVR B SIMONE DI MEO VAR | 3.99
CHARIOT #2 | 3.99
CHILDREN OF ATOM #1 2ND PTG COELLO VAR | 4.99
CHILDREN OF ATOM #2 | 3.99
CHILDREN OF ATOM #2 NAUCK HEADSHOT VAR | 3.99
CHILDREN OF ATOM #2 HENDERSON 1:25 VAR | *
CHILDREN OF THE GRAVE #4 | 3.99
CORSAIR GN | 19.99
DAREDEVIL #29 | 3.99
DAREDEVIL #29 PACHECO REBORN VAR | 3.99
DARKHAWK HEART OF HAWK #1 | 4.99
DARKHAWK HEART OF HAWK #1 DAUTERMAN VAR | 4.99
DARKHAWK HEART OF HAWK #1 LUBERA VAR | 4.99
DISNEY KINGDOMS GN TP BIG THUNDER MOUNTAIN RAILROAD | 15.99
DOCTOR WHO MISSY #1 CVR A BUISAN | 3.99
DUPLICANT #1 (OF 3) | 3.99
EARTH BEFORE US YR TP VOL 03 MAMMAL TAKEOVER | 9.99
FANTASTIC FOUR #30 ACUNA THE THING-THING VAR KIB | 3.99
FANTASTIC FOUR #30 KIB | 3.99
FREAKSHOW KNIGHT #1 (OF 5) ONE SHOT | 3.99
GARTH ENNIS TANKIES GN | 24.95
GI JOE A REAL AMERICAN HERO #279 CVR A SANCHEZ | 3.99
GI JOE A REAL AMERICAN HERO #279 CVR B FICO OSSIO | 3.99
GI JOE A REAL AMERICAN HERO #279 10 COPY INCV ROYLE | *
GI JOE TP VOL 01 WORLD ON FIRE | 29.99
GODZILLA DOMINION GN | 16.99
GRENDEL DEVILS ODYSSEY #5 (OF 8) CVR A WAGNER | 3.99
GRENDEL DEVILS ODYSSEY #5 (OF 8) CVR B STENBECK | 3.99
GUARDIANS OF THE GALAXY #13 | 4.99
GUARDIANS OF THE GALAXY #13 LIEFELD DEADPOOL 30TH VAR | 4.99
GUARDIANS OF THE GALAXY #13 PACHECO REBORN VAR | 4.99
GUARDIANS OF THE GALAXY #13 RON LIM VAR | 4.99
GUARDIANS OF THE GALAXY #13 YOON 1:25 VAR | *
GUARDIANS OF THE GALAXY #13 MOMOKO 1:50 VAR | *
HARLEY QUINN VOL 5 HOLLYWOOD OR DIE TP | 16.99
HEAVEN NO HELL HC | 21.95
HOME #1 (OF 5) CVR A STERLE | 3.99
HOME #1 (OF 5) CVR B SALCEDO | 3.99
HOME SICK PILOTS #5 CVR A WIJNGAARD | 3.99
HOME SICK PILOTS #5 CVR B MOORE | 3.99
HOUSE WITHOUT WINDOWS TP | 19.99
HOW TO DRAW DC SC | 19.99
INCREDIBLE HERCULES COMPLETE COLLECTION TP VOL 02 | 44.99
INFINITE FRONTIER #0 (ONE SHOT) SECOND PRINTING | 5.99
IRON FIST HEART OF DRAGON #4 (OF 6) | 3.99
IRON FIST HEART OF DRAGON #4 (OF 6) ANDREWS VAR | 3.99
IRON MAN #8 | 3.99
IRON MAN #8 PACHECO REBORN VAR | 3.99
JENNY ZERO #1 (OF 4) | 3.99
JOHN ROMITA AMAZING SPIDER-MAN ARTISAN ED | 39.99
JOKER #2 CVR A GUILLEM MARCH | 5.99
JOKER #2 CVR B LEE BERMEJO VAR | 5.99
JOKER #2 CVR C BRIAN STELFREEZE VAR | 5.99
JOKER #2 INC 1:25 RICCARDO FEDERICI VAR | *
JONNA AND THE UNPOSSIBLE MONSTERS #1 CVR G 2ND PTG | 3.99
JULES VERNE LIGHTHOUSE #1 (OF 5) CVR A HABERLIN & VAN DYKE | 4.99
JULES VERNE LIGHTHOUSE #1 (OF 5) CVR B HABERLIN & VAN DYKE | 4.99
KARMEN #2 (OF 5) CVR A MARCH | 3.99
KING IN BLACK NAMOR #5 (OF 5) | 3.99
KINGDOM KONG GN | 16.99
LEGION OF SUPER-HEROES VOL 2 TRIAL OF THE LEGION TP | 16.99
LOCKE & KEY SANDMAN HELL & GONE #1 CVR A RODRIGUEZ | 6.99
LOCKE & KEY SANDMAN HELL & GONE #1 CVR B JH WILLIAMS III | 6.99
LOCKE & KEY SANDMAN HELL & GONE #1 CVR C KELLEY JONES | 6.99
LOCKE & KEY SANDMAN HELL & GONE #1 10 COPY INCV B&W RODRIQUE | *
LOCKE & KEY SANDMAN HELL & GONE #1 25 COPY INCV JH WILLIAMS | *
LOCUST #1 | 3.99
LONELY RECEIVER TP | 16.99
MAESTRO WAR AND PAX #4 (OF 5) | 3.99
MAESTRO WAR AND PAX #4 (OF 5) GREENE VAR | 3.99
MAN IN THE PAINTERS ROOM GN | 29.99
MANIAC OF NEW YORK #3 | 3.99
MARIA LLOVETS EROS PSYCHE #2 CVR A ADAM GORHAM | 3.99
MARIA LLOVETS EROS PSYCHE #2 CVR B MARIA LLOVET | 3.99
MARIA LLOVETS EROS PSYCHE #2 CVR C BALDISIMO | 3.99
MARIA LLOVETS EROS PSYCHE #2 CVR D SABINE RICH | 3.99
MARIA LLOVETS EROS PSYCHE #2 10 COPY GORHAM VIRGIN INCV | *
MARVEL CAN THE HULK LIFT A HOUSE SC | 6.99
MIGHTY MORPHIN #6 CVR A LEE | 3.99
MIGHTY MORPHIN #6 CVR D 10 COPY INCV LEE | *
MINKY WOODCOCK GIRL ELECTRIFIED TESLA #1 CVR A MCGINNIS | 3.99
MINKY WOODCOCK GIRL ELECTRIFIED TESLA #1 CVR B STRIPS | 3.99
MINKY WOODCOCK GIRL ELECTRIFIED TESLA #1 CVR C PHOTO | 3.99
MINKY WOODCOCK GIRL ELECTRIFIED TESLA #1 CVR D BUHLER | 3.99
MPLS SOUND TP | 19.99
MY LITTLE PONY FRIENDSHIP IS MAGIC #96 CVR A FLEECS | 3.99
MY LITTLE PONY FRIENDSHIP IS MAGIC #96 CVR B JUSTASUTA | 3.99
NAMOR SUB-MARINER EPIC COLLECTION TP ENTER SUB-MARINER | 39.99
NEW GODS BOOK ONE BLOODLINES TP | 34.99
NIGHT HUNTERS #3 (OF 4) | 4.99
NON-STOP SPIDER-MAN #2 | 3.99
NON-STOP SPIDER-MAN #2 OKAZAKI VAR | 3.99
NON-STOP SPIDER-MAN #2 BACHALO 1:25 VAR | *
NORROWAY TP BOOK 02 QUEEN ON HIGH MOUNTAIN | 14.99
PARANORMAL HITMEN #3 (OF 4) | 3.99
PEANUTS SCOTLAND BOUND CHARLIE BROWN OGN SC | 9.99
PHANTOM ON SCAN #1 CVR A TORRES | 4.99
PICTURE OF EVERYTHING ELSE #3 CVR A MOHAN | 3.99
PICTURE OF EVERYTHING ELSE #3 CVR B GORHAM | 3.99
POWER PACK #5 (OF 5) | 3.99
PROCTOR VALLEY ROAD #2 (OF 5) CVR A FRANQUIZ | 3.99
PROCTOR VALLEY ROAD #2 (OF 5) CVR B WILDGOOSE | 3.99
PROCTOR VALLEY ROAD #2 (OF 5) CVR E UNLOCKABLE WARD | 3.99
PROCTOR VALLEY ROAD #2 (OF 5) CVR C 10 COPY INCV WARD | *
RED SONJA THE SUPERPOWERS #4 CVR C LINSNER | 3.99
REDEMPTION #3 | 3.99
RESIDENT ALIEN YOUR RIDES HERE #5 | 3.99
RIVERDALE TIES THAT BIND OGN | 14.99
RORSCHACH #7 (OF 12) CVR A JORGE FORNES | 4.99
RORSCHACH #7 (OF 12) CVR B JULIAN TOTINO TEDESCO VAR | 4.99
SAVAGE (2020) #3 CVR A TO | 3.99
SAVAGE (2020) #3 CVR B QUINONES | 3.99
SCOUTS HONOR #4 | 3.99
SCUMBAG #7 CVR A MOBILI & DINISIO | 3.99
SCUMBAG #7 CVR B 10 COPY INCV TEAGUE | *
SERIAL #3 | 3.99
SHEPHERD TP VOL 01 | 19.99
SPIDER-MAN SPIDERS SHADOW #1 (OF 4) | 4.99
SPIDER-MAN SPIDERS SHADOW #1 (OF 4) FERRY VAR | 4.99
SPIDER-MAN SPIDERS SHADOW #1 (OF 4) RON LIM VAR | 4.99
SPIDER-MAN SPIDERS SHADOW #1 (OF 4) ZDARSKY 1:25 VAR | *
SPY WHO RAISED ME GN | 14.99
STAR WARS BOUNTY HUNTERS #11 | 3.99
STAR WARS BOUNTY HUNTERS #11 SPROUSE EMPIRE STRIKES BACK VAR | 3.99
SUMMER ADVENTURE FOR GROOT HC | 12.99
SUPERMAN #30 CVR A JOHN TIMMS | 4.99
SUPERMAN #30 CVR B INHYUK LEE CARD STOCK VAR | 5.99
SWEET TOOTH THE RETURN #6 (OF 6) | 3.99
THEY FELL FROM THE SKY #3 | 3.99
THOR #14 | 3.99
THOR #14 PACHECO REBORN VAR | 3.99
THOR #14 KLEIN 1:25 VAR | *
THOR AND LOKI DOUBLE TROUBLE #2 (OF 4) | 3.99
THOR AND LOKI DOUBLE TROUBLE #2 (OF 4) VECCHIO VAR | 3.99
TMNT JENNIKA II #6 (OF 6) | 4.99
TMNT JENNIKA II #6 (OF 6) 10 COPY NICOLE GOUX INCV CVR | *
UNDONE BY BLOOD OTHER SIDE OF EDEN #2 | 4.99
USAGI YOJIMBO #18 10 COPY JENNIFER MEYER INCV CVR | *
VAMPIRELLA DARK POWERS #5 CVR A LEE | 3.99
WHY SHE WROTE GRAPHIC HISTORY OF CLASSIC WOMEN WRITERS | 19.95
WICKED THINGS TP | 16.99
WOLVERINE #11 | 3.99
WOLVERINE #11 PACHECO REBORN VAR | 3.99
WONDER WOMAN #771 CVR A TRAVIS MOORE | 4.99
WONDER WOMAN #771 CVR B JOSHUA MIDDLETON CARD STOCK VAR | 5.99
YOUNG HELLBOY THE HIDDEN LAND #3 (OF 4) CVR A SMITH | 3.99
YOUNG HELLBOY THE HIDDEN LAND #3 (OF 4) CVR B BECKERT | 3.99
*limited quantities, check for availability