FRIDAY :: NOVEMBER 25, 2022





SAVE THE DATE FOR CHARLOTTE MINI-CON!
THE CHARLOTTE MINI-CON WILL BE RETURNING TO THE GRADY COLE CENTER ON FEBRUARY 4! MARK YOUR CALENDARS AND STAY TUNED FOR MORE DETAILS!

HEROES IS A DROP-SITE FOR TOYS FOR TOTS!
YOU CAN BRING A NEW, UNWRAPPED TOY DONATION TO OUR STORE, OR DONATE DIRECTLY TO OUR LOCAL CHAPTER IN THE LINKS BELOW!

HEROESCON WILL RETURN JUNE 16-18, 2023!
WE APPRECIATE EVERY ATTENDEE, ARTIST, CREATOR, EXHIBITOR, VOLUNTEER AND STAFF MEMBER WHO HELPED US TO MAKE OUR 40TH ANNIVERSARY SHOW A SUCCESS! WE LOOK FORWARD TO SEEING YOU ALL AGAIN NEXT YEAR!!

HEROES CAN SHIP ANYTHING TO ANYWHERE!
CALL OUR STORE AT 704-375-7462 BETWEEN THE HOURS OF 10AM-7PM OR SEE MORE INFORMATION ON OUR BLOG!
YOU CAN PLACE ORDERS BY CALLING OUR STORE AT 704-375-7462
OR BY EMAIL TO: heroesarenthardtofind@gmail.com

HEROES HOURS:
WE WILL BE CLOSED ON THANKSGIVING DAY, THURSDAY, NOVEMBER 24
MONDAY-TUESDAY; THURSDAY-SATURDAY: 10AM-7PM
WEDNESDAY: 10AM-9PM
SUNDAY: 1PM-6PM

NEW RELEASES FOR NOVEMBER 30, 2022

SAVE THE DATE!


The Charlotte Mini-Con
will return to the
Grady Cole Center on
Saturday, February 4!

Information on Tickets, Artist Tables, and Featured Guests to come SOON!
Stay Tuned!

Heroes Aren't Hard to Find is happy to be a
Toys For Tots

drop-site again this year!

You can donate by bringing a New, Unwrapped Toy and placing it in the donation box inside our store, or by clicking the link below to donate money directly to the Charlotte chapter of Toys For Tots!
Toy donations must be received before end-of-business day on Wednesday, December 7 in order to meet the collection deadline.
Every little bit helps!

HAVE OLD COMIC BOOKS?
CALL US!
We have been buying and selling for
OVER 50 YEARS!
We provide evaluations, advice and an offer if you are looking to sell! You owe it to yourself to get our expert evaluation before you sell!

Send an email to Shelton@heroesonline.com or call us at 704-375-7462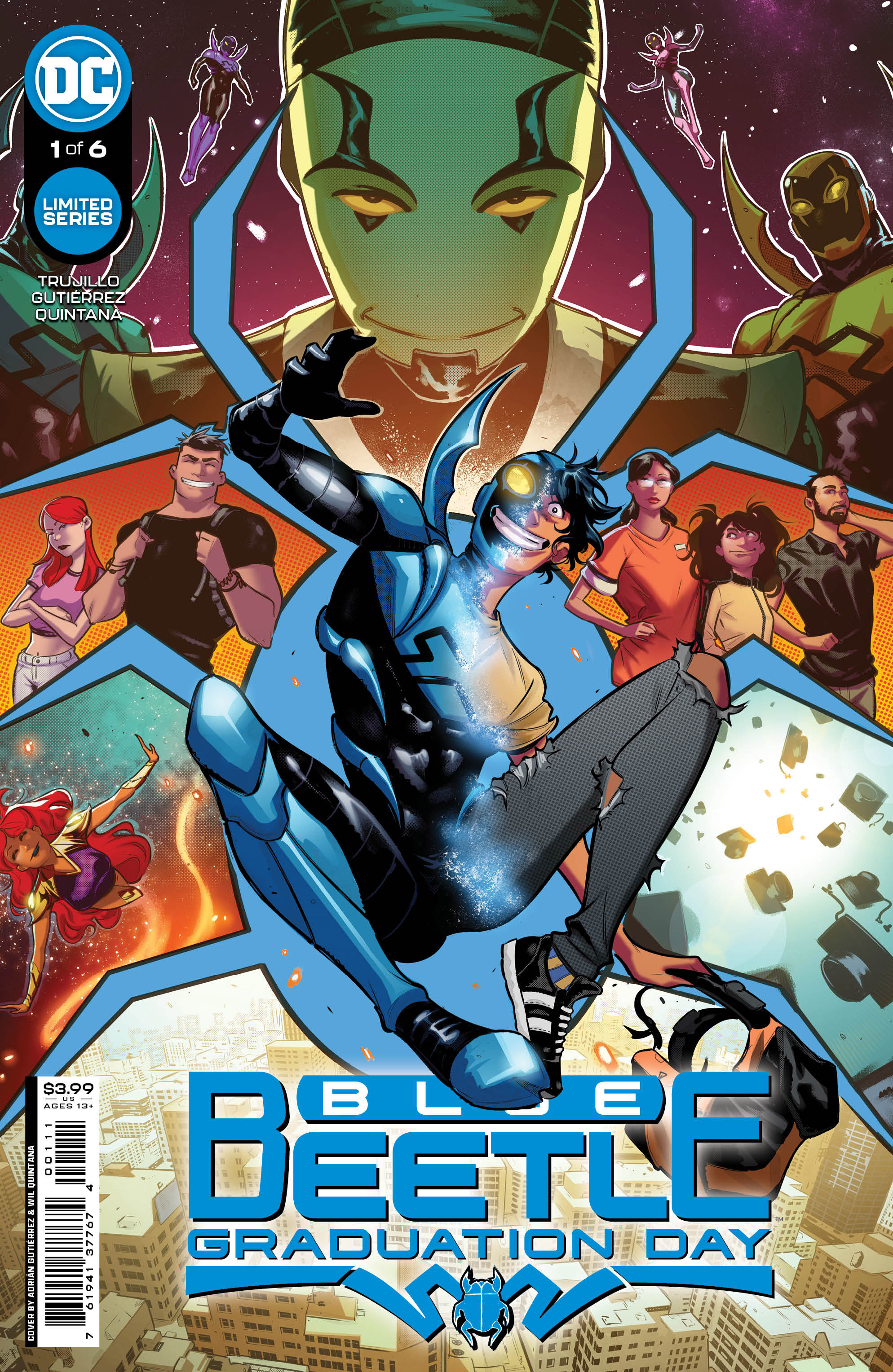 BLUE BEETLE GRADUATION DAY #1 (OF 6)
DC COMICS
(W) Josh Trujillo (A/CA) Adrian Gutierrez

Jaime Reyes has a lot to juggle. Whether it's his finals for senior year or a new villain tearing up El Paso, Jaime is always torn between two worlds.
But when his worlds come crashing together at his high school graduation, nothing will ever be the same. A message from the Reach bombards Jaime's scarab, Khaji Da, and it starts throwing off his connection to the device. And as if that wasn't enough, Jaime's parents and friends are pressuring him about his next steps in life. But what's hidden here on Earth that's drawing the Reach back? And where did this new Fadeaway Man come from? Can Jaime find balance in his life and rise to become a true hero, or is it curtains for Blue Beetle?

$3.99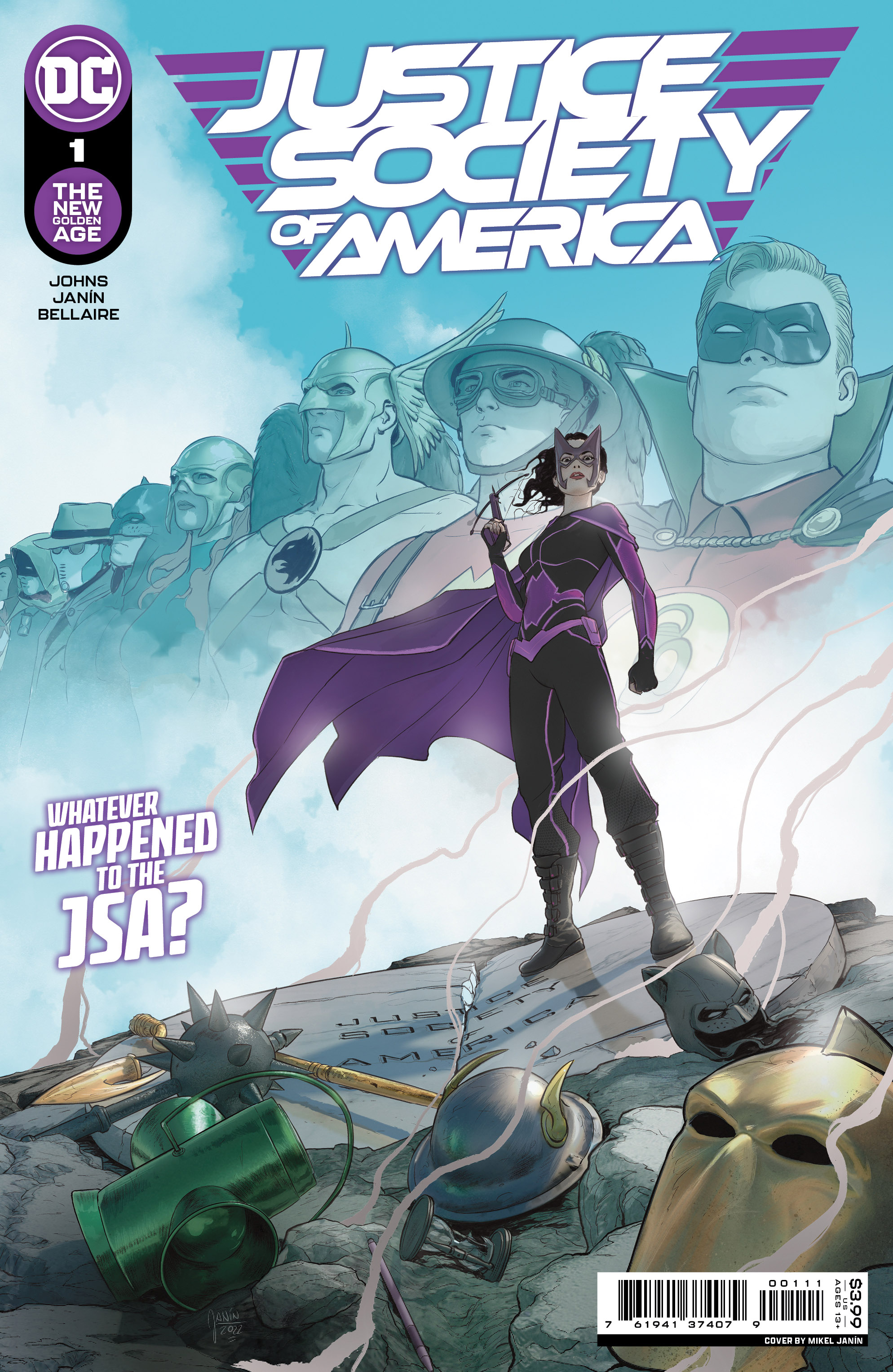 JUSTICE SOCIETY OF AMERICA #1
DC COMICS
(W) Geoff Johns (A/CA) Mikel Janin

The JSA returns in this monthly series by writer Geoff Johns and artist Mikel Janin with Justice Society of America: The New Golden Age Part One!
The world's first and greatest superheroes return! Or do they? A long-lost hero from the JSA crashes into our era with a grave warning... but it's too late. A mysterious and malevolent enemy has invaded the entire history of the JSA, and an all-new team must come together to defeat it. But what deadly secret does this messenger from beyond keep? Where are they from? And why is all of this happening now? Only the Time Masters know...

$3.99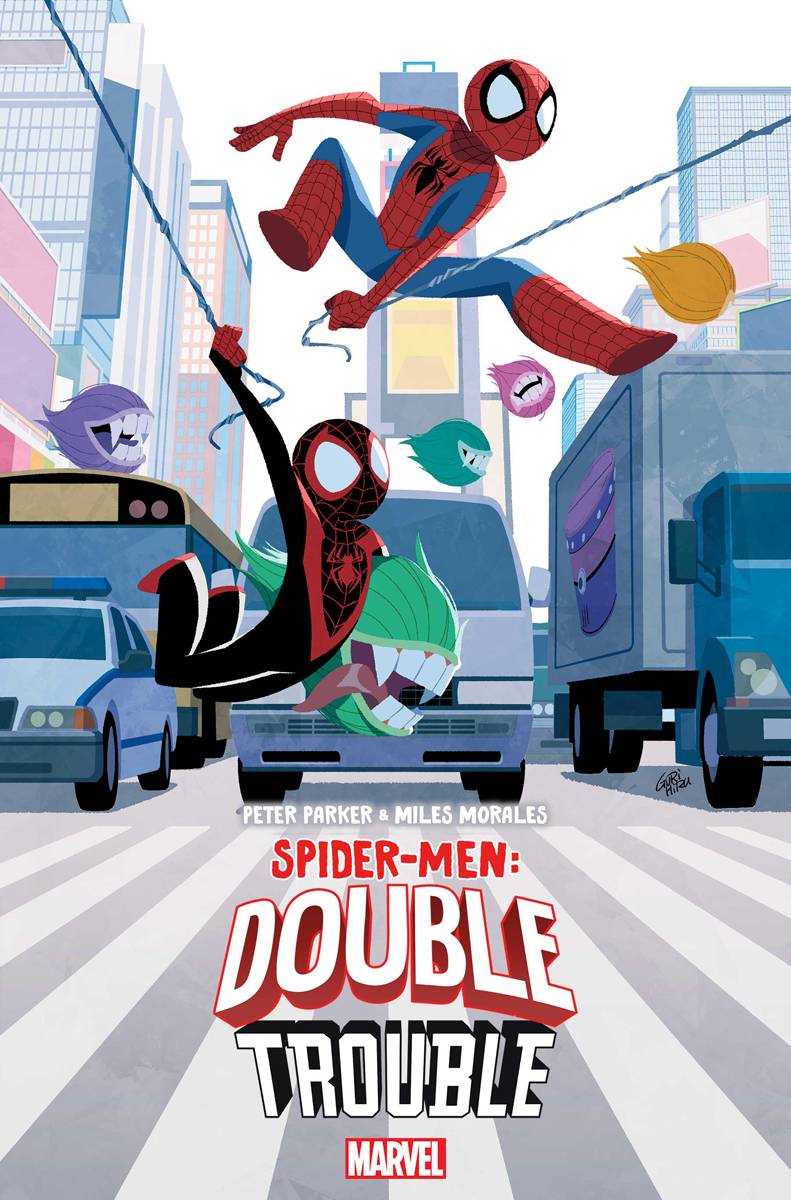 PARKER MILES SPIDER-MAN DOUBLE TROUBLE #1 (OF 4)
MARVEL PRH
(W) Mariko Tamaki, Vita Ayala (A/CA) Gurihiru

Vita Ayala joins the fan-favorite team that brought you SPIDER-MAN & VENOM: DOUBLE TROUBLE and THOR & LOKI: DOUBLE TROUBLE for a brand-new adventure!
They're friends, heroes and... sidekicks? Peter has dragged Miles into Take Your Sidekick to Work Day, and Miles is not amused - they're both Spider-Man, after all! So when Peter makes a mistake that unleashes villainous shenanigans on New York City, it's up to Miles to save the day - and prove who's the true sidekick among the Spider-Men.

RATED T+
$3.99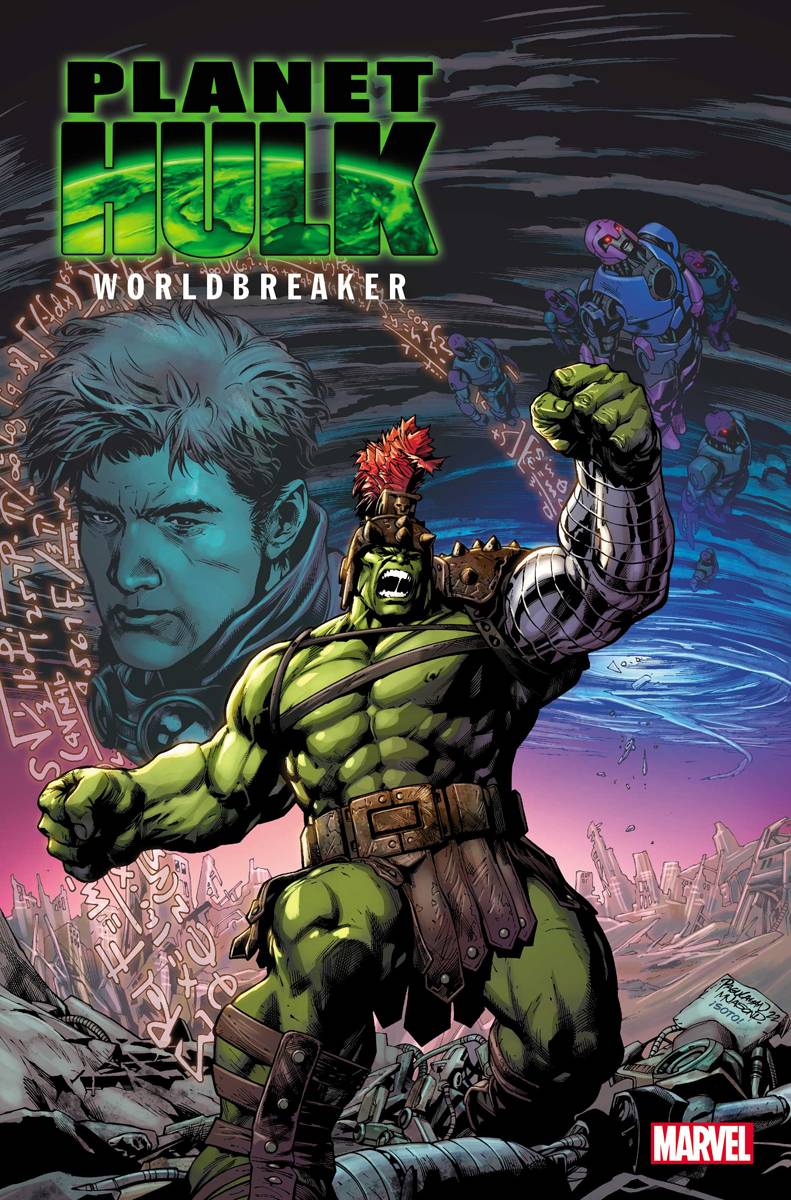 PLANET HULK WORLDBREAKER #1 (OF 5)
MARVEL PRH
(W) Greg Pak (A) Manuel Garcia (CA) Carlo Pagulayan

MILLENNIUM!
A thousand years from now on the planet Sakaar, a young woman with green skin searches for the legendary Green Scar to help save her brother from a group of apocalyptic cultists.
But which Hulk will she find?
And after all these years, is he truly the Sakaarson, who will save us all - or the Worldbreaker, who will destroy us?
A shocking expansion and culmination of the mythos of Sakaar and the heart of the Hulks from PLANET HULK scribe Greg Pak and visionary DEVIL'S REIGN artist Manuel Garcia.

RATED T
$4.99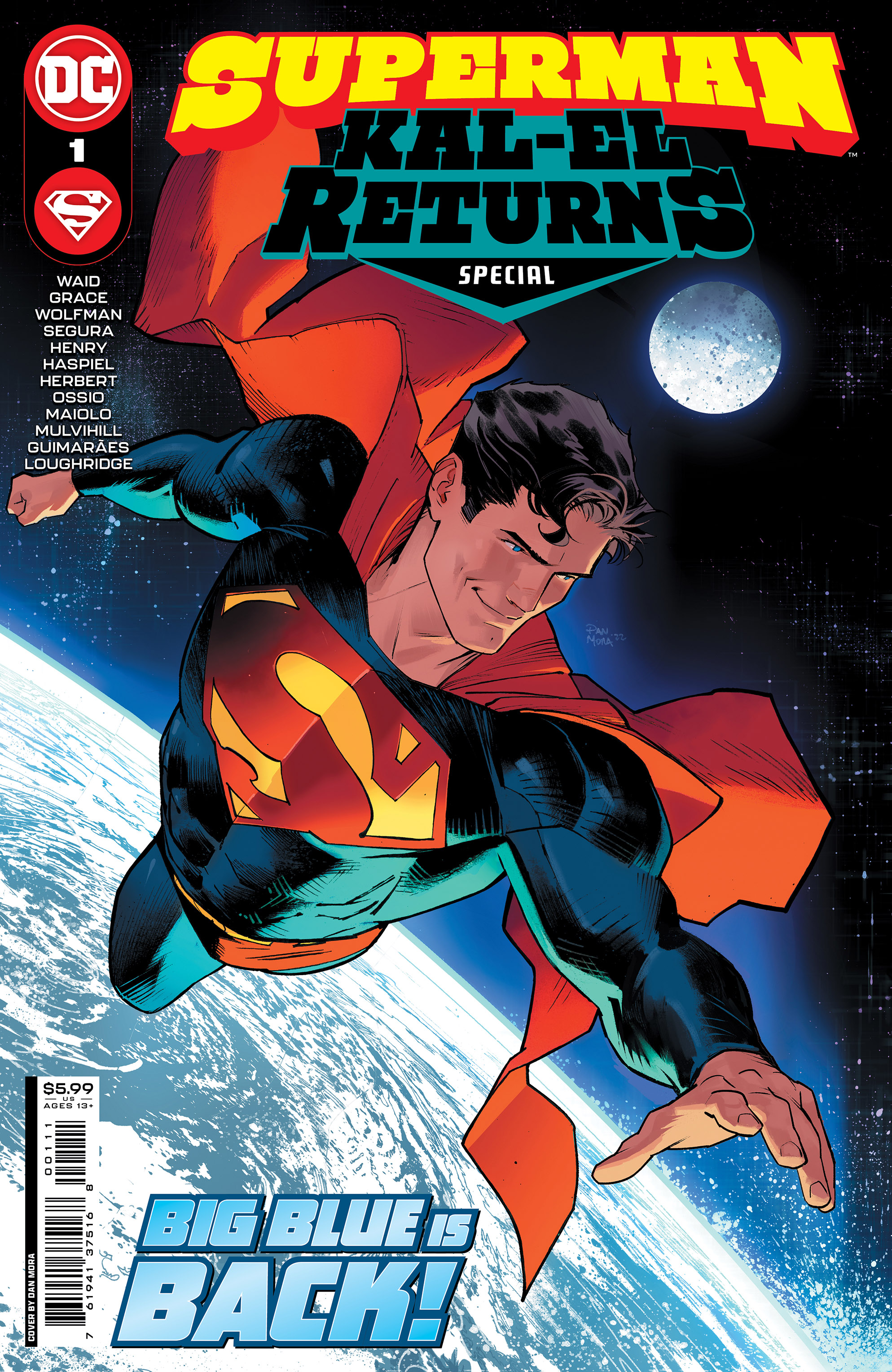 SUPERMAN KAL-EL RETURNS SPECIAL #1 (ONE SHOT)
DC COMICS
(W) Various (A) Various (CA) Dan Mora

Written by Mark Waid, Sina Grace, Alex Segura, and Marv Wolfman Art by Max Raynor, Dean Haspiel, Jack Herbert, and Reilly Brown Kal-El has returned from his long sojourn to Warworld, but what ramifications does this hold for the broader DC Universe?
In this special issue, we'll spotlight Kal-El's reunion with the Dark Knight, Jimmy Olsen, the Justice League, and...Lex Luthor?! Plus: witness the never-before-revealed look at the moments leading to Superman's abduction by Pariah in the Dark Crisis event! The march toward Action Comics #1050 continues in this essential special volume!

$5.99
If you would like to add any of these titles to your Reserve Bag, please call our store at 704-375-7462 or send an email requests to:

HeroesPulls@heroesonline.com OR
HeroesArentHardtoFind@gmail.com

BOOKS SHIPPING THE WEEK OF: NOVEMBER 30, 2022
007 #4 CVR A EDWARDS | 3.99
007 #4 CVR B ASPINALL | 3.99
007 #4 CVR C LAMING | 3.99
007 #4 CVR D LEE | 3.99
007 #4 CVR E 1:10 EDWARDS B&W | *
20TH CENTURY MEN #4 (OF 6) CVR A MORIAN | 3.99
20TH CENTURY MEN #4 (OF 6) CVR B TRAKHANOV | 3.99
ABSOLUTION #5 (OF 5) | 3.99
AOD VS REANIMATOR NECRONOMICON RISING #5 CVR A FLEECS | 3.99
AOD VS REANIMATOR NECRONOMICON RISING #5 CVR B MITTEN | 3.99
AOD VS REANIMATOR NECRONOMICON RISING #5 CVR C SUYDAM | 3.99
AOD VS REANIMATOR NECRONOMICON RISING #5 CVR D SAYGER | 3.99
APPROACH #2 (OF 5) CVR A HAUN | *
APPROACH #2 (OF 5) CVR B 1:10 HUTCHISON-CATES | 3.99
AQUAMEN TP | 16.99
ARTISTS ELITE PRESENTS #5 CVR A GARZA & DE LA CRUZ | 4.99
ARTISTS ELITE PRESENTS #5 CVR B BOOTH & DALHOUSE VAR | 4.99
ARTISTS ELITE PRESENTS #5 CVR C TEMPLESMITH VAR | 4.99
ARTISTS ELITE PRESENTS #5 CVR D GUNDERSON & DE LA CRUZ VAR | 4.99
ASCENDER DLX ED HC | 49.99
AVENGERS ASSEMBLE ALPHA #1 1:50 BROOKS | *
AVENGERS ASSEMBLE ALPHA #1 HITCH WRPAD CVR | 5.99
AVENGERS ASSEMBLE ALPHA #1 JS CAMPBELL ANNIVERSARY VAR | 5.99
AVENGERS ASSEMBLE ALPHA #1 LARROCA VAR | 5.99
BATGIRLS 2022 ANNUAL #1 | 5.99
BEHOLD BEHEMOTH #1 (OF 5) 2ND PTG ROBLES | 4.99
BEST MARVEL STORIES BY STAN LEE OMNIBUS HC DM VAR | 100.00
BLUE BEETLE GRADUATION DAY #1 (OF 6) CVR A GUTIERREZ | 3.99
BLUE BEETLE GRADUATION DAY #1 (OF 6) CVR B HAMNER CS VAR | 4.99
BLUE BEETLE GRADUATION DAY #1 (OF 6) CVR C 1:25 ALBUQUERQUE CS VAR | *
BLUE BEETLE GRADUATION DAY #1 (OF 6) CVR E SPANISH LANGUAGE VERSION | 3.99
BLUE BEETLE GRADUATION DAY #1 (OF 6) CVR F GUTIERREZ FOIL CS VAR POLYBAG | 9.99
BOOGYMAN #3 CVR A DJET | 3.99
BOOGYMAN #3 CVR B ANDREO | 3.99
BOOGYMAN #3 CVR C NIETO | 3.99
BOOK OF MR NATURAL TP (NEW PTG) | 24.99
BRIAR #2 (OF 4) CVR A GARCIA | 3.99
BRIAR #2 (OF 4) CVR B PAQUETTE | 3.99
BRIAR #2 (OF 4) CVR C FRANY | 3.99
BRIAR #2 (OF 4) CVR D 1:10 PAQUETTE | *
BRIAR #2 (OF 4) CVR I GARCIA | *
BRZRKR (BERZERKER) IMMORTAL PACK #1 | 39.99
CAPTAIN AMERICA SYMBOL OF TRUTH #7 | 3.99
CAPTAIN AMERICA SYMBOL OF TRUTH #7 LASHLEY X-TREME MARVEL VAR | 3.99
CAT-MAN ONE SHOT CVR A YOON | 4.99
CAT-MAN ONE SHOT CVR B CASE | 4.99
CAT-MAN ONE SHOT CVR C EDGAR | 4.99
CLIMATE CRISIS CHRONICLES GN | 9.99
DAMN THEM ALL #2 (OF 6) CVR A ADLARD | 3.99
DAMN THEM ALL #2 (OF 6) CVR B MURAKAMI | 3.99
DAMN THEM ALL #2 (OF 6) CVR C 1:25 ADLARD | *
DAMN THEM ALL #2 (OF 6) CVR F | *
DAMN THEM ALL #2 (OF 6) CVR H MURAKAMI | *
DAMN THEM ALL #2 (OF 6) CVR I BG VAR YOON | 3.99
DC CONNECT #31 OPT-IN BUNDLES OF 25 | FREE
DCS GRIFTER GOT RUN OVER BY A REINDEER #1 (ONE SHOT) | 9.99
DEAD LUCKY #4 CVR A CARLOMAGNO MV | 3.99
DEAD MALL #2 (OF 4) | 3.99
DETECTIVE COMICS 2022 ANNUAL #1 | 5.99
DUNGEON BUILDER LABYRINTH MODERN CITY GN VOL 06 | 12.99
E RATIC RECHARGED #3 (OF 4) | 3.99
EKI | 9.99
ENOLA HOLMES COLLECTED ED VOL 02 | 14.99
ENTER THE BLUE TP | 19.99
FANTAGRAPHICS UNDERGROUND DELIA GN | 30.00
FANTOMESQUE #1 | 9.99
FIFTH FORCE TP | 19.99
FIRE FORCE OMNIBUS GN VOL 01 VOL 1 - 3 | 19.99
FIRST SEVEN DAYS ONE SHOT | 3.99
FLASH THE FASTEST MAN ALIVE #2 (OF 3) CVR A FIUMARA | 5.99
FLASH THE FASTEST MAN ALIVE #3 (OF 3) CVR A HOWARD | 5.99
FLASH THE FASTEST MAN ALIVE #3 (OF 3) CVR B KOLINS CS VAR | 6.99
FLAWED #3 (OF 6) CVR A PRENZY | 3.99
FLAWED #3 (OF 6) CVR B COWEN | 3.99
FOX & WILLOW CAME A HARPER HC VOL 01 | 19.99
GODZILLA RIVALS VS GIGAN ONESHOT CVR A EJ SU | 7.99
HELLWITCH VS LADY DEATH WARGASM #2 (OF 2) CVR A STANDARD BER | 5.99
ILLUSTRATION MAGAZINE #78 | 15.00
IRON FIST TP SHATTERED SWORD | 15.99
JOHN CARPENTERS TALES SCIFI INTERFERENCE PATTERN #5 | 3.99
JUSTICE SOCIETY OF AMERICA #1 CVR A JANIN | 3.99
JUSTICE SOCIETY OF AMERICA #1 CVR B PAQUETTE CS VAR | 4.99
JUSTICE SOCIETY OF AMERICA #1 CVR C QUINONES 90S FOIL EMBOSSED CS VAR | 4.99
JUSTICE SOCIETY OF AMERICA #1 CVR D INC 1:25 ORDWAY CS VAR | *
JUSTICE SOCIETY OF AMERICA #1 CVR E INC 1:50 LIEBER FOIL CS VAR | *
KILLADELPHIA #25 CVR A ALEXANDER & ERRAMOUSPE | 3.99
KILLADELPHIA #25 CVR B ANDERSON | 3.99
KILLADELPHIA #25 CVR C ALEXANDER B&W NOIR ED | 3.99
KING SPAWN #17 CVR A ROBECK | 2.99
KING SPAWN #17 CVR B AGUILLO | 2.99
KOSHCHEI IN HELL #1 (OF 4) | 3.99
LEGEND OF KORRA PATTERNS IN TIME TP | 12.99
LOCUST BALLAD OF MEN #4 | 5.99
LOVESICK #2 (OF 7) CVR A VECCHIO | 3.99
LOVESICK #2 (OF 7) CVR B VECCHIO | 3.99
LOVESICK #2 (OF 7) CVR C VECCHIO | 3.99
LOVESICK #2 (OF 7) CVR D DANI | 3.99
MAGIC NAHIRI THE LITHOMANCER #1 CVR A OLIVETTI | 8.99
MAGIC NAHIRI THE LITHOMANCER #1 CVR B VILCHEZ | 8.99
MAKING COMIC ZINES ONESHOT | 4.99
MOTLEY CRUE THE DIRT DECLASSIFIED | 24.99
MY BAD VOL 2 #1 (OF 5) CVR A KRAUSE | 4.99
MY BAD VOL 2 #1 (OF 5) CVR B 1:2 KANE | *
MYSTERY BROTHERS #2 | 3.95
NEW WARRIORS CLASSIC OMNIBUS HC VOL 02 ROBERTSON CVR | 125.00
NIGHTWING 2022 ANNUAL #1 CVR A PANISCA & PANSICA | 5.99
NIGHTWING 2022 ANNUAL #1 CVR B REDONDO DESIGN CS VAR | 6.99
NUBIA AND THE JUSTICE LEAGUE SPECIAL #1 (OS) CVR A MOORE | 5.99
NUBIA AND THE JUSTICE LEAGUE SPECIAL #1 (OS) CVR B MANHANINI CS VAR | 6.99
NUBIA AND THE JUSTICE LEAGUE SPECIAL #1 (OS) CVR C SWABY 50TH ANN CS VAR | 6.99
NUBIA AND THE JUSTICE LEAGUE SPECIAL #1 (OS) CVR D 1:25 MOORE FOIL CS VAR | *
ORCS THE CURSE #4 (OF 4) CVR A LARSEN | 5.99
ORCS THE CURSE #4 (OF 4) CVR B SKINNER | 5.99
ORGANISMS FROM AN ANCIENT COSMOS HC | 39.99
PARKER MILES SPIDER-MAN DOUBLE TROUBLE #1 (OF 4) | 3.99
PARKER MILES SPIDER-MAN DOUBLE TROUBLE #1 (OF 4) 1:25 | *
PARKER MILES SPIDER-MAN DOUBLE TROUBLE #1 (OF 4) JONES VAR | 3.99
PARKER MILES SPIDER-MAN DOUBLE TROUBLE #1 (OF 4) MOMOKO VAR | 3.99
PLANET HULK WORLDBREAKER #1 (OF 5) | 4.99
PLANET HULK WORLDBREAKER #1 (OF 5) 1:25 KUBERT VAR | *
PLANET HULK WORLDBREAKER #1 (OF 5) 1:50 BROWN VAR | *
PLANET HULK WORLDBREAKER #1 (OF 5) CAMUNCOLI SKAAR VAR | 4.99
PLANET HULK WORLDBREAKER #1 (OF 5) YU VAR | 4.99
PLUSH #1 (OF 6) CVR A HILLYARD & RENZI | 3.99
PLUSH #1 (OF 6) CVR B FLEECS | 3.99
PLUSH #1 (OF 6) CVR C CORONA & STERN | 3.99
PULP BYTES #1 | 4.99
RECALL GN | 14.99
ROADIE #3 (OF 4) | 3.99
ROGUE SUN #8 CVR A VECCHIO MV | 3.99
SABRETOOTH DAN VS THE MOON | 5.99
SAGA OF A DOOMED UNIVERSE #1 (OF 3) CVR A REED | 8.99
SAGA OF A DOOMED UNIVERSE #1 (OF 3) CVR B REED | 8.99
SAGA OF A DOOMED UNIVERSE #1 (OF 3) CVR C REED | 8.99
SAGA OF A DOOMED UNIVERSE #1 (OF 3) CVR D REED | 8.99
SAGA OF A DOOMED UNIVERSE #1 (OF 3) CVR E REED | 8.99
SAGA OF A DOOMED UNIVERSE #1 (OF 3) CVR F REED | 8.99
SARA LONE #2 CVR A MORANCHO | 5.99
SARA LONE #2 CVR B MORANCHO | 5.99
SARA LONE #2 CVR E MORANCHO LTD | 5.99
SAVAGE SPIDER-MAN TP | 15.99
SILVER STREAK SEASON 1 #1 CVR A TOSHEFF | 5.99
SPARKS OF CHAOS #2 (OF 3) CVR A MAKAROV | 7.99
SPARKS OF CHAOS #2 (OF 3) CVR B MALYSHEV | 7.99
STAR TREK #2 CVR A ROSANAS | 4.99
STAR TREK #2 CVR B WARD | 4.99
STAR TREK #2 CVR C WOODWARD | 4.99
STAR TREK LOWER DECKS #3 CVR A FENOGLIO | 6.99
STAR TREK LOWER DECKS #3 CVR B COOK | 6.99
STAR WARS DARTH VADER #29 | 3.99
STAR WARS DARTH VADER #29 CLARKE REVELATIONS VAR | 3.99
STAR WARS DARTH VADER #29 LARROCA VAR | 3.99
STAR WARS HIGH REPUBLIC ADVENTURES #1 (OF 8) | 3.99
STAR WARS VISIONS #1 2ND PTG OKAZAKI VAR | 4.99
STILLWATER BY ZDARSKY & PEREZ #16 | 3.99
STRANGE #8 | 3.99
STRANGE #8 LAND VAR | 3.99
STRANGE ACADEMY FINALS #2 | 3.99
STRANGE ACADEMY FINALS #2 BALDEON X-TREME MARVEL VAR | 3.99
STRANGE ACADEMY FINALS #2 WEAVER TRADING CARD VAR | 3.99
SUNBURN TP | 19.99
SUPER SPY HC | 49.99
SUPER TRASH CLASH GN | 14.99
SUPERMAN KAL-EL RETURNS SPECIAL #1 (OS) C 1:25 FOCCILLO CS (DARK CRISIS) | *
SUPERMAN KAL-EL RETURNS SPECIAL #1 (OS) A MORA (DARK CRISIS) | 5.99
SUPERMAN KAL-EL RETURNS SPECIAL #1 (OS) B MOORE CS (DARK CRISIS) | 6.99
SUPERMAN KAL-EL RETURNS SPECIAL #1 (OS) D MORA SPAWN CS (DARK CRISIS) | 6.99
SUPERMAN SON OF KAL-EL HC VOL 02 | 24.99
SUPERMAN THE GOLDEN AGE OMNIBUS HC VOL 07 | 150.00
THOR EPIC COLLECTION TP BLOOD AND THUNDER | 44.99
TRAGEDIE OF MACBETH #2 (OF 2) | 5.99
UNBREAKABLE RED SONJA #2 CVR A PARRILLO | 3.99
UNFAMILIAR GN | 15.99
VAMPIRELLA YEAR ONE #4 CVR A TURNER | 3.99
WAKANDA #1 (OF 5) 2ND PTG MEDINA VAR | 4.99
WALT DISNEY DONALD DUCK HC VOL 27 DUCK LUCK | 35.00
WALT DISNEYS UNCLE SCROOGE DIAMOND JUBILEE COLLECTION HC | 100.00
WILDSTORM 30TH ANNIVERSARY SPECIAL #1 (ONE SHOT) CVR A LEE | 7.99
WILDSTORM 30TH ANNIVERSARY SPECIAL #1 (ONE SHOT) CVR B SOZOMAIKA VAR | 7.99
WILDSTORM 30TH ANNIVERSARY SPECIAL #1 (ONE SHOT) CVR C HITCH VAR | 7.99
WILDSTORM 30TH ANNIVERSARY SPECIAL #1 (ONE SHOT) CVR D MIDDLETON VAR | 7.99
WILDSTORM 30TH ANNIVERSARY SPECIAL #1 (ONE SHOT) CVR E CAMPBELL VAR | 7.99
WILDSTORM 30TH ANNIVERSARY SPECIAL #1 (ONE SHOT) CVR F BERMEJO VAR | 7.99
WOLVERINE TP PATCH | 15.99
WORLD OF KRYPTON TP | 16.99
X-TERMINATORS #3 (OF 5) | 3.99
X-TERMINATORS #3 (OF 5) NAKAYAMA VAR | 3.99

*limited quantities, check for availability
If you would like to add any of these titles to your Reserve Bag, please call our store at 704-375-7462 or send an email requests to:

HeroesPulls@heroesonline.com OR
HeroesArentHardtoFind@gmail.com