FRIDAY :: JUNE 18, 2021



TOMORROW! JUNE 19: 1PM-6PM
JUNETEENTH BITTER ROOT SIGNING WITH SANFORD GREENE!
ARTIST AND CO-CREATOR SANFORD GREENE WILL BE IN-STORE SIGNING ADVANCE COPIES OF THE *JUNETEENTH* VARIANT COVER FOR BITTER ROOT #14!

COMING NOVEMBER 6-7, 2021:
GIANT-SIZE CHARLOTTE MINI-CON
MORE INFORMATION BELOW! TICKETS ON SALE NOW!
HEROESCON 2020 and 2021 TICKET HOLDERS + 18 AND UNDER GET IN FOR FREE!

HEROES SAFE SHOPPING UPDATES!
HEROES NO LONGER REQUIRE MASKS FOR VACCINATED CUSTOMERS WHILE SHOPPING IN OUR STORE, AND CAPACITY RETURNED TO 100%!

HEROESCON WILL RETURN IN 2022!
THE HEROES CONVENTION WILL CELEBRATE ITS 40TH ANNIVERSARY IN JUNE OF 2022!

THEY'RE NOT JUST HUNGRY ON HOLIDAYS! HELP SUPPORT SECOND HARVEST FOOD BANK
WE ARE COLLECTING NON-PERISHABLE FOOD ITEMS FOR SECOND HARVEST UNTIL FURTHER NOTICE!
FULL STATEMENT OUR BELOW & ON OUR BLOG

HEROES CAN SHIP ANYTHING TO ANYWHERE!
CALL OUR STORE AT 704-375-7462 BETWEEN THE HOURS OF 10AM-7PM OR SEE MORE INFORMATION ON OUR BLOG!
YOU CAN PLACE ORDERS BY CALLING OUR STORE AT 704-375-7462 OR BY EMAIL TO:
her[email protected]

HEROES HOURS:
MONDAY-TUESDAY; THURSDAY-SATURDAY: 10AM-7PM
WEDNESDAY: 10AM-9PM
SUNDAY: 1PM-6PM
NEW RELEASES FOR JUNE 23, 2021



JUNETEENTH BITTER ROOT #14 VARIANT!
IN-STORE SIGNING with SANFORD GREENE
– JUNETEENTH –
Saturday, June 19, 2021 :: 1PM-5PM
Heroes Aren't Hard to Find is thrilled to welcome our friend SANFORD GREENE for a special In-Store Signing of the Juneteenth Variant for Bitter Root #14 on Saturday, June 19 from 1PM-5PM!
(The regular issue for Bitter Root #14 will be in-store AFTER the signing on Wednesday, June 23.)
This is an EXCLUSIVE ADVANCE for the JUNETEENTH VARIANT and quantities are limited!
If you would like to request a copy of this variant ahead of the signing, please send an email to [email protected]
This is our buddy, SANFORD GREENE...and his amazing beard!



THERE IS NO HEROES CONVENTION THIS WEEKEND BUT IT WILL RETURN NEXT JUNE!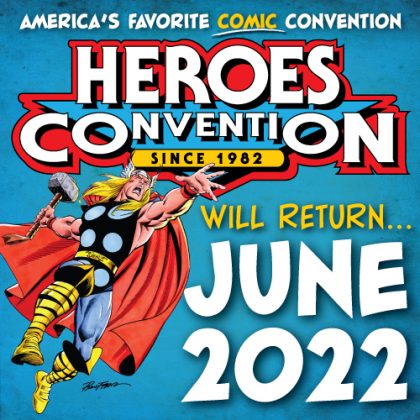 June 2022 will mark the 40th Anniversary of the Heroes Convention!
You know that after TWO YEARS of pandemic handcuffs, we will pull out ALL THE STOPS to make the 2022 HeroesCon one FOR THE AGES!
After being stuck in LIMBO for months, quietly watching COVID-19 numbers rise and fall, restrictions fluctuate across the country, and never knowing what the next month might hold and after careful consideration for the HEALTH and SAFETY of EVERYONE...
We have made the decision to FAST FORWARD directly to HeroesCon 2022.
ALL 2020/2021 HeroesCon Tickets, Artist Alley Tables and Exhibitor Booth Reservations will automatically transfer to the 2022 Heroes Convention at this time.

We hope that you will continue to support us as we begin planning our 40th Anniversary show.
HeroesCon 2022 Hotel Rates will be made available as soon as 2022 show dates have been finalized.
We appreciate you and your continued support and we THANK YOU for being a part of the
HEROESCON FAMILY.
Shelton Drum
Owner: Heroes Aren't Hard to Find & Heroes Convention
[email protected]
Karla M. Southern
Heroes Event, Media & Creative Coordinator
[email protected]
Seth Peagler
Heroes Operations Manger
[email protected]

Heroes Aren't Hard to Find, home of the Heroes Convention, is excited to return to the world of Comic-Book Conventions by bringing you the…

Coming to the Charlotte Convention Center:
Saturday, November 6: 10AM-6PM
and
Sunday, November 7: 10AM-4PM
This show will feature 80,000 Sq Ft of the BEST COMIC BOOK DEALERS in the country, as well as a curated Artist Alley hosting some of the industry's greatest!
This event will be a Comic-Book Collector's DREAM!! A room FILLED with comic books from every generation of the medium!
This show is a "GIANT-SIZE" version of our long-running CHARLOTTE MINI-CON, not to be confused with the MUCH LARGER Heroes Convention. As a smaller show, we will not be hosting panels or additional programming during this event. We will return with incredible panels and additional programming for the 40th Anniversary Heroes Convention, returning next June 2022.
The GIANT-SIZE CHARLOTTE MINI-CON is all about the COMIC-BOOKS! We hope you will join us for this GIANT-SIZE "old-school" Comic-Convention!
—
There are TWO TICKET OPTIONS for the Giant-Size Charlotte Mini-Con:
$10.00* – SATURDAY (includes BONUS SUNDAY admission!)
KIDS 18 & UNDER = FREE (must register for ticket)
*Tickets are non-refundable
—
ATTENTION HEROESCON 2020 & 2021
TICKET HOLDERS!!
If you purchased a ticket for the 2020 or 2021 Heroes Convention before April of 2021, your HeroesCon ticket will automatically get you into both days of the GIANT-SIZE CHARLOTTE MINI-CON as an extra added bonus! You will NOT need to purchase an additional ticket for the Giant-Size Charlotte Mini-Con, this event is included with your existing HeroesCon 2022 ticket!
We appreciate your continued support over the past year and hope that you will come out and enjoy this exciting bonus event!
—
EXHIBITORS APPEARING AT THE GIANT-SIZE CHARLOTTE MINI-CON:
LISTING TBA!
CREATORS APPEARING IN ARTIST ALLEY:
LISTING TBA!
—
PARKING:
The landscape surrounding the Charlotte Convention Center has changed over the past two years. Parking areas that may have existed the last time you visited may no longer be available. There are paid parking lots in the surrounding area of the Charlotte Convention Center. You can see a map of parking here: http://s3.amazonaws.com/crva.com/uploads/CLT_CCC-Parking_Map_Updated_June2019.pdf

LIGHT RAIL:
You might also consider utilizing the Charlotte Light Rail which makes a stop next to the Charlotte Convention Center at the Westin Charlotte. https://charlottenc.gov/cats/rail/Pages/routes.aspx
—
COSTUMES:
While costumes are welcome, please note that we will not be hosting a Costume Stage or a Costume Contest during this event. Please make sure that any props associated with a costume meet the conditions of the Charlotte Convention Center's Weapons Policy.
—
CHARLOTTE CONVENTION CENTER WEAPONS POLICY:
Concealed weapons are strictly prohibited in the Convention Center.
The Charlotte Convention Center prohibits the possession, sale, and distribution of any item that may be considered a "dangerous weapon" on its premises. "Dangerous Weapons" are defined as: "Any object or device designed or intended to be used to inflict serious injury upon persons or property; including, but not limited to: firearms, knives of any kind, razors and razor blades, metallic knuckles, clubs, blackjacks and nightsticks, dynamite cartridges, bombs, grenades, mines and any other type of explosive, as well as loaded canes." (City Code 1961 § 13-38.1; Ord. No. 545, § 1, 8-11-80)
In compliance with the aforementioned regulations, the following items are not permitted for sale, in the possession of persons, or on the premises of the Charlotte Convention Center during the hours of the Giant-Size Charlotte Mini-Con:
Firearms of any kind, including air-soft and other projectiles

Metal Swords (unsharpened or otherwise) • Knives (unsharpened or otherwise)

Throwing Stars (unsharpened or otherwise) • Darts (unsharpened or otherwise)

Brass Knuckles • Nunchaku, Blackjacks, Nightsticks, and Batons

Sais, Kamas, Hatchets, Tomahawks, Axes, Stylized Blades (ex: Wolverine-style Claws) • Fireworks (of any kind)
Any and all costume prop weapons are subject to inspection, approval, and tagging by the CMPD and the Security Officers of the Charlotte Convention Center. No exceptions.
—
HEALTH & SAFETY MEASURES:
The GIANT-SIZE CHARLOTTE MINI-CON will observe ANY & ALL recommended safety guidelines deemed necessary by the CDC, City and/or State Officials.
This may include social distancing and/or mask mandates.
We do ask, per current CDC recommendations, that any unvaccinated individuals continue to wear a mask while attending indoor social events.
—
EXHIBITING AT THE GIANT-SIZE CHARLOTTE MINI-CON:
Space at the GIANT-SIZE CHARLOTTE MINI-CON is curated and limited.
If you are a Comic-Book dealer interested in setting up, please send an email to [email protected] to be added to our waiting list for dealer space.

Masks are now optional for all vaccinated customers!
If you have received your COVID-19 vaccine, then the CDC no longer recommends wearing a mask!
Our entire staff is now fully vaccinated, and we hope that you are as well!
With this exciting development, along with the CDC's current safety recommendations, we will no longer require customers to wear a mask while shopping in our store.
We also fully support anyone's choice to continue wearing a mask! If you feel more comfortable wearing a mask please continue to do so.
If you have not been vaccinated we ask that you consider wearing a mask while shopping in our store for your own safety, as well as in consideration for those around you. We have disposable masks available for anyone who would like to wear one.
We have also increased our capacity to 100% at this time.
We still recommend that you put reasonable distance between yourself and others while shopping, because let's face it, THAT'S JUST GOOD MANNERS.
—
CONTINUED SAFE SHOPPING GUIDELINES:
We will continue to provide

hand sanitizer

for you to use upon entering and exiting the store.

Please be respectful of social distance and personal space while in our store.
That's just common sense. Don't crowd others while shopping, it's creepy.

Staff will continue to

sanitize and wash our hands

as often as possible.


WE ASK THAT ANYONE WHO FEELS UNWELL TO PLEASE STAY HOME. (This includes our staff!)
That is ALSO good common sense. If you feel unwell, STAY HOME!

OUR HOURS UNTIL FURTHER NOTICE:
Monday-Tuesday & Thursday-Saturday: 10am-7pm
Wednesday: 10am-9pm
Sunday: 1pm-6pm

Please follow us on social media (Facebook, Instagram, Twitter) or sign up for our Newsletter for regular updates!
Please feel free to call us at 704-375-7462 or email us at

[email protected]

with any questions!


We appreciate your business and continued support!
– Your Friends at HEROES AREN'T HARD TO FIND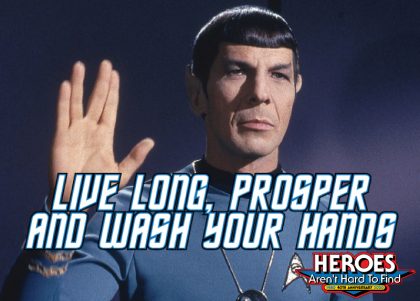 SHIPPING INFORMATION:
We are happy to SHIP to anyone who would like make those arrangements at this time.
Here's how to arrange that:
Please call our store at 704-375-7462 between the hours of 10am-7pm, or email us at

[email protected]

with a list of books you would like us to ship to you.
You can find the last 5 weeks of New Releases on our website here: http://www.heroesonline.com/new-releases/, if you need recommendations!

Shipping costs are based on weight.

If you would like to order comic-collecting supplies (ie: Comic Boxes, Bags, Boards, etc) to have shipped, we can do that too!




Supplies are subject to shipping freight. You can find our supply options listed here:


http://www.heroesonline.com/supplies/

We will invoice you via email for payment.

If you would prefer to make payment via PayPal, we can arrange that as well. Please call or email for details.

Please make sure that we have your complete and correct shipping address.

Enjoy your order!!




BITTER ROOT #14



IMAGE COMICS


(W) David Walker, Chuck Brown (A/CA) Sanford Greene

"LEGACY," Part Four - The Sangerye family has faced many challenges over the years, but none as deadly as the evil they must now confront. With Dr. Sylvester by their side, the Sangeryes prepare to make a final stand. But can Sylvester be trusted?

$3.99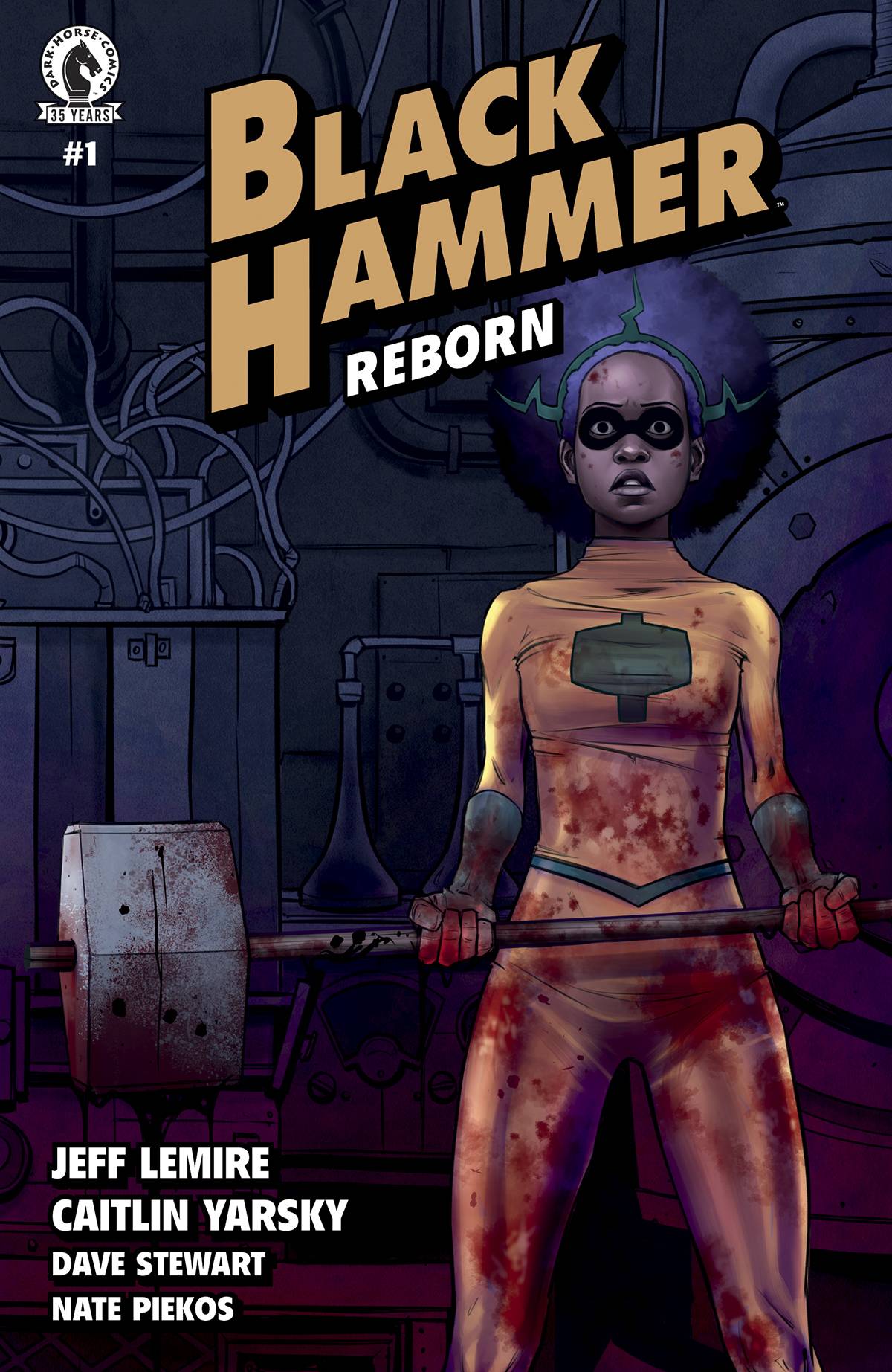 BLACK HAMMER REBORN #1

DARK HORSE COMICS
(W) Jeff Lemire (A/CA) Caitlin Yarsky

The Eisner Award-winning superhero saga returns in this ongoing series picking up twenty years later with new series artist Caitlin Yarsky.

Now, it's twenty years later, and Lucy, and the world, have moved on. Living in the suburbs of Spiral City, Lucy is married and has children. But all is not blissful. Her marriage is falling apart, her job has reached a dead end, and for mysterious reasons, she hasn't picked up the hammer in years. But, as her domestic life begins to crumble, the secrets of the last twenty years, and the reasons Lucy really gave up being Black Hammer, begin to resurface, threatening her family, and the peace she has tried hard to find for herself.

$3.99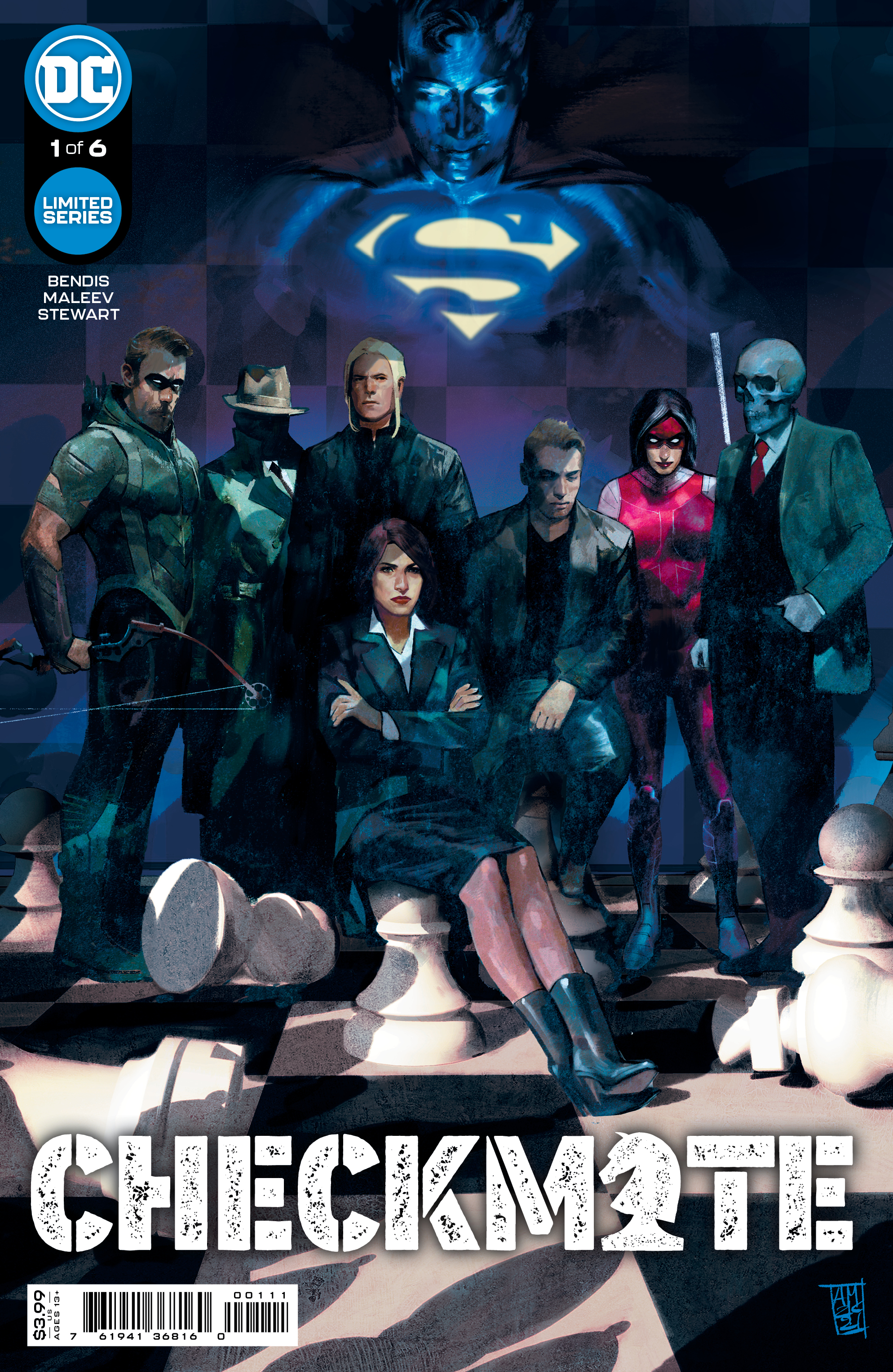 CHECKMATE #1
DC COMICS
(W) Brian Michael Bendis (A/CA) Alex Maleev

The dark forces of Leviathan have torn through the DC Universe, and now no one can be trusted. No one…not even the person writing to you about this book! That's why you find out in Justice League #63 that Green Arrow has been secretly funding a group called CHECKMATE because not even the Justice League itself can be trusted.
The mysterious MR. KING has helped Green Arrow assemble the greatest team of super—spies the world has ever seen! LOIS LANE, THE QUESTION, ROBIN, STEVE TREVOR, MANHUNTER, BONES, and TALIA Ah GHUL! will have to outsmart the smartest people in the world before they destroy everything! PLUS! A new mystery character is tip toeing though the shadows! They call him…the DAEMON ROSE! And he is hunting Lois Lane right under Superman's nose! It's an all–new spine-chilling thriller from the Eisner Award-winning team of Brian Michael Bendis and Alex Maleev!

$3.99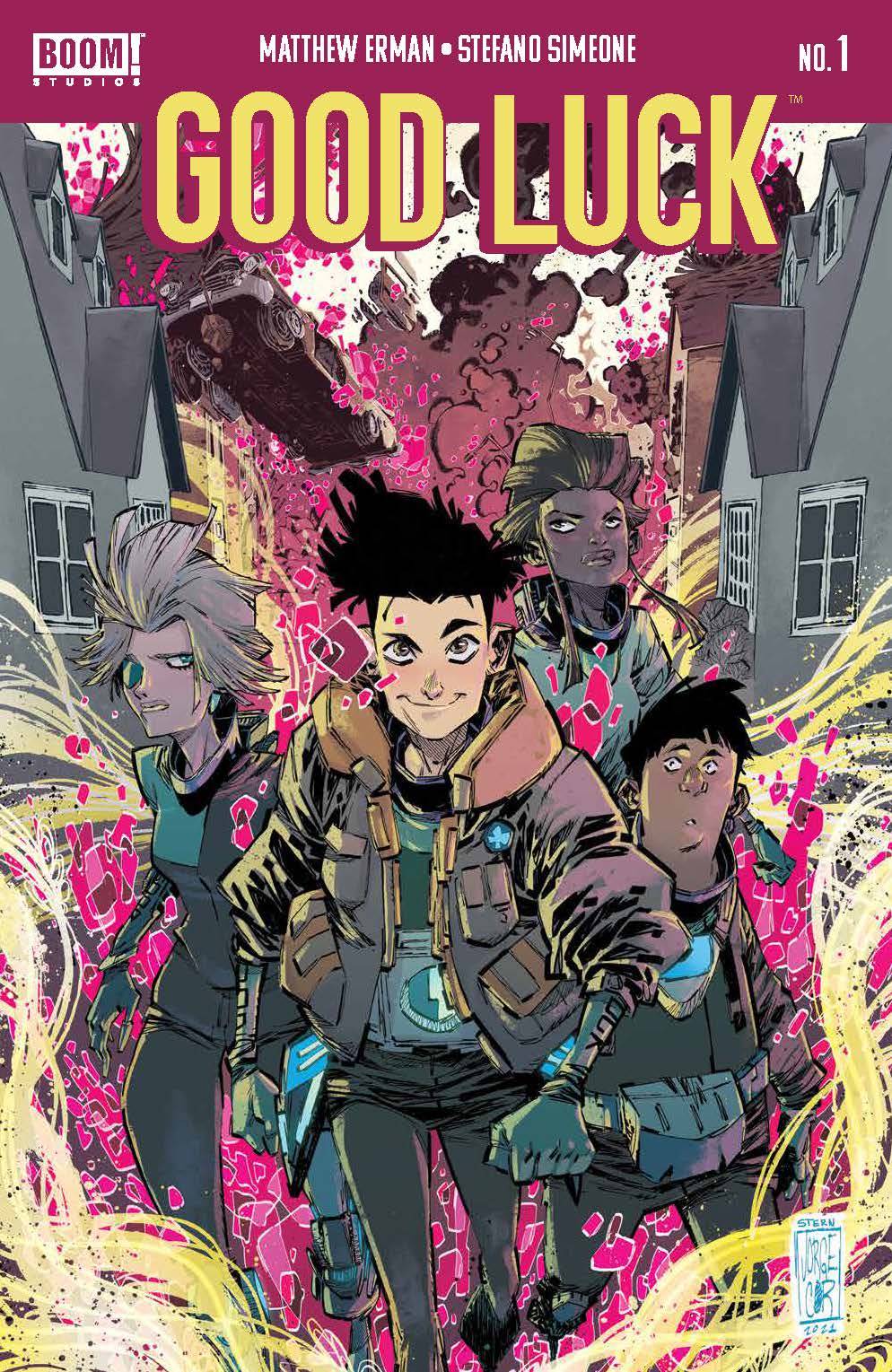 GOOD LUCK #1 (OF 5)

BOOM! STUDIOS
(W) Matthew Erman (A) Stefano Simeone (CA) Jorge Corona, Gerald Parel

What if Luck was quantifiable, and something everyone was born with?

Everyone, except the Unfortunates - teenagers born with absolutely zero luck. Now with the world mysteriously plunged into chaos and reality itself threatened, they will be our only hope to save the world.

Our last hope is those with no chance of success... the only thing anyone can wish them is Good Luck.

A bold new original series for fans of Seven Secrets and Runaways from Matthew Erman (Long Lost, Power Rangers: Sins of the Future) and Stefano Simeone (Mega Man: Fully Charged) about defying fate against impossible odds.

$3.99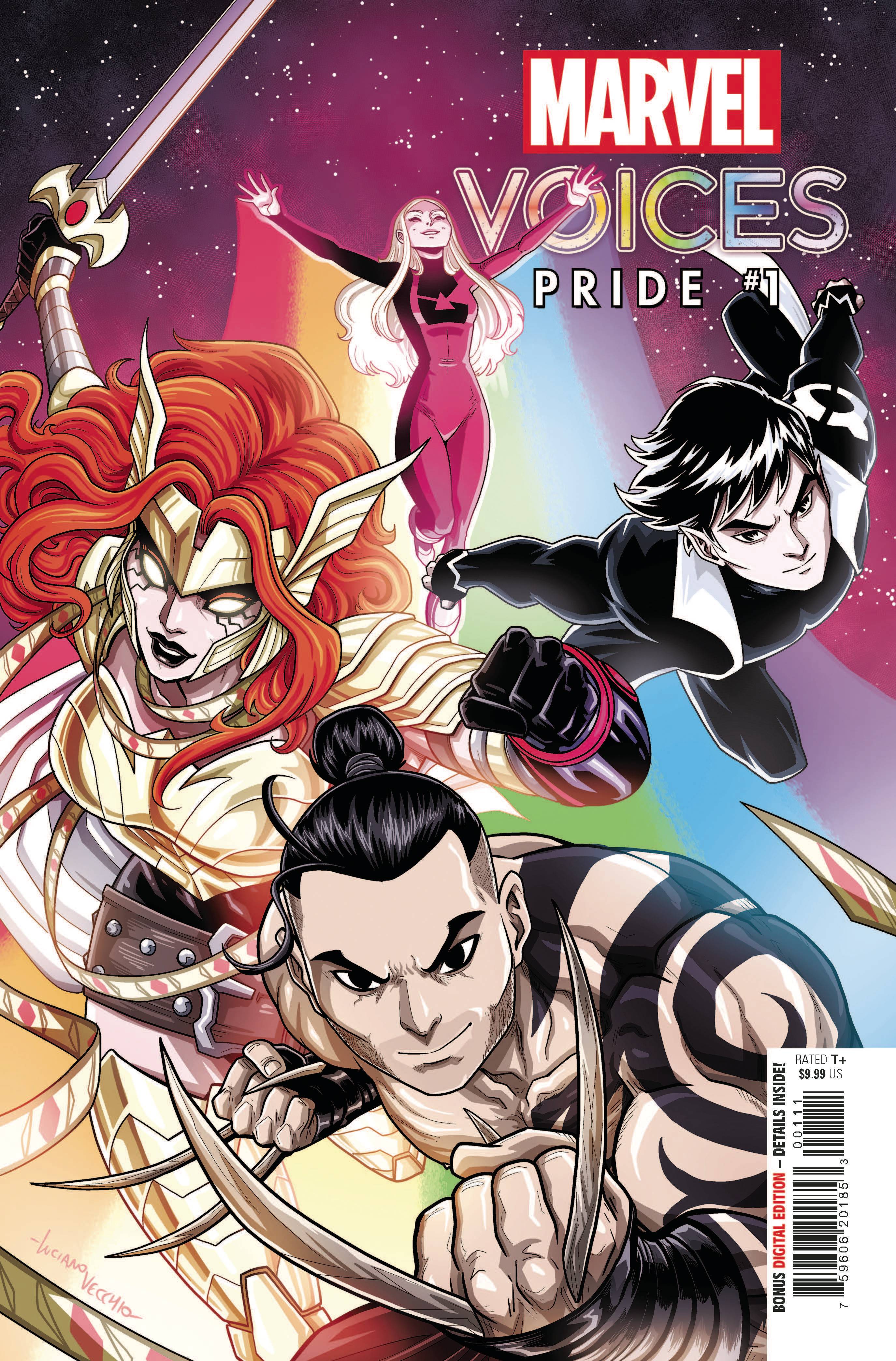 MARVELS VOICES PRIDE #1

MARVEL COMICS
(W) Kieron Gillen, More (A) Javi Garron, More (CA) Luciano Vecchio

MARVEL CELEBRATES LGBTQ+ CHARACTERS & CREATORS WITH A RAINBOW-POWERED SPECIAL!
Marvel Comics is proud to present its first ever queer-centered anthology! Ring in Pride Month with an amazing assembly of writers and artists from all walks of life. Wiccan and Hulkling! Iceman! Mystique and Destiny! Karma! Akihiro! Nico Minoru and Karolina Dean! Celebrate these and so many more legendary characters from across the Marvel archive! New and fan-favorite creators tell their Pride stories - stories of inspiration and empowerment, stories that illustrate "the world outside your window" in full color. Plus, some of Marvel's biggest LGBTQ+ moments get a special reprinting. Don't miss an extraordinary new chapter in Marvel history!

88 pages/ONE-SHOT/Rated T+
$9.99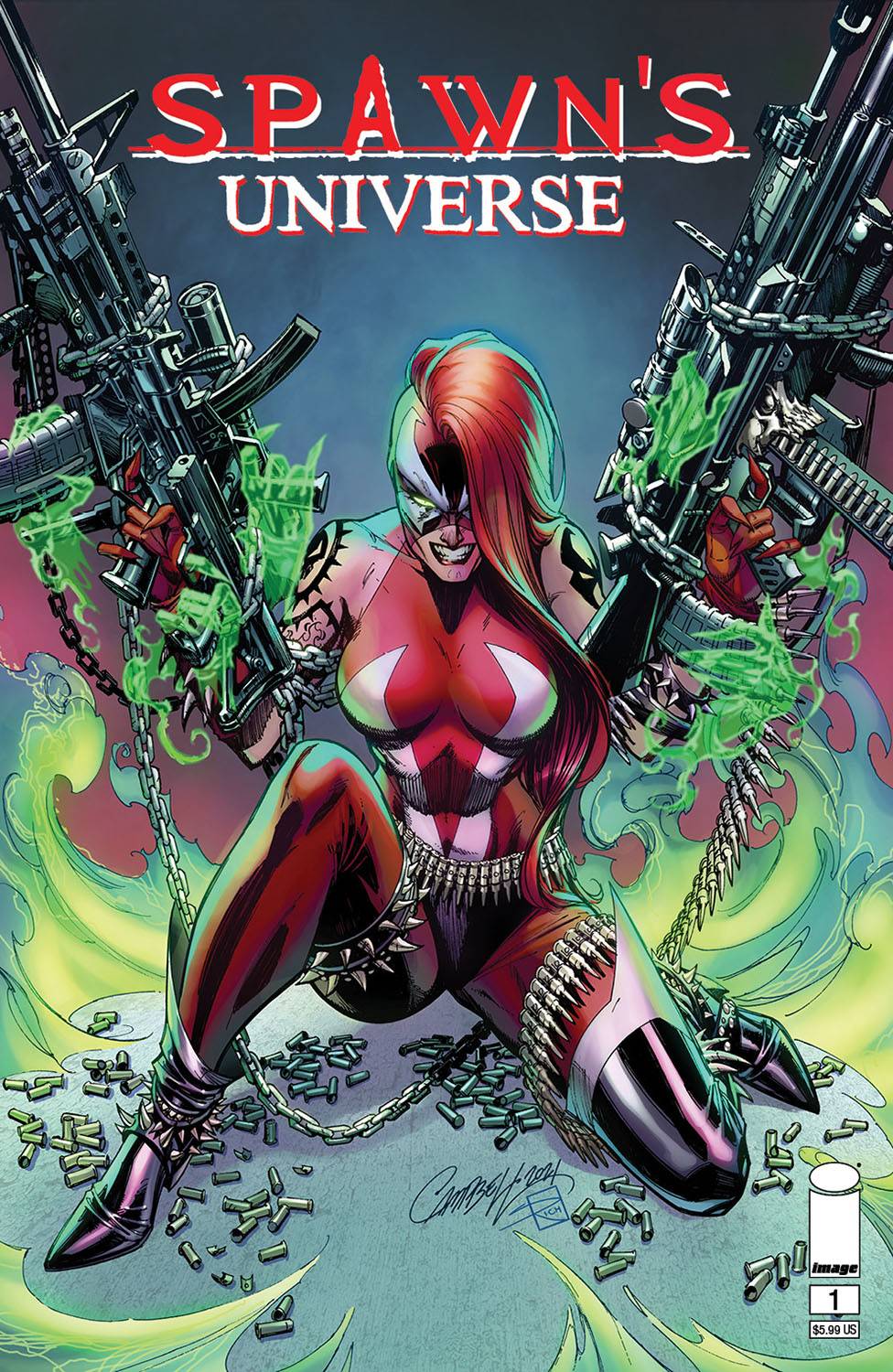 SPAWN UNIVERSE #1

IMAGE COMICS
(W) Todd McFarlane (A) Jim Cheung & Various (CA) J. Scott Campbell

IT'S HERE: THE OFFICIAL INTRODUCTION TO THE LONG-AWAITED SPAWN'S UNIVERSE!
A double-sized issue that begins a storyline so huge that three NEW SPAWN-related monthly titles will spill out from it, including...

A new SPAWN title.
GUNSLINGER SPAWN monthly.
And a new TEAM book bringing a handful of these characters together in their own book.

With this one-shot...the world of SPAWN changes forever! New heroes. New villains, and more importantly, new titles coming to a comic shop near you. Join this list of artists as we unveil a historic moment in the mythology of SPAWN'S UNIVERSE:

JIM CHEUNG
TODD McFARLANE
STEPHEN SEGOVIA
MARCIO TAKARA

$5.99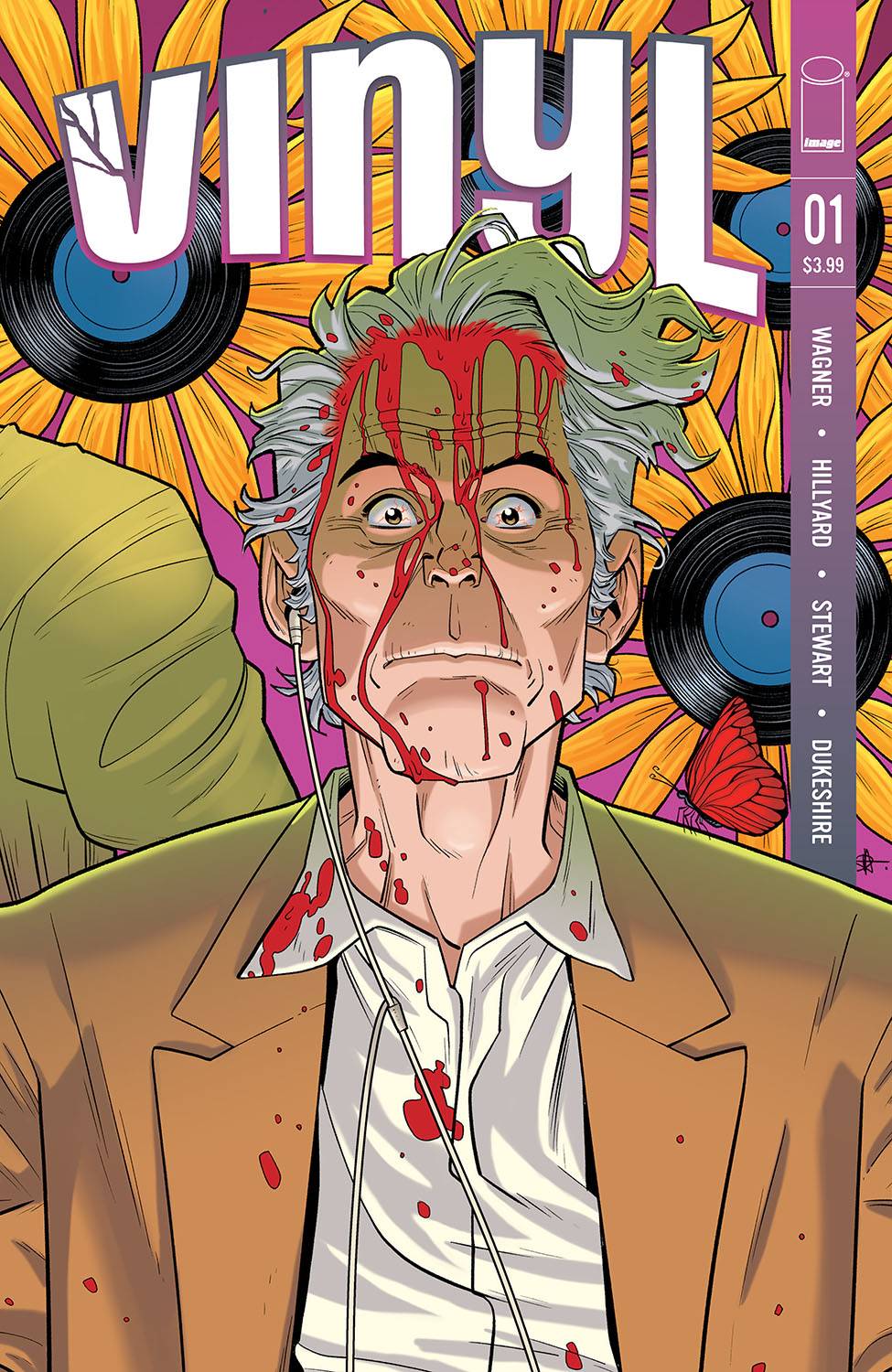 VINYL #1 (OF 6)

IMAGE COMICS
(W) Doug Wagner (A/CA) Daniel Hillyard, Dave Stewart

PLASTIC creators DOUG WAGNER and DANIEL HILLYARD return with Eisner Award winner DAVE STEWART for an unsettling tale of psychopaths, sweet love, and a serial killer named Walter.
When Walter's best friend, the FBI agent charged with his capture, is kidnapped by a death cult of all-female sunflower farmers, Walter finds himself deep within an underground labyrinth filled with secrets and monsters... but are their monsters more horrific than his?

$3.99



If you would like to add any of these titles to your Reserve Bag, please call our store at 704-375-7462 or send an email requests to:
[email protected] OR [email protected]



They're not just hungry on the Holidays! Help us support our community with a donation of Non-Perishable Food,
Pet Food or Funds for
Second Harvest Food Bank!
You can bring non-perishable food and pet food items to Heroes any time!
The need is great, and there is NO CUT-OFF.
Currently, the Second Harvest is in need of canned entrees such as:
Spaghetti and meatballs, ravioli, chili, etc.
If you would prefer to make a monetary donation directly to the Second Harvest Food Bank, you may do so using this link:
A donation as small as $1 can provide up to 7 lbs of food for the community!
Every little bit helps!!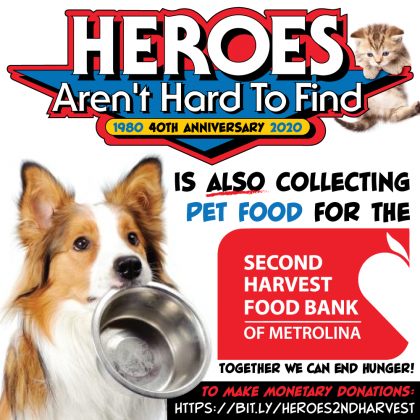 If you have OLD COMIC BOOKS, CALL US!
We have been buying and selling for OVER 50 YEARS!
We provide evaluations, advice and an offer if you are looking to sell!
You owe it to yourself to get our expert evaluation before you sell!
Send an email to [email protected] or call us at 704-375-7462


BOOKS SHIPPING THE WEEK OF: JUNE 23, 2021
ACTION COMICS #1032 CVR A MIKEL JANIN | 4.99
ACTION COMICS #1032 CVR B JULIAN TOTINO TEDESCO CARD STOCK VAR | 5.99
AMAZING SPIDER-MAN #69 | 3.99
AMAZING SPIDER-MAN #69 PAREL SPIDER-MAN VILLAINS VAR | 3.99
ASCENDER #16 | 3.99
B & V FRIENDS FOREVER SUMMER #1 | 2.99
BATMAN FORTNITE ZERO POINT #3 SECOND PRINTING | 4.99
BATMAN REPTILIAN #1 (OF 6) CVR A LIAM SHARP CARD STOCK | 4.99
BATMAN REPTILIAN #1 (OF 6) CVR B CULLY HAMNER VAR | 4.99
BATMAN REPTILIAN #1 (OF 6) INC 1:25 BILL SIENKIEWICZ VAR * | *
BATMAN SUPERMAN #19 CVR A IVAN REIS | 3.99
BATMAN SUPERMAN #19 CVR B GREG CAPULLO CARD STOCK VAR | 4.99
BECSTAR #2 | 3.99
BITTER ROOT #14 CVR A GREENE | 3.99
BITTER ROOT #14 CVR B JUNETEENTH GREENE | 3.99
BLACK HAMMER REBORN #1 CVR A YARSKY | 3.99
BLACK HAMMER REBORN #1 CVR B LEMIRE | 3.99
BLOOM #2 (OF 4) CVR A BENITO GALLEGO | 3.99
BLOOM #2 (OF 4) CVR B MARK WHEATLEY | 3.99
BLUE FLAME #2 CVR B YOSHITANI | 3.99
CAPTAIN MARVEL #29 | 3.99
CAPTAIN MARVEL #29 LAFUENTE SPIDER-MAN VILLAINS VAR | 3.99
CHARIOT #4 | 3.99
CHECKMATE #1 CVR A ALEX MALEEV | 3.99
CHECKMATE #1 CVR B MATT TAYLOR CARD STOCK VAR | 4.99
CHUNKY GN | 12.99
CLAIRE AND THE DRAGONS #1 | 1.99
CRUMRIN CHRONICLES TP VOL 01 | 14.99
DC COMICS OFFICIAL GOTHAM CITY COCKTAIL BOOK | 24.99
DETECTIVE COMICS #1038 CVR A DAN MORA | 4.99
DETECTIVE COMICS #1038 CVR B LEE BERMEJO CARD STOCK VAR | 5.99
DREAMING WAKING HOURS #11 | 3.99
DUNE HOUSE ATREIDES HC VOL 01 | 24.99
ELECTRIC BLACK #1 2ND PTG | 3.99
FANTASTIC FOUR LIFE STORY #2 (OF 6) | 4.99
FANTASTIC FOUR LIFE STORY #2 (OF 6) ACO VAR | 4.99
FUTURE STATE JUSTICE LEAGUE TP | 29.99
FUZZY BASEBALL GN VOL 04 DI NO HITTERS | 7.99
GAMMA FLIGHT #1 (OF 5) | 3.99
GAMMA FLIGHT #1 (OF 5) CASSARA STORMBREAKERS VAR | 3.99
GAMMA FLIGHT #1 (OF 5) PACHECO CONNECTING VAR | 3.99
GAMMA FLIGHT #1 (OF 5) ANDREWS 1:25 VAR * | *
GIGA #4 CVR A LE | 3.99
GIGA #4 CVR B GORHAM | 3.99
GOOD LUCK #1 (OF 5) CVR A CORONA & PAREL INTERMIX | 3.99
GOOD LUCK #1 (OF 5) CVR B CORONA FOIL | 4.99
GOOD LUCK #1 (OF 5) CVR C 10 COPY INCV PAREL * | *
GOOD LUCK #1 (OF 5) CVR D 25 COPY INCV YOON * | *
GOOD LUCK #1 (OF 5) CVR E UNLOCKABLE VAR CORONA * | *
GREAT GATSBY #1 CVR C COELHO GOLD FOIL VAR | 5.99
GREEN LANTERN JOHN STEWART A CELEBRATION OF 50 YEARS HC | 39.99
GUARDIANS OF THE GALAXY #15 | 3.99
GUARDIANS OF THE GALAXY #15 JIMENEZ PRIDE MONTH VAR | 3.99
GUARDIANS OF THE GALAXY #15 LIEFELD DEADPOOL 30TH VAR | 3.99
GUARDIANS OF THE GALAXY #15 PACHECO SPIDER-MAN VILLAINS VAR | 3.99
GUARDIANS OF THE GALAXY #15 JIMENEZ 1:50 PRIDE MONTH VIRGIN VAR * | *
HARLEY QUINN #4 CVR A RILEY ROSSMO | 3.99
HARLEY QUINN #4 CVR B DERRICK CHEW CARD STOCK VAR | 4.99
HARLEY QUINN #4 CVR C KRIS ANKA PRIDE MONTH CARD STOCK VAR | 4.99
HEROES RETURN #1 | 5.99
HEROES RETURN #1 BAGLEY CONNECTING TRADING CARD VAR | 5.99
HEROES RETURN #1 CHRISTOPHER ACTION FIGURE VAR | 5.99
HEROES RETURN #1 GLEASON STORMBREAKERS VAR | 5.99
HEROES RETURN #1 MCGUINNESS 1:25 VAR * | *
HEROES RETURN #1 VEREGGE 1:50 VAR * | *
HOME SICK PILOTS #6 CVR A WIJNGAARD | 3.99
HOME SICK PILOTS #6 CVR B LOTAY | 3.99
HORROR COMICS #5 | 3.99
I CAN READ COMICS LEVEL 1 GN CLARK SHARK & SCHOOL SING | 4.99
I CAN READ COMICS LEVEL 1 GN FISH & SUN | 4.99
I CAN READ COMICS LEVEL 2 GN FRIENDBOTS BLINK & BLANK | 4.99
I CAN READ COMICS LEVEL 3 GN TINY TALES SHELL QUEST | 4.99
I LIKE TO READ COMICS GN FIVE MAGIC ROOMS | 14.99
ICE CREAM MAN TP VOL 06 JUST DESSERTS | 16.99
IMOGEN OF WYRDING WAY CVR A BERGTING (ONE-SHOT) | 3.99
IMOGEN OF WYRDING WAY CVR B BERGTING (ONE-SHOT) | 3.99
INFINITE FRONTIER #1 (OF 6) CVR A MITCH GERADS | 4.99
INFINITE FRONTIER #1 (OF 6) CVR B BRYAN HITCH CARD STOCK VAR | 5.99
JONNA AND THE UNPOSSIBLE MONSTERS #4 CVR A SAMNEE | 3.99
JONNA AND THE UNPOSSIBLE MONSTERS #4 CVR B CANNON | 3.99
JULES VERNE LIGHTHOUSE #3 (OF 5) CVR A HABERLIN & VAN DYKE | 3.99
JULES VERNE LIGHTHOUSE #3 (OF 5) CVR B HABERLIN & VAN DYKE | 3.99
JULES VERNE LIGHTHOUSE #3 (OF 5) CVR C HABERLIN | 3.99
JUSTICE LEAGUE #63 CVR A DAVID MARQUEZ | 4.99
JUSTICE LEAGUE #63 CVR B DAN PANOSIAN CARD STOCK VAR | 5.99
KILLADELPHIA #14 CVR A ALEXANDER | 3.99
KILLADELPHIA #14 CVR B WAYSHAK | 3.99
KING IN BLACK TP RETURN OF VALKYRIES | 15.99
KING TANK GIRL #5 (OF 5) CVR B SKOTTIE YOUNG CARDSTOCK | 5.99
KYLES LITTLE SISTER GN | 13.00
LADY BALTIMORE WITCH QUEENS #4 (OF 5) | 3.99
LETS NOT TALK ANYMORE SC GN | 24.95
LONG DISTANCE GN | 14.99
LOUD HOUSE SUMMER SPECIAL SC | 7.99
MANY DEATHS OF LAILA STARR #2 (OF 5) 2ND PTG LINDSAY | 3.99
MARIA LLOVETS EROS PSYCHE #4 CVR A CHATZOUDIS | 3.99
MARIA LLOVETS EROS PSYCHE #4 CVR B MARIA LLOVET | 3.99
MARIA LLOVETS EROS PSYCHE #4 CVR C GANUCHEAU | 3.99
MARIA LLOVETS EROS PSYCHE #4 CVR D SABINE RICH | 3.99
MARIA LLOVETS EROS PSYCHE #4 10 COPY LLOVET VIRGIN INCV * | *
MARVELS VOICES PRIDE #1 | 9.99
MARVELS VOICES PRIDE #1 ANKA VAR | 9.99
MARVELS VOICES PRIDE #1 COIPEL VAR | 9.99
MARVELS VOICES PRIDE #1 GANUCHEAU VAR | 9.99
MARVELS VOICES PRIDE #1 JIMENEZ PRIDE MONTH A VAR | 9.99
MARVELS VOICES PRIDE #1 JIMENEZ PRIDE MONTH B VAR | 9.99
MARVELS VOICES PRIDE #1 SOUZA VAR | 9.99
MARVELS VOICES PRIDE #1 VEREGGE VAR | 9.99
MARVELS VOICES PRIDE #1 DAUTERMAN 1:25 VAR | *
MARVELS VOICES PRIDE #1 VECCHIO 1:25 FRAME VAR | *
MFKZ #1 CVR A | 5.99
MFKZ #1 CVR B STREET CRED | 5.99
MFKZ #1 CVR C CULT | 5.99
MFKZ #1 VINZ DIESEL VAR | 5.99
MILES MORALES GN-TP ULTIMATE END | 12.99
MISTER MIRACLE THE SOURCE OF FREEDOM #2 (OF 6) CVR A YANICK PAQUETTE | 3.99
MISTER MIRACLE THE SOURCE OF FREEDOM #2 (OF 6) CVR B FICO OSSIO CARD STOCK | 4.99
NOMEN OMEN TP VOL 03 AS THE WORLD FALLS DOWN | 16.99
NUCLEAR FAMILY #5 | 3.99
OLD GUARD TALES THROUGH TIME #3 (OF 6) CVR A FERNANDEZ | 3.99
OLD GUARD TALES THROUGH TIME #3 (OF 6) CVR B OEMING & SOMA | 3.99
OLD GUARD TALES THROUGH TIME #3 (OF 6) CVR C FERNANDEZ | 3.99
OSCAR MARTINS SOLO HC VOL 2 | 24.99
PERHAPANAUTS VOL 2 #1 CVR A CRAIG ROUSSEAU | 3.99
PHANTOM ON SCAN #3 | 3.99
POWER RANGERS #8 CVR A SCALERA | 3.99
POWER RANGERS #8 CVR B LEGACY VAR DI NICUOLO | 3.99
POWER RANGERS #8 CVR D 10 COPY INCV SCALERA * | *
REPTIL #2 (OF 4) | 3.99
REPTIL #2 (OF 4) RAMOS VAR | 3.99
REPTIL #2 (OF 4) BALAM 1:10 DESIGN VAR * | *
ROBIN #3 CVR A GLEB MELNIKOV | 3.99
ROBIN #3 CVR B FRANCIS MANAPUL CARD STOCK VAR | 4.99
RWBY JUSTICE LEAGUE #3 (OF 7) CVR A MIRKA ANDOLFO | 3.99
RWBY JUSTICE LEAGUE #3 (OF 7) CVR B SIMONE DI MEO CARD STOCK VAR | 4.99
SEA OF STARS #10 | 3.99
SHADECRAFT #3 2ND PTG | 3.99
SHADECRAFT #4 CVR A GARBETT | 3.99
SHADECRAFT #4 CVR B MCKELVIE | 3.99
SHADOW SERVICE #9 CVR A HOWELL | 3.99
SHADOW SERVICE #9 CVR B ISAACS | 3.99
SHADOWMAN (2020) #3 CVR A DAVIS-HUNT | 3.99
SHADOWMAN (2020) #3 CVR B KIRKHAM | 3.99
SHADOWMAN (2020) #3 CVR C HENDERSON | 3.99
SILK #4 (OF 5) | 3.99
SILK #4 (OF 5) COLA SPIDER-MAN VILLAINS VAR | 3.99
SILK #4 (OF 5) FRISON 1:25 VAR * | *
SILK OUT OF THE SPIDER-VERSE TP VOL 02 | 34.99
SOMETHING IS KILLING THE CHILDREN #17 CVR B GLOW IN THE DARK | 4.99
SONIC THE HEDGEHOG 30TH ANNIV SPEC CVR A SONIC TEAM | 8.99
SONIC THE HEDGEHOG 30TH ANNIV SPEC CVR B NEOFOTISTOU | 8.99
SONIC THE HEDGEHOG 30TH ANNIV SPEC 10 COPY SPAZIANTE INCV * | *
SPAWN UNIVERSE #1 CVR A CAMPBELL | 5.99
SPAWN UNIVERSE #1 CVR B CAMPBELL | 5.99
SPAWN UNIVERSE #1 CVR C CAMPBELL | 5.99
SPAWN UNIVERSE #1 CVR D CAMPBELL | 5.99
SPAWN UNIVERSE #1 CVR E BOOTH & MCFARLANE | 5.99
SPAWN UNIVERSE #1 CVR F MCFARLANE | 5.99
SPAWN UNIVERSE #1 CVR G 50 COPY INCV BOOTH * | *
STAR WARS DARTH VADER #13 WOBH | 3.99
STAR WARS DARTH VADER #13 JJ KIRBY PRIDE VAR | 3.99
STAR WARS DARTH VADER #13 SPROUSE LUCASFILM 50TH VAR | 3.99
STAR WARS DARTH VADER BY GREG PAK TP VOL 02 INTO THE FIRE | 17.99
STAR WARS LEGENDS EPIC COLLECTION OLD REPUBLIC TP VOL 04 | 39.99
STRANGE ATTRACTORS (ITS ALIVE) #2 CVR B RETRO VARIANT | 5.99
STRAY DOGS #1 3RD PTG | 3.99
STRAY DOGS #4 2ND PTG | 3.99
STRAY DOGS #5 CVR A FORSTNER & FLEECS | 3.99
STRAY DOGS #5 CVR B HORROR MOVIE VAR FORSTNER & FLEECS | 3.99
SUMMONERS WAR LEGACY #3 | 3.99
SUPER TURBO GN VOL 03 VS PENCIL POINTER | 9.99
SUPERMAN #32 CVR A JOHN TIMMS | 4.99
SUPERMAN #32 CVR B INHYUK LEE CARD STOCK VAR | 5.99
SUPERMAN #32 CVR C DAVID TALASKI PRIDE MONTH CARD STOCK VAR | 5.99
SWORD #6 GALA | 3.99
SWORD #6 DAUTERMAN CONNECTING VAR | 3.99
SWORD #6 SCHITI CHARACTER DESIGN VAR | 3.99
SWORD #6 DAUTERMAN 1:50 CAPTAIN BRITAIN DESIGN VAR * | *
TEEN TITANS ACADEMY #4 CVR A RAFA SANDOVAL | 3.99
TEEN TITANS ACADEMY #4 CVR B PHILIP TAN CARD STOCK VAR | 4.99
TEEN TITANS ACADEMY #4 CVR C PRIDE MONTH CARD STOCK VAR | 4.99
THUNDER & CLUCK YR GN FRIENDS DO NOT EAT FRIENDS | 6.99
TMNT ONGOING #118 CVR A NELSON DANIEL | 3.99
TMNT ONGOING #118 CVR B EASTMAN | 3.99
TMNT ONGOING #118 10 COPY INCV KARL JOHNSSON * | *
TRANSFORMERS #31 CVR A DIEGO ZUNIGA | 3.99
TRANSFORMERS #31 CVR B CHRIS PANDA | 3.99
TRANSFORMERS BACK TO FUTURE #4 (OF 4) CVR A JUAN SAMU | 3.99
TRANSMETROPOLITAN BOOK 5 TP | 29.99
UNDISCOVERED COUNTRY #13 CVR A CAMUNCOLI | 3.99
UNDISCOVERED COUNTRY #13 CVR B FRANCAVILLA | 3.99
US AGENT TP AMERICAN ZEALOT | 15.99
VENGEANCE OF VAMPIRELLA #19 CVR B OLIVER | 3.99
VINYL #1 (OF 6) CVR A HILLYARD & STEWART | 3.99
VINYL #1 (OF 6) CVR B HILLYARD & STEWART | 3.99
WAY OF X #3 GALA | 3.99
WAY OF X #3 DAUTERMAN CONNECTING VAR | 3.99
WAY OF X #3 QUINN CHARACTER DESIGN VAR | 3.99
WAY OF X #3 DAUTERMAN 1:50 EMMA FROST DESIGN VAR * | *
WEB OF SPIDER-MAN #2 (OF 5) | 3.99
WEB OF SPIDER-MAN #2 (OF 5) ALBURQUERQUE VAR | 3.99
WOLVERINE #13 GALA | 3.99
WOLVERINE #13 BENJAMIN SPIDER-MAN VILLAINS VAR GALA | 3.99
WOLVERINE #13 DAUTERMAN CONNECTING VAR GALA | 3.99
WOLVERINE #13 JIMENEZ PRIDE MONTH VAR GALA | 3.99
WOLVERINE #13 JIMENEZ PRIDE MONTH 1:50 VIRGIN VAR GALA | *
WOLVERINE #13 DAUTERMAN 1:50 KATE PRYDE DESIGN VAR GALA | *
WOLVERINE #13 BIANCHI 1:100 VAR GALA | *
WONDER WOMAN #774 CVR A TRAVIS MOORE | 4.99
WONDER WOMAN #774 CVR B JOSHUA MIDDLETON CARD STOCK VAR | 5.99
WONDER WOMAN BLACK & GOLD #1 (OF 6) CVR A JEN BARTEL | 5.99
WONDER WOMAN BLACK & GOLD #1 (OF 6) CVR B JOSHUA MIDDLETON VAR | 5.99
WONDER WOMAN BLACK & GOLD #1 (OF 6) CVR C YANICK PAQUETTE VAR | 5.99
WONDER WOMAN BLACK & GOLD #1 (OF 6) INC 1:25 RAMONA FRADON & SANDRA HOPE | 5.99
X-MEN EPIC COLLECTION TP MUTANT GENESIS NEW PTG | 39.99
X-MEN LEGENDS #4 | 3.99
X-MEN LEGENDS #4 CHRISTOPHER ACTION FIGURE VAR | 3.99
X-MEN LEGENDS #4 LIEFELD DEADPOOL 30TH VAR | 3.99
*limited quantities, check for availability