WEDNESDAY :: SEPTEMBER 20, 2023





HEROES IS ON THE ROAD THIS WEEKEND
SHELTON HEADS TO THE HICKORY CON 3 THIS SATURDAY, SEPTEMBER 23!

HEROES CAN SHIP ANYTHING TO ANYWHERE!
CALL OUR STORE AT 704-375-7462 BETWEEN THE HOURS OF 10AM-7PM OR SEE MORE INFORMATION ON OUR BLOG!
YOU CAN PLACE ORDERS BY CALLING OUR STORE AT 704-375-7462
OR BY EMAIL TO: heroesarenthardtofind@gmail.com

HEROES HOURS:
MONDAY-TUESDAY; THURSDAY-SATURDAY: 10AM-7PM
WEDNESDAY: 10AM-9PM
SUNDAY: 1PM-6PM
NEW RELEASES FOR SEPTEMBER 20, 2023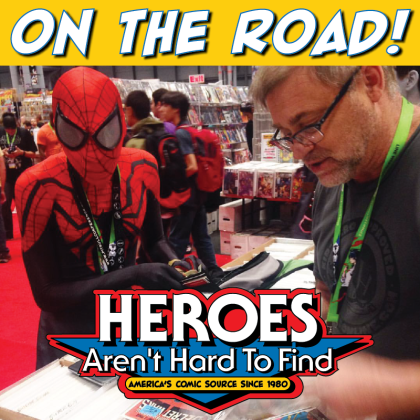 HEROES HEADS TO
HICKORY CON 3
SEPTEMBER 23, 2023
The Hickory Con 3
will be held at the:
Hickory Metro Convention Center
1960 13th Ave Dr. SE
Hickory, NC 28602
828-324-8600
Show Hours:
10am-5pm
ADMISSION:
$5.00 for Adults
$3.00 for children under 13, 3 and under are free!

Marvel: Universe of Super Heroes
EXTENDED THROUGH JANUARY 1, 2024!
DISCOVERY PLACE SCIENCE
Marvel: Universe of Super Heroes Charlotte Run Extended!
Popular exhibition will be at Discovery Place Science until January 1, 2024


CHARLOTTE, NC (August 17, 2023)– Discovery Place Science announces that it will extend the run of Marvel: Universe of Super Heroes through the end of the year. The last time to see this popular exhibition before it heads overseas will be New Year's Day 2024.

"Marvel: Universe of Super Heroes has been our largest and most popular exhibition in years, and we are thrilled to announce its extended run to close out the year," said Catherine Wilson Horne President & CEO of Discovery Place. "The exhibition has brought many new guests to our Museum, and it's been wonderful sharing all that Discovery Place Science has to offer with them."

More than 50,000 tickets to Marvel: Universe of Super Heroes were sold in the initial run of the exhibition, and nearly half of all Museum guests have chosen to upgrade their experience by visiting the exhibition. Guests have arrived from more than 40 states—from nearby South Carolina, Georgia and Tennessee all the way to West Coast and even Alaska and Hawaii—to experience one of the most comprehensively sourced and thoroughly researched exhibitions devoted to the Marvel Universe.

With more than 300 original artifacts, including some of Marvel's most iconic costumes, props and original art, this exhibition has wowed longtime fans and Marvel novices alike with its visually stunning presentation spanning 12,000 square feet.

Discovery Place Science will also extend "Marvel After Hours," on select Friday and Saturday evenings from 5:00 – 9:00 p.m. to spotlight Marvel: Universe of Super Heroes and offer flexible viewing hours.

For more information visit discoveryplace.org.
About Discovery Place Science
Discovery Place Science is the leading hub for science learning in the Carolinas—dedicated to the exchange of ideas, scientific exploration and creative expression to stimulate innovative problem-solving and learning. The Museum brings relevant, contemporary science to life through groundbreaking exhibitions, interactive educational programming and hands-on activities. Located in Uptown Charlotte at 301 N. Tryon Street, convenient parking is available in the Museum's parking deck—the Carol Grotnes Belk Complex—at the corner of Sixth and Church streets. For more information about Discovery Place Science, call 704-372-6261, visit discoveryplace.org, or connect with Discovery Place Science on Facebook, Twitter, Instagram and YouTube.
The Marvel: Universe of Super Heroes exhibition is produced by Semmel Exhibitions, Marvel Entertainment and MoPOP.


TASCHEN and Marvel Entertainment Announce
'The Marvel Comics Library'
Famous First Edition:
First printings of 5,000 numbered copies
ABOUT THE SERIES:
TASCHEN's extra-large format, close in size to the original artworks, reveal startling new details in the work of Marvel's most acclaimed artists. For each title in the series, the most pristine pedigreed comics (from the collection of our own SHELTON DRUM!) have been cracked open for reproduction in close collaboration with Marvel and the Certified Guaranty Company. Rather than recolor the original production artwork (as has been done in previous decades' reprints of classic comics), TASCHEN has attempted to create an ideal representation of these books as they were produced at the time of publication. Beginning with high grade, top-quality comics sourced with the assistance of the CGC, super-high-resolution photographs of each page were made as printed more than half a century ago, using modern retouching techniques to correct problems with the era's inexpensive, imperfect printing. This included improved and balanced ink densities and color matching, proper registration of the four-color printing and correction of thick/thin lines resulting from the flexible plates "smudging." The end result is a finished product — as if hot off a world-class printing press produced without economic or time-pressure constraints – tailored for readers, fans, artists and collectors alike.
Each volume features an essay by a comic book historian alongside hundreds of photos and artifacts. The books use three different paper stocks, including an uncoated and wood-free paper exclusively developed for this series that simulates the feel of the original comics.
The first 5,000 copies of each volume will be numbered and released as a 'Famous First Edition'. These books are also available as a Collector's Edition, limited to 1,000 copies featuring an aluminum print cover tipped into a leatherette-bound spine, foil embossing, and housed in a slipcase. Each book is individually numbered. The inaugural purchase of the Collector's Edition entitles the collector to the selection of a personal favorite number between 1 and 1,000 on a first-come-first-serve basis. This will also secure a preemptive right to reserve a copy with the identical edition number for all forthcoming Collector's Edition titles in 'The Marvel Comic Library'.
Shelton granted exclusive and unprecedented access to some of his most prized and beloved comics, and art, to assist in the creation of these comic tomes.
"Working with TASCHEN and the CGC on these books has been an honor. The finished product FAR EXCEEDS any pre-conceived expectations I may have held! I just opened the box with the book, and I know the word might be overused, but it is FANTASTIC! The production quality is awesome. I love it!"

HAVE OLD COMIC BOOKS?
CALL US!
We have been buying and selling for
OVER 50 YEARS!
We provide evaluations, advice and an offer if you are looking to sell! You owe it to yourself to get our expert evaluation before you sell!

Send an email to Shelton@heroesonline.com or call us at 704-375-7462


BOOKS SHIPPING THE WEEK OF: SEPTEMBER 20, 2023
ADV OF BATGIRL & SUPERGIRL SC ALIEN BLOOM OF DOOM | 6.99
ADV OF BATGIRL & SUPERGIRL SC CITYWIDE SCREAM SCHEME | 6.99
ADV OF BATGIRL & SUPERGIRL SC LUTHORS DEEP-SEA DANGER | 6.99
ADV OF BATGIRL & SUPERGIRL SC TWO-FACE & FUSION CONFUSION | 6.99
ALPHA FLIGHT #2 (OF 5) | 3.99
ALPHA FLIGHT #2 (OF 5) DAN PANOSIAN HOMAGE | 3.99
ALPHA FLIGHT #2 (OF 5) NICOLETTA BALDARI | 3.99
AMAZING SPIDER-MAN #34 | 3.99
AMAZING SPIDER-MAN #34 1:100 JRJR JRSR VIRGIN | *
AMAZING SPIDER-MAN #34 1:25 PATRICK GLEASON | *
AMAZING SPIDER-MAN #34 DAVE JOHNSON | 3.99
AMAZING SPIDER-MAN #34 JOHN ROMITA JR JOHN ROMITA SR | 3.99
AMAZING SPIDER-MAN EPIC COLLECTION TP ROUND ROBIN | 44.99
ANTARCTICA #3 CVR A ROBERTS | 3.99
ARCHIES CHRISTMAS WONDERLAND TP | 12.99
BATMAN & SCOOBY-DOO MYSTERIES TP VOL 03 | 12.99
BATMAN KNIGHTFALL OMNIBUS HC VOL 01 (2023 EDITION) | 150.00
BATMAN ONE DARK KNIGHT TP | 19.99
BATMAN SUPERMAN WORLDS FINEST #19 CVR A DAN MORA | 3.99
BATMAN SUPERMAN WORLDS FINEST #19 CVR B DANIEL & SANCHEZ CS | 4.99
BATMAN SUPERMAN WORLDS FINEST #19 CVR C NICOLAS CAGE SUPER-VARIANT CS | 4.99
BATMAN SUPERMAN WORLDS FINEST #19 CVR D 1:25 ALEXANDER LOZANO CS | *
BATMAN SUPERMAN WORLDS FINEST #19 CVR E 1:50 HELENE LENOBLE CS | *
BATMAN SUPERMAN WORLDS FINEST HC VOL 02 STRANGE VISITOR | 24.99
BATMAN THE AUDIO ADVENTURES TP | 19.99
BATMAN WHITE KNIGHT GENERATION JOKER #5 (OF 6) CVR A SEAN MURPHY | 4.99
BATMAN WHITE KNIGHT GENERATION JOKER #5 (OF 6) CVR B MIRKA ANDOLFO | 4.99
BATMAN WHITE KNIGHT GENERATION JOKER #5 (OF 6) CVR C 1:25 MCCORMACK | *
BEHOLD BEHEMOTH TP | 17.99
BIG GAME #3 (OF 5) CVR A LARRAZ | 4.99
BIG GAME #3 (OF 5) CVR C CHAREST | 4.99
BLOOD FORCE TRAUMA TP | 19.99
BLOODLINE DAUGHTER OF BLADE TP | 17.99
BLUE BOOK TP VOL 01 | 24.99
BONE ORCHARD TENEMENT #4 (OF 10) CVR A SORRENTINO | 3.99
BY THE HORNS DARK EARTH #12 | 4.99
CAPTAIN AMERICA #1 | 5.99
CAPTAIN AMERICA #1 FRANK MILLER | 5.99
CAPTAIN AMERICA #1 GARY FRANK | 5.99
CAPTAIN AMERICA #1 GEORGE PEREZ | 5.99
CAPTAIN AMERICA #1 HUMBERTO RAMOS | 5.99
CAPTAIN AMERICA #1 JOHN ROMITA JR | 5.99
CAPTAIN AMERICA #1 KAARE ANDREWS FOIL | *
CAPTAIN AMERICA #1 MICHAEL CHO AVENGERS 60TH | 5.99
CAPTAIN AMERICA #1 OLIVIER COIPEL | 5.99
CATWOMAN #57 CVR A DAVID NAKAYAMA (GOTHAM WAR) | 3.99
CATWOMAN #57 CVR B TIRSO CONS CS (GOTHAM WAR) | 4.99
CATWOMAN #57 CVR C JOSHUA SWAY SWABY CS (GOTHAM WAR) | 4.99
CATWOMAN #57 CVR D 1:25 RIAN GONZALES CS (GOTHAM WAR) | *
CATWOMAN #57 CVR E 1:50 JOE QUESADA B&W CONNECTING CS (GOTHAM WAR) | *
CATWOMAN #57 CVR F JOE QUESADA CONNECTING CS (GOTHAM WAR) | 4.99
CHILLING ADV MADAM SATAN HELL ON EARTH CVR A FEDERICI | 3.99
CHILLING ADV MADAM SATAN HELL ON EARTH CVR B SOO LEE | 3.99
CREEPY ARCHIVES TP VOL 02 | 24.99
CULT OF CARNAGE MISERY #5 (OF 5) | 3.99
CYBORG #3 (OF 6) CVR A EDWIN GALMON | 3.99
CYBORG #3 (OF 6) CVR B DAVID NAKAYAMA CS | 4.99
DARK X-MEN #2 (OF 5) | 3.99
DARK X-MEN #2 (OF 5) 1:25 PABLO VILLALOBOS | *
DARK X-MEN #2 (OF 5) JEEHYUNG LEE | 3.99
DARK X-MEN #2 (OF 5) SALVADOR LARROCA | 3.99
DEADPOOL BADDER BLOOD #4 (OF 5) | 4.99
DEADPOOL BADDER BLOOD #4 (OF 5) MIKE HAWTHORNE | 4.99
DEADPOOL BADDER BLOOD #4 (OF 5) ROB LIEFELD | 4.99
DEATH OF VENOMVERSE #4 (OF 5) | 4.99
DEATH OF VENOMVERSE #4 (OF 5) 1:10 CONNECTING | *
DEATH OF VENOMVERSE #4 (OF 5) GALLOWAY SATURDAY MORNING | 4.99
DEATH OF VENOMVERSE #4 (OF 5) KEN NIIMURA DESIGN | 4.99
DEATH OF VENOMVERSE #4 (OF 5) MARK BAGLEY | 4.99
DEATH OF VENOMVERSE #4 (OF 5) RYAN STEGMAN VENOM OTHER | 4.99
DETECTIVE COMICS #58 FACSIMILE EDITION | 6.99
DISNEY VILLAINS HADES #2 CVR A DARBOE | 3.99
DISNEY VILLAINS HADES #2 CVR E ACTION FIGURE | 3.99
DUNE HOUSE HARKONNEN #9 (OF 12) CVR A SWANLAND | 4.99
DUST #2 | 4.99
EARTHDIVERS #10 CVR A ALBUQUERQUE | 3.99
EARTHDIVERS TP VOL 01 KILL COLUMBUS | 17.99
EC ARCHIVES TWO-FISTED TALES TP 01 | 19.99
FISHFLIES #2 (OF 6) CVR A LEMIRE | 5.99
FORGED #4 | 6.99
FRANK MILLERS RONIN BOOK TWO #4 (OF 6) CVR A TAN | 7.99
GARGOYLES DARK AGES #3 CVR A CRAIN | 4.99
GHOSTED COMPENDIUM TP | 29.99
GLITCH GN VOL 01 | 15.00
GOTG MODERN ERA EPIC COLL TP SOMEBODYS GOT TO DO IT | 44.99
GREEN LANTERN WAR JOURNAL #1 CVR A TAJ TENFOLD | 3.99
GREEN LANTERN WAR JOURNAL #1 CVR B JOHN GIANG CS | 4.99
GREEN LANTERN WAR JOURNAL #1 CVR C DAVE WILKINS CS | 4.99
GREEN LANTERN WAR JOURNAL #1 CVR D VILLALOBOS HISPANIC HERITAGE MONTH CS | 4.99
GREEN LANTERN WAR JOURNAL #1 CVR E J.STEWART GLOW-IN-THE-DARK DOG TAG CS | 4.99
GREEN LANTERN WAR JOURNAL #1 CVR F 1:25 MIRKO COLAK CS | *
GREENHORNS #1 CVR A FABBIO & PANTAZIS | 5.99
GREENHORNS #1 CVR B OWEN GIENI | 5.99
GRIM #13 CVR A FLAVIANO | 3.99
GRIM #13 CVR B REAPER VAR ORZU | 3.99
GRIM #13 CVR D 1:25 HAMNER | *
GUARDIANS OF THE GALAXY #6 | 3.99
GUARDIANS OF THE GALAXY #6 MOMOKO HOWARD THE DUCK | 3.99
GUNSLINGER SPAWN #24 CVR A DEODATO | 2.99
GUNSLINGER SPAWN #24 CVR B NGU | 2.99
HARLEY QUINN BLACK WHITE REDDER #3 (OF 6) CVR A CLIFF CHIANG | 4.99
HARLEY QUINN BLACK WHITE REDDER #3 (OF 6) CVR B MIRKA ANDOLFO | 4.99
HARLEY QUINN BLACK WHITE REDDER #3 (OF 6) CVR C 1:25 SANFORD GREENE | *
HAWKGIRL #3 (OF 6) CVR A AMANCAY NAHUELPAN | 3.99
HAWKGIRL #3 (OF 6) CVR B DERRICK CHEW CS | 4.99
HAWKGIRL #3 (OF 6) CVR C VILLALOBOS HISPANIC HERITAGE MONTH CS | 4.99
HEXAGON BRIDGE #1 (OF 5) | 3.99
HEY KIDS COMICS VOL 03 SCHLOCK OF THE NEW #6 (OF 6) | 3.99
ICE CREAM MAN TP VOL 09 HEAVY NARRATION | 16.99
IMMORTAL RED SONJA TP VOL 01 | 19.99
IN HELL WE FIGHT #4 | 3.99
IYANU CHILD OF WONDER TP VOL 03 | 19.99
JOKER THE MAN WHO STOPPED LAUGHING HC VOL 01 | 24.99
JUNCTION JONES #3 | 4.99
JUNIOR BAKER RIGHTEOUS FAKER #1 (OF 5) CVR A QUACKENBUSH | 4.99
JUNIOR BAKER RIGHTEOUS FAKER #1 (OF 5) CVR B 1:10 | *
JUNIOR BAKER RIGHTEOUS FAKER #1 (OF 5) CVR C 1:20 | *
KAYA #11 CVR A CRAIG | 3.99
KAYA #11 CVR B HARREN | 3.99
KID SLAPSHOT VS LOU NATIC CVR A DONGARRA | 5.99
KIRBY STARR WARRIORS ADV ADAM STAR & SOLAR LEGION (ONE-SHOT) | 9.99
KLIK KLIK BOOM #4 | 3.99
KNOW YOUR STATION TP | 19.99
LOKI #4 (OF 4) | 3.99
LONESOME HUNTERS THE WOLF CHILD #3 (OF 4) | 3.99
MAESTRO BY PETER DAVID OMNIBUS HC PEREZ CVR | 125.00
MARVEL-VERSE TP MONICA RAMBEAU PHOTON | 10.99
MONARCH #6 CVR A LINS | 3.99
MONARCH #6 CVR B VISIONS | 3.99
NIGHTWING #106 CVR A BRUNO REDONDO | 4.99
NIGHTWING #106 CVR B DAN MORA CS | 5.99
NIGHTWING #106 CVR C JAMAL CAMPBELL CS | 5.99
NIGHTWING #106 CVR D 1:25 VASCO GEORGIEV CS | *
NOCTERRA #16 CVR A DANIEL & MAIOLO | 3.99
NOCTERRA #16 CVR B PAQUETTE & MCCAIG | 3.99
OLD DOG TP VOL 01 | 9.99
PANYA MUMMYS CURSE #3 | 3.99
PATHFINDER WAKE DEAD #3 CVR A ELLIS | 4.99
PREDATOR VS WOLVERINE #1 | 7.99
PREDATOR VS WOLVERINE #1 1:25 ALEX MALEEV | *
PREDATOR VS WOLVERINE #1 1:50 INHYUK LEE | *
PREDATOR VS WOLVERINE #1 MIKE MCKONE PREDATOR HOMAGE | 7.99
PREDATOR VS WOLVERINE #1 MIKE MCKONE WOLVERINE HOMAGE | 7.99
PREDATOR VS WOLVERINE #1 PEACH MOMOKO | 7.99
PREDATOR VS WOLVERINE #1 SKOTTIE YOUNG | 7.99
PREDATOR VS WOLVERINE #1 STEPHEN SEGOVIA | 7.99
PREDATOR VS WOLVERINE #1 STEVE MCNIVEN | 7.99
QUEEN OF SWORDS BARBARIC STORY #3 CVR A HOWELL | 4.99
QUEEN OF SWORDS BARBARIC STORY #3 CVR C LEIZ POLYBAG | 7.99
QUINNELOPE AND THE COOKIE KING CATASTROPHE GN | 14.99
RARE FLAVOURS #1 (OF 6) CVR A ANDRADE | 4.99
RARE FLAVOURS #1 (OF 6) CVR B FOIL MOON | 6.99
RARE FLAVOURS #1 (OF 6) CVR C 1:10 RK | *
RARE FLAVOURS #1 (OF 6) CVR D 1:25 MACK | *
RARE FLAVOURS #1 (OF 6) CVR F UNLOCKABLE ANDRADE | *
RED SONJA 2023 #3 CVR A MIDDLETON | 3.99
RED SONJA 2023 #3 CVR B CHO | 3.99
RED SONJA 2023 #3 CVR C BARENDS | 3.99
RED SONJA 2023 #3 CVR H 1:10 FRISON MODERN ICON | *
RED SONJA 2023 #3 CVR J 1:15 THORNE ICON | *
ROM #1 FACSIMILE EDITION | 4.99
ROM #1 FACSIMILE EDITION BLANK | 4.99
ROM #1 FACSIMILE EDITION FOIL | *
RUMPUS ROOM #1 (OF 5) CVR A HARRIS | 1.59
RUMPUS ROOM #1 (OF 5) CVR B ALLRED & ALLRED | 1.59
RUMPUS ROOM #1 (OF 5) CVR C RUSSELL | 1.59
SAGA #66 | 3.99
SCRAPPER #3 (OF 6) | 3.99
SEA SERPENTS HEIR GN BOOK 02 | 14.99
SINS OF SINISTER HC | 75.00
SIRENS OF THE CITY #3 (OF 6) CVR A RANDOLPH | 4.99
SIRENS OF THE CITY #3 (OF 6) CVR B WARD | 4.99
SIRENS OF THE CITY #3 (OF 6) CVR C 1:10 WARD | *
SIRENS OF THE CITY #3 (OF 6) CVR E FOC REVEAL MANHANINI | *
SIRENS OF THE CITY #3 (OF 6) CVR F UNLOCKABLE RANDOLPH | *
SLAUGHTERHOUSE-FIVE OGN | 19.99
SOMETHING IS KILLING THE CHILDREN #33 CVR A DELL EDERA | 3.99
SOMETHING IS KILLING THE CHILDREN #33 CVR E FOC REVL ZONJIC | *
SOMETHING IS KILLING THE CHILDREN #33 CVR F FOC RVL SPOT UV | *
SPAWN #345 CVR A MELE | 2.99
SPAWN #345 CVR B BARENDS | 2.99
STAR WARS BOUNTY HUNTERS #38 | 4.99
STAR WARS BOUNTY HUNTERS #38 1:25 GENERAL GRIEVIOUS | *
STAR WARS BOUNTY HUNTERS #38 CASANOVAS DROIDS CONNECT | 4.99
STAR WARS BOUNTY HUNTERS #38 RETURN OF JEDI 40TH ANNIV | 4.99
STAR WARS BOUNTY HUNTERS #38 STAR WARS CLONE WARS 15TH ANNIV | 4.99
STAR WARS BOUNTY HUNTERS TP VOL 06 BEDLAM ON BESTINE | 17.99
STAR WARS DARK DROIDS D-SQUAD #1 | 5.99
STAR WARS DARK DROIDS D-SQUAD #1 CASANOVAS DROID CONNECT | 5.99
STAR WARS DARK DROIDS D-SQUAD #1 JTC ACTION FIGURE | 5.99
STAR WARS DARK DROIDS D-SQUAD #1 TOM REILLY R2-D2 | 5.99
STAR WARS HIGH REPUBLIC ADVENTURES NAMELESS TERROR TP | 19.99
STRANGE ACADEMY MOON KNIGHT #1 | 4.99
STRANGE ACADEMY MOON KNIGHT #1 1:25 JULIAN SHAW | *
STRANGE ACADEMY MOON KNIGHT #1 HUMBERTO RAMOS CONNECT | 4.99
STRANGER THINGS TALES FROM HAWKINS #4 (OF 4) CVR A ASPINALL | 3.99
SUPERMAN #6 CVR A JAMAL CAMPBELL | 4.99
SUPERMAN #6 CVR B LEE BERMEJO CS | 5.99
SUPERMAN #6 CVR C TIAGO DA SILVA CS | 5.99
SUPERMAN #6 CVR D ROSE BESCH CREATOR CS | 5.99
SUPERMAN #6 CVR F MIKEL JANIN COSTUME ACETATE | 6.99
SUPERMAN #6 CVR G 1:25 ALEX SAVIUK CS | *
SUPERMAN #6 CVR H 1:50 GLEB MELNIKOV WRAPAROUND CS | *
SURPRISINGLY SARAH GN | 15.99
TALES OF THE ORISHAS HC GN | 24.99
TERRORWAR #6 | 3.99
THE BLACKOUT BOMBSHELL #1 (OF 3) CVR A VAUGHAN | 5.99
THE BLACKOUT BOMBSHELL #1 (OF 3) CVR B VAUGHAN | 5.99
THE BLACKOUT BOMBSHELL #1 (OF 3) CVR C WARD | 5.99
THE BLACKOUT BOMBSHELL #1 (OF 3) CVR D 1:5 SUNANDO | *
THE BLACKOUT BOMBSHELL #1 (OF 3) CVR E 1:10 PACE | *
THE CULL #1 (OF 5) 2ND PTG | 3.99
TIG AND LILY GN BOOK 02 PARTY ANIMALS | 10.99
TIGER DIVISION TP | 15.99
TITANS #3 CVR A NICOLA SCOTT | 3.99
TITANS #3 CVR B JEN BARTEL CS | 4.99
TITANS #3 CVR C MIKE DEODATO JR CS | 4.99
TITANS #3 CVR D 1:25 CULLY HAMNER CS | *
TITANS #3 CVR E 1:50 NICOLA SCOTT B&W CS | *
TMNT ARMAGEDDON GAME ALLIANCE TP | 19.99
TMNT ONGOING #143 CVR A SMITH | 3.99
TMNT ONGOING #143 CVR B EASTMAN | 3.99
TMNT ONGOING #143 CVR C 1:10 SANCHEZ | *
TMNT ONGOING #143 CVR D 1:25 SANCHEZ B&W | *
TMNT X STRANGER THINGS #3 CVR A PE | 3.99
TMNT X STRANGER THINGS #3 CVR B CORONA | 3.99
TMNT X STRANGER THINGS #3 CVR C WOODALL | 3.99
TMNT X STRANGER THINGS #3 CVR D GORHAM | 3.99
UNCANNY AVENGERS #2 (OF 5) | 3.99
UNCANNY AVENGERS #2 (OF 5) 1:25 RYAN STEGMAN | *
UNCANNY AVENGERS #2 (OF 5) BRYAN HITCH AVENGERS 60TH | 3.99
UNCANNY AVENGERS #2 (OF 5) GREG LAND | 3.99
UNCANNY AVENGERS #2 (OF 5) JAVIER GARRON MARVEL ICON | 3.99
UNCANNY SPIDER-MAN #1 | 4.99
UNCANNY SPIDER-MAN #1 1:25 SAM DE LA ROSA | *
UNCANNY SPIDER-MAN #1 DAVE WACHTER WINDOWSHADES | 4.99
UNCANNY SPIDER-MAN #1 LEE GARBETT | 4.99
UNCANNY SPIDER-MAN #1 SKOTTIE YOUNG | 4.99
UNCLE SCROOGE & DONALD DUCK LES MISERABLES & WAR & PEACE HC | 29.99
VICTORY #4 CVR A LUCIO PARRILLO MODERN ICON | 3.99
VICTORY #4 CVR C MATTEONI | 3.99
VICTORY #4 CVR F 1:10 WELDELE ORIGINAL | *
VIGIL #5 (OF 6) CVR A SUMIT KUMAR | 3.99
VIGIL #5 (OF 6) CVR B NIMIT MALAVIA CS | 4.99
WHAT IF DARK CARNAGE #1 | 4.99
WHAT IF DARK CARNAGE #1 1:25 GREG LAND | *
WHAT IF DARK CARNAGE #1 NICK BRADSHAW HOMAGE | 4.99
WITCHER TP VOL 07 BALLAD OF TWO WOLVES | 19.99
WITCHER WILD ANIMALS #1 CVR A REREKINA | 3.99
WITCHER WILD ANIMALS #1 CVR B FIOR | 3.99
WITCHER WILD ANIMALS #1 CVR C KIPIN | 3.99
WITCHER WILD ANIMALS #1 CVR D SMITH | 3.99
WOLVERINE #37 | 4.99
WOLVERINE #37 1:25 JOSHUE SWABY | *
WOLVERINE #37 GREG CAPULLO | 4.99
WOLVERINE #37 KAEL NGU X-MEN 60TH | 4.99
WONDER WOMAN #1 CVR A DANIEL SAMPERE | 4.99
WONDER WOMAN #1 CVR B STANLEY ARTGERM LAU CS | 5.99
WONDER WOMAN #1 CVR C JULIAN TOTINO TEDESCO CS | 5.99
WONDER WOMAN #1 CVR D ROSE BESCH CREATOR CS | 5.99
WONDER WOMAN #1 CVR E BLANK CS | 5.99
WONDER WOMAN #1 CVR F CHRIS BACHALO FOIL | 7.99
WONDER WOMAN #1 CVR G 1:25 MATTEO SCALERA CS | *
WONDER WOMAN #1 CVR H 1:50 MIKEL JANIN CS | *
X-MEN ANNUAL #1 | 4.99
X-MEN ANNUAL #1 LARRY HOUSTON X-MEN 60TH | 4.99

*limited quantities, check for availability
If you would like to add any of these titles to your Reserve Bag, please call our store at 704-375-7462 or send an email requests to:

HeroesPulls@heroesonline.com OR
HeroesArentHardtoFind@gmail.com